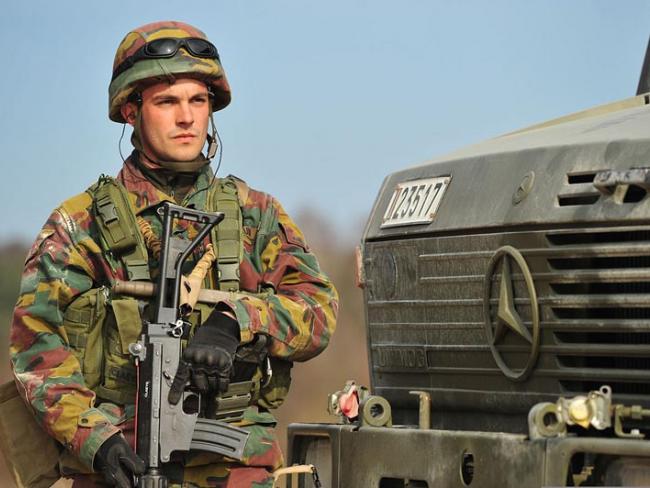 During the Referendum campaign the Leave side said that the European Union was seeking to create its own army. The accusation prompted sneering denials from Remainers.
A research fellow, for example, wrote a scathing article in The Independent. "The EU carries out humanitarian and rescue tasks… This does not extend to collective defence of EU territory – nor does any EU government seriously envisage it ever doing so," the academic wrote in May. The Guardian was similarly dismissive.
Fast forward to the present, and moves to create a European Army are accelerating. Not for nothing did the leaders of France, Germany and Italy pose on the deck of an aircraft carrier on 24 August to assert the strength of EU unity.
Ominous
The militaristic setting was ominous.  "Europe must ensure its own defence, and France is certainly playing its role," said French prime minister François Hollande on deck.
A day later, another EU head of state weighed in with explicit support for an EU army.  According to Czech radio, Czech prime minister Bohuslav Sobotka told a meeting of the country's ambassadors, "Aside from better coordinated foreign and security policy, I also believe that in the long term, we will be unable to do without a joint European army."
European Commission president Jean-Claude Juncker has long been a supporter of a European army. In May last year he used an interview with the German newspaper Die Welt to pronounce that the EU would never be "taken seriously" in the world until it had its own army.
'Long-term goal'
Juncker's call was rapidly followed by a statement from German defence minister Ursula von der Leyen to her party's parliamentary colleagues that a European army was "an important long-term goal". Germany's marine infantry battalion ("Seebataillon") is due to be integrated with the Dutch navy in 2018.
There is already a European Rapid Reaction Force, independent of NATO, made up of so-called European Battlegroups. It was set up with backing from then-prime minister Tony Blair in 2001, although it has yet to be engaged in action.
The leaders of the 28 EU countries are due to discuss security and defence policy later this year in their summit in Brussels on 20 to 21 October.