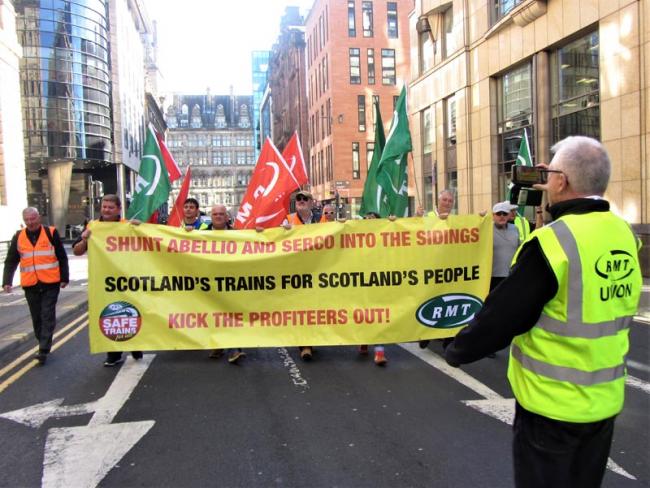 With anger growing at the service failures Abellio ScotRail, members and supporters of the RMT union marched through Glasgow yesterday (Friday September 20) to the company HQ and on to the Scottish Government offices before returning to picket Abellio.
The marchers want "the immediate termination of privateer Abellio ScotRail's contract and for the essential public service to be brought permanently back into public ownership". They were received with warmth and good humour by passers by, who took the RMT leaflets. 
The RMT recognised that there is strong public feeling that the company has been failing so badly that public ownership is a necessity. In a statement, RMT General Secretary, Mick Cash, pointed to Abellio's "catalogue of failures which has severely affected both the travelling public and the workforce" and called upon the Scottish administration... to "stop messing about and get on with it".
Whatever the EU wants…
In thrall to the EU, the SNP administration in Edinburgh is reluctant to break its state-aid regulations. In 2014 it insisted on handing ScotRail to Abellio despite strong opposition, with the contract starting in a year later.
Abellio – whose franchises include those at Greater Anglia and just recently East Midlands – became Scotland's main train operator in 2015 and is part of the Dutch state-owned company Nederlandse Spoorwegen.
At the time, Cash said, ""Scotland could have taken control of its own railways, instead they have opted to go Dutch, meaning that profits will be sucked out of the system to underpin investment and fares in Holland."
At the march yesterday Cash also expressed the RMT's fury that the SNP administration had awarded "a failing empire of private profiteering that is dismantling the NHS" – Serco – a £619 million contract to run the lifeline Northern Isles ferry services for eight years starting on October 31st. He accused them of "running a Blairite procurement policy in the Scottish ferries industry that should be consigned to the dustbin of history. Some serious questions need to be asked about the close relationship between Serco and the Scottish Government."