The collapse of Thomas Cook left hundreds of thousands of travellers in the lurch, and put 9,000 staff out of work. Yet it should never have been allowed to happen…
Thomas Cook, probably the world's best-known travel company, founded as far back as 1841, went bust in autumn 2019. Its collapse ruined the holiday plans of over 300,000 people who had saved hard for their well deserved break from work. 150,000 people on holiday abroad were flown home in an emergency repatriation exercise by the British government that was the biggest since the Second World War. 
Taxpayers were saddled with a bill exceeding £1 billion for repatriations, and costs associated with over 9,000 staff being put out of work. And just as was the case when construction and services giant Carillion collapsed, the administrators KPMG and AlixPartners have been engaged in a feeding frenzy as they devour the carcass of the hapless travel firm, pocketing over £11 million in the first four weeks, and much more subsequently.
For many months, the firm was teetering towards the cliff edge. As the serious economic consequences of a collapse were realised in countries across Europe, ministers from popular holiday destinations Spain, Greece, Portugal, Turkey and Bulgaria contacted the company to offer assistance. Given the size of the company's customer base in Germany, the German government did likewise. 
In contrast, the government of the country that would be most affected by the collapse – Britain – did…absolutely nothing. 
There is no doubt that the company has been struggling financially for over a decade owing to the massive debts it was saddled with after very unwise acquisitions were made – it came close to collapse in 2011. But that didn't stop senior executives paying themselves telephone number pay packages, another parallel with Carillion. Bosses have helped themselves to £47 million in pay and perks since 2007.
But it could – and should – have been saved. The company was fundamentally a viable business, as evidenced by the fact that the administrators have sold off many parts of the company as going concerns.
'The government consciously chose to write off the company for ideological reasons…'
A £200 million cash injection from the banks including RBS (currently state owned), underwritten by the government, would have rescued the company – instead, the government preferred to spend five or six times that figure on dealing with the aftermath of the collapse.
Some have accused the government of negligence, but it seems that the government consciously chose to write off the company for ideological reasons.
Chinese travel firm Fosun International, a Thomas Cook shareholder since 2015 and owners of other holiday firms such as the well known French company Club Med, was prepared to invest £450 million if the £200 million could have been found. The withdrawal of Fosun when it became apparent that the £200 million would not be forthcoming immediately triggered the collapse, and Fosun was happy to pay the administrator just £11 million for the Thomas Cook name – a bargain!
Vultures
Other vultures have been feasting on the carcass. Hays Travel, Britain's largest independent travel agent, acquired the entire retail portfolio of 555 former Thomas Cook shops, and has employed most of the 2,500 redundant Thomas Cook staff who previously worked in them, adding to Hays's estate of 187 shops. It paid £6 million for the lot – less than £11,000 a shop.
Thomas Cook's landing slots at Birmingham, London Stansted and Manchester airports were snapped up for an undisclosed sum by the budget airline and rapidly growing Leeds-based holiday company Jet2. Rival easyJet bought all of Thomas Cook's landing slots at London Gatwick and Bristol for £36 million.
Petter Stordalen, a Norwegian billionaire, has bought up one of Thomas Cook's biggest subsidiaries, the Ving Group. Another subsidiary, German airline Condor, was saved with the help of a €380 million (£328 million) bridging loan from the German government. A number of other subsidiaries are being sold off as going concerns.
No feeding frenzy would be complete without the corporate speculators having their share – hedge funds that bet on Thomas Cook going bust are now enjoying a bounty of almost $250 million (£194 million).
Contrast that with the position faced by the ordinary people who were Thomas Cook's customers – people who were told that most of them were covered by the travel industry bond system that protects them when a holiday company goes bust. The Civil Aviation Authority should have refunded all claims by 6 December, but at that point around 40 per cent of claims worth £64 million were outstanding to be paid.
And whilst many former Thomas Cook staff in Britain have been re-employed within the travel trade, many haven't and are still on the dole. Others have had to accept jobs which pay much less than their Thomas Cook salary – pilots especially have found themselves having to step down from a permanent post as a Captain to being a First Officer (co-pilot), often employed on a casual basis.
Unionised
Thomas Cook was a unionised employer – the high street travel agent arm being organised by TSSA, while the airline was covered by Unite and pilot's union BALPA.
The failure of Thomas Cook to consult with the unions over the redundancies resulting from the company's collapse puts it in breach of legal requirements to consult, and allows unions to pursue a protective award of around three months salary for each person affected. But that only applies where twenty or more employees work at one location. While unions have secured those payments for many made redundant such as most airline workers and those in Thomas Cook's head office in Peterborough, those working in high street shops where staff numbers are typically less than twenty have got nothing.
This illustrates the nonsensical situation where a company that employs 9,000 staff can easily avoid its legal obligations to many of its staff in respect of redundancy by ensuring that the workforce is dispersed such that less than twenty staff work at any one place.
The company's troubles had begun in 2000, when the travel industry began to change rapidly. C&N Touristic AG, one of Germany's largest travel groups, took it over  in 2001. The name was promptly changed to Thomas Cook AG, recognising the massive reputation of the Thomas Cook brand, and the familiar high street shops could suddenly be seen all over Germany. It launched Thomas Cook Airlines in March 2003, and acquired other European firms along the way.
Many commentators have suggested that this new and now huge German-owned Thomas Cook failed to keep up with changes in customer demand, and failed to react to the arrival of the Internet – which has revolutionised travel – and that ultimately this led to the company going bust. The truth is more complex. 
Choice
It was how the company chose to react to these changes that really sowed the seeds of its ultimate demise.
In 2007, Thomas Cook took over MyTravel, previously known by the brands Airtours and Going Places. This was done to achieve cost savings through economies of scale and increased buying power – £75 million savings were promised which would allow it to take on the new internet rivals.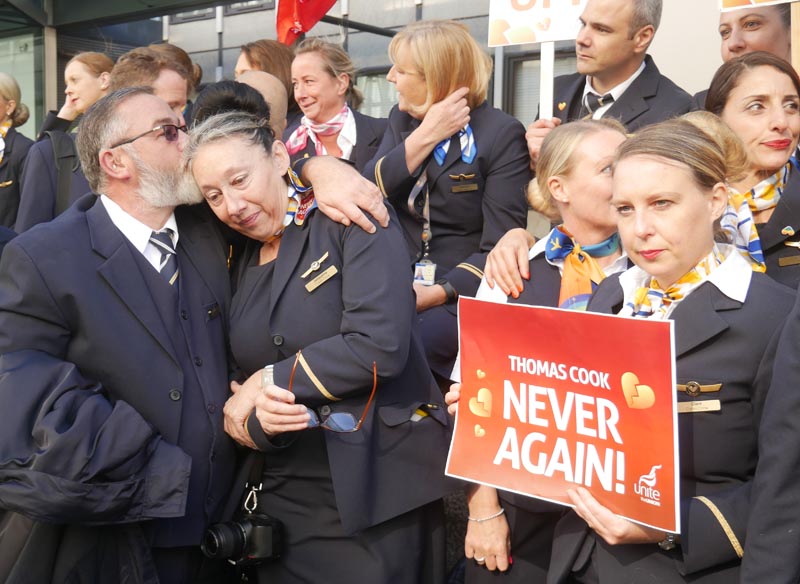 Instead, Thomas Cook now had massive debts, and this happened just before the economic crash in 2008 which saw a big downturn in the industry. The company nearly went bust in 2011, and ironically only really survived until 2019 because the 2008 crash resulted in record low interest rates.
Thomas Cook's last chief executive, Peter Fankhauser, has stated that debts left by his predecessors reached £1.2 billion by the time of its collapse, requiring it to pay £140 million a year in interest charges at a time when profits were around £97 million. 
Despite all of this, the senior managers rewarded themselves generously. The 
architect of the MyTravel deal was Manny Fontenla-Novoa, who received £17 million during his eight years in the top job. Thomas Cook executives have been paid more than £20 million over the last five years, despite long term fears that the operator faced collapse. 
Fankhauser has received £8.3 million since he took over in 2014. Chief financial officers Michael Healy and Bill Scott have together been paid around £7 million since 2014. More than £4 million was paid to the non-executive directors, including Belgian chairman Frank Meysman, who took home £1.6 million.
Government ministers have said that Thomas Cook failed because it was "a dinosaur in a digital age". But that runs counter to the decision by Hays Travel to buy the Thomas Cook shops, and by another travel agent to expand its estate by 100 shops. It is likely that those in the industry are going to be better than ministers at assessing the future profitability of the traditional high street travel shop model.
Decline?
Indeed, The Economist said: "Far from being in decline, the package holiday is enjoying a resurgence. The number of Britons going abroad on inclusive tours has risen from 14.3 million in 2010 to 18.2 million in 2018." Part of this is down to cost because it is still cheaper to buy a family holiday as a package than book the components individually, especially since Thomas Cook and its rival TUI are able to use their scale to negotiate lower prices on hotel rooms and flights.
And Thomas Cook's British airline was clearly a profitable going concern. It made earnings before financing costs and tax of £129 million last year, although it reported a loss in the last three months of 2018.
A report published by the trade union Unite notes: "Contrary to the government and media narratives the group's airline was not only profitable but had one of the most competitive cost bases amongst UK operators… Thomas Cook was not the most profitable airline in Europe, but was a sound and stable and viable business…Ironically, the main problem of the group's airline was the profitability of (the German airline) Condor."
Unite's Assistant General Secretary Diana Holland gave evidence to MPs on the Business Enterprise and Industrial Strategy (BEIS) Select Committee. "Condor in Germany is still flying – it's a wholly owned subsidiary of Thomas Cook. Thomas Cook Balearics is still flying. Thomas Cook in Sweden is still flying," Holland told MPs. "All of these businesses are able to be flying because of the arrangements in their countries which could have applied here."
The collapse of Thomas Cook after 178 years is a story of corporate greed and executive mismanagement. But it is not those responsible for this debacle that have been and are paying the price. 
As usual, it is the workers: those holidaymakers who have lost their money or are still waiting to be refunded; holidaymakers who have had to pay a great deal more to get an alternative and equivalent holiday, and holidaymakers whose holidays were blighted by the worry of how they were going to get home; and the Thomas Cook staff, many of whom are still working but for lower rates of pay or are stuck with less favourable contracts. And the many who are still out of work.
And it is a story of a government that has sat back, refused to intervene, and allowed all of this to happen.