As junior doctors embarked on their first day of strike action against the government's proposed new contract, CPBML News visited the picket line at Whipps Cross Hospital, east London. As commuters and buses drove past hooting their support, doctors were holding placards and handing out support stickers.
A BMA rep at the picket told us that their consultants were being "very supportive". That's one illustration of the "team mentality" which doctors develop – the rep said that one member of the team was on emergency duty, but the others were all on strike. Also, the consultants know that their own contract is up soon and they expect similar attacks from the government.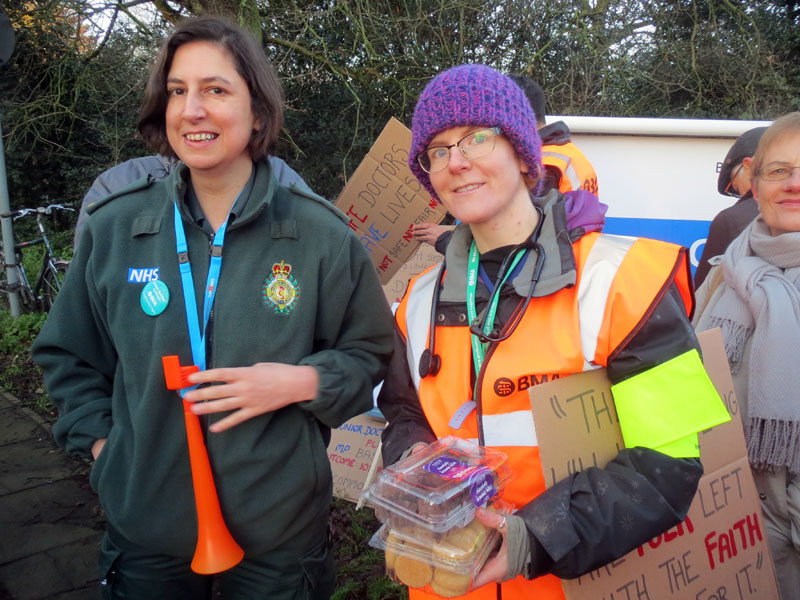 "The government is trying to buy older junior doctors off," she said, with promises that some changes would not come fully into effect for two or three years, by which time they would have become consultants. "But we support our junior colleagues," she said.
The junior doctors are making full use of social media – the rep cited email threads and WhatsApp – to overcome the inherent difficulties of organising colleagues dispersed among and inside several huge hospital sites. Whipps Cross is part of the largest NHS trust in Britain, with five sites including Bart's and the Royal London, and junior doctors rotate between the hospitals as well as around different specialist teams.
Strikers held up the home-made placards that have been a distinctive feature of recent health protests, including those of the health students. In fact, the rep said, the placards had been drawn by medical students. "It's hard to find people who can write well, especially doctors!" she said.
Buoyed in Bradford
Junior doctors on the picket lines outside the Bradford Royal Infirmary this morning were buoyed by the public support they were receiving from passers-by and drivers.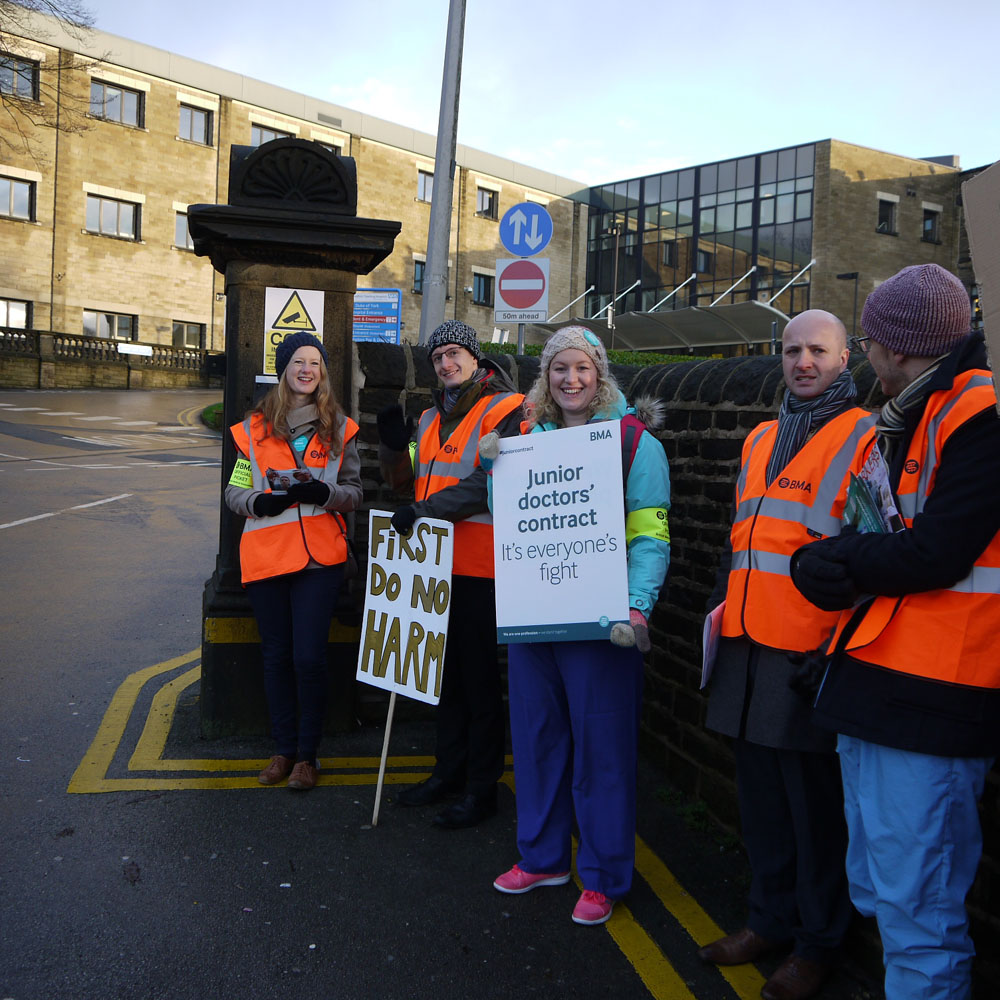 Talking to CPBML News, BMA pickets spoke of their determination to see off what they perceived as the government's attempt to fracture and dismember the NHS through the attack on their core conditions and pay. They were crystal clear that the proposed changes to working practices would lead to detrimental changes to patient safety and fracture working relationships within hospitals.
The doctors explained that they were acutely aware of the need to be flexible and innovative in the tactics that they would need to apply to fend off Hunt's attempts to box them into a long drawn-out period of posturing that could only lead to an ebbing away of the positive support seen so far.
As for the eleventh hour intervention by Sir Bruce Keogh, commanding hospital executives to "instruct" pickets back into the workplace should levels of demand become acute, doctors could only voice their contempt, tinged with sadness. Pickets expressed the view that Keogh had lost respect and credibility by so closely allying himself with the abject, discredited Jeremy Hunt.
Pickets outside Linfield Mount and other hospitals in the city were in similar good heart.