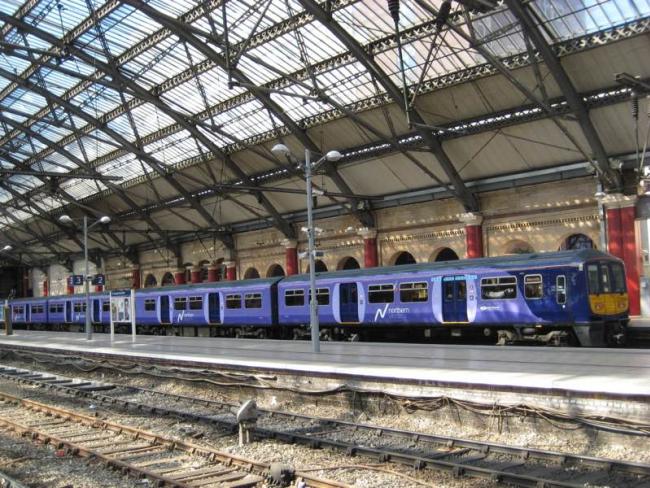 Rail union RMT members hoisted the German flag, the Bundesflagge und Handelsflagge, over Newcastle Central station on 1 April, the day that German state railway operator Deutsche Bahn (DB) took over Northern rail services. This followed a huge rally organised by RMT in the Mechanics Institute in Manchester the evening before.
DB already operates a massive chunk of Britain's passenger rail franchises right across the country, including Cross Country, Chiltern and Arriva Trains Wales. It has now captured Northern, one of the biggest franchises, which runs trains right across northern England from Newcastle and Carlisle in the north to Liverpool, Manchester, Sheffield and Nottingham in the south. It also runs the Newcastle metro.
RMT's dogged campaigning recently resulted in Nexus, the transport authority responsible for the metro, recently deciding to take it back from DB and run it directly in the public sector. However, Transport for London has just awarded DB a new concession to operate the London Overground network from November for seven-and-a-half years, with the possibility of a two-year extension.
DB has admitted that profits made from its extensive British operations, which are massively subsidised by British taxpayers, will be skimmed off to invest in the German rail network.
Safety threat
The rail unions warn that the takeover of Northern by DB means the imposition of driver-only trains and job cuts, jeopardising passenger safety.
The RMT and ASLEF are campaigning for a Leave vote in June's EU referendum. Their members have experienced the EU privatisation regime at the sharp end and have a clarity on this question that other unions could well learn from.