The junior doctors' struggle against the government decision to impose a new, worse, contract, saw striking doctors on picket lines outside hospitals and "Meet the doctors" events in town centres on 6 and 7 April, and again on 26 April
Reports indicate that striking doctors remained in good heart and expressed their determination to fight on against Health Secretary Jeremy Hunt's intransigence. Across the country members of the public hooted from passing cars, lorries and buses to show support.
The cracks are showing in the governing party, with Hunt looking isolated. Conservtive MP Sarah Wollaston, chair of the House of Commons Health Committee and an ex-GP, says the dispute has been dealt with unhelpfully and is in danger of alienating the workforce. She called Hunt's tactics "entirely unreasonable".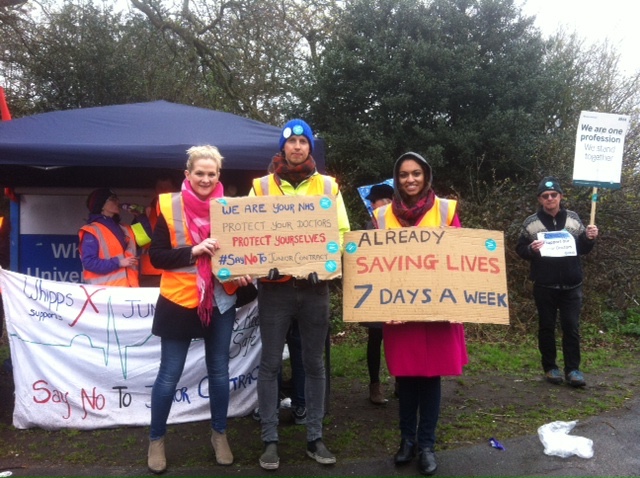 Meanwhile, the government's case has been further undermined, with Sir Bruce Keogh, Medical Director of NHS England, saying that his report into seven-day working in the NHS does not support Hunt's claim that the key problems lie with junior doctor hours and shifts.
Impact
The publication of the Department of Health's Equality Impact Assessment into the likely effects of Hunt's contract changes has confirmed what the BMA has been saying all along about the impact on women, but dismisses it as a price worth paying: "Any indirect adverse effect on women is a proportionate means of achieving a legitimate aim". 
Over half of new recruits to medicine are female, likely to have babies and needing to take out from the workforce. They would be particularly badly hit by the changes in pay structures Hunt plans to impose.
On BBC Radio 4's Woman's Hour on 5 April, Ellen, a junior doctor in Hull, described how it would affect her profoundly. She would stand to take a significant drop in salary under Hunt's contract, as well as it being harder for her to progress in her career.
She has been training for seven years, and will probably need another five before becoming a senior doctor or consultant. Her basic full-time equivalent salary is in the low £30 thousands, rising currently to about £40,000 when extra payments for evenings, nights and weekends are taken into account. She already works a large percentage of time outside what are classed as "normal hours".
'Legitimate concerns' – Tory MP
Another interviewee on the programme was Tory MP Dan Poulter, a former junior health minister and himself a part-time doctor. He talked about the "legitimate concerns of the BMA" and expressed his worries about the impact of the Hunt's contract on the recruitment and retention of new doctors, especially women.  
Poulter also pointed out that the original focus of the Conservative manifesto regarding a 7-day NHS referred to improving GP provision and community healthcare services outside hospitals. The urgent need in hospitals is for more consultants to enable senior weekend cover, together with support services being made available.
Clearly these wobbles will not be enough to cause Hunt to climb down, and there is a limit to how long the doctors can continue on their own. Other workers must do more than visit picket lines in sympathy. Real support means opening up other fronts against the government.