Voting ends today (1 July) in the "Members Referendum" of junior doctors on whether to accept the terms negotiated by their union, the British Medical Association, to settle their long-running dispute with the government over seven-day working.
Details were published in full on 31 May and a series of 120 roadshows across England were mounted between Monday 6 and Friday 17 June for junior doctors and final or penultimate year medical students about the new contract ahead of the referendum of members between 17 June and 1 July. The outcome is likely to be made public on Monday 4 July.
The proposed agreement includes improved flexible pay premiums for specialties such as psychiatry and emergency medicine, which would help to address the recruitment and retention crisis in these disciplines. The "guardian role" to ensure safe working practices would be strengthened and the contribution that junior doctors make throughout the whole of the working week has now been formally recognised.
Health secretary Jeremy Hunt had attempted to impose a five-day deadline on further talks  – in fact, they went on for almost two weeks. At the end of them the BMA felt able to recommend a new and amended contract which went some way to addressing the issues of working conditions, recruitment to the profession and maintenance of high quality care. The union described the talks as positive and constructive, with the potential to form the basis of a new contract.
Unity
If any one event forced health secretary Jeremy Hunt back to the negotiating table, it was the remarkable unity during the strikes on 26 and 27 April. In many parts of the country picket lines were heavily populated with consultant colleagues manning emergency services in support, against imposition and in the realisation that this action is shielding them from a similar attack.
A number of general practitioners also visited picket lines. They know that a few concessions have been made in their own contractual settlement thanks to pressure on government generated during this dispute.
Despite widespread cancellations of elective surgical and outpatient appointments public and patient support locally remains high and articulate. Hospitals were quiet and safe.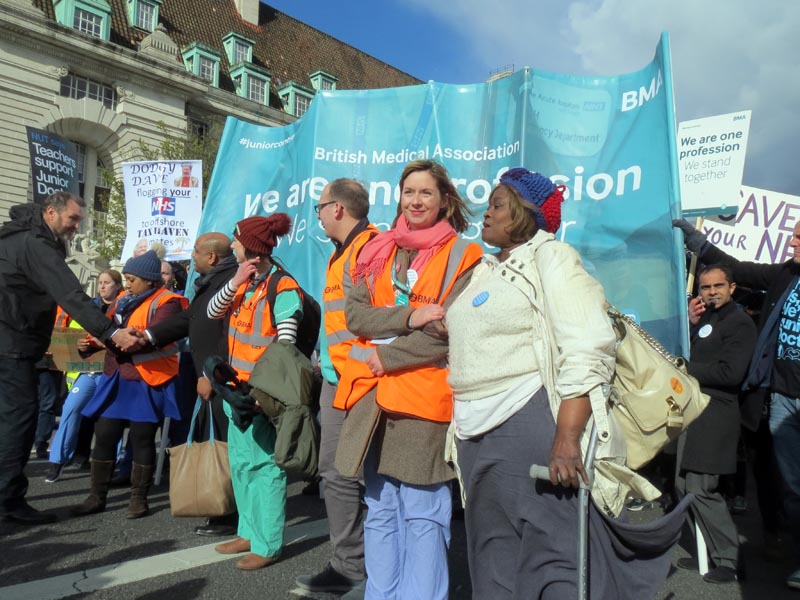 If Hunt was hoping for a lessening of resolve he was thwarted once again as the doctors continue to protect the National Health Service on our behalf. Some 78 per cent of the workforce withdrew their labour. And public and patient support remains undiminished at 60 per cent – unprecended in a protracted health service dispute.
Hunt's warnings that the strikes on 26 and 27 April were inherently dangerous proved wide of the mark. This was largely due to consultant colleagues, specialty doctors' hospital management and multidisciplinary teams all working together to provide emergency cover. Not a single acute trust reported a safety incident or found it necessary to recall the juniors. This is what a united and motivated NHS workforce achieves on a daily basis.
In all, 98 per cent of doctors balloted voted for a full walk out and at least 78 per cent took part in the industrial action. If such unity and involvement were emulated by the organised working class as a whole it would make the impending Trade Union legislation irrelevant.
'Pilot' refused
On the week previously a group of cross-party MPs called on Jeremy Hunt to pilot the new junior doctor's contract in a small number of trusts in a bid to avert an all-out strike, calling for an independent evaluation of the "weekend effect" to ensure that medical staff deployment was the actual cause.
The cross-party proposal received support from the Royal College of Surgeons seeing it as a possible way out of the current impasse. All Hunt had to do to affect this was withdraw imposition and negotiate. In response, and knowing full well that it was too late once hospital contingency plans were in place, he offered a meeting on the Monday before the action was due to start to discuss a better way forward.
In the following press conference he intimated that Secretary of State for Health would be his last big job – a decision that the doctors have already taken on his behalf.
The Conservative Manifesto 2015 made a number of health-related pledges. Its preface stated that patients, doctors and nurses are the experts on how to improve people's health so they have been given greater power and accountability by this government than by any other. In reality neither they nor their Royal Colleges are listened to.
Fourteen Medical Royal Colleges wrote to the Prime Minister asking him to intervene and mount a "listening exercise". He declined, suggesting that the action was entirely the "creation" of the British Medical Association.
Every sensible person knows that if a doctor, in line with authoritative professional bodies, says that a contract is not safe and not fit for purpose, then it is unsafe and unfit. Around 13,000 operations and 113,000 outpatient appointments were cancelled over the two days and still the doctors have support of patient and the wider public alike.
Subsequently pressure mounted on the Secretary of State from all sides. The Commons Select Committee chaired by Sarah Wollaston, a Conservative and former general practitioner, wrote to him insisting that there had to be a negotiated settlement. This was quickly followed by consensus statements from the Academy of Royal Medical Colleges and the NHS Confederation (on behalf of all NHS chief executives) that imposition of the contract was not in the interest of the service or its patients.
Opposition to a cabinet minister on this level is unprecedented.
False claims
The government says that spending will increase by a minimum of £8 billion in real terms over the next five years. In fact, NHS trusts have an accumulated financial deficit of around £2 billion this financial year alone.
It also claims that over the previous five years a record numbers of doctors (9,500 more) and nurses (6,900 more) were recruited. None of this is reflected in either National Professional Register. Unfilled vacancies are legion.
Nowhere in the manifesto was any reference made to junior hospital doctors – nor to withdrawal of bursaries that previously supported nursing and midwifery training.
By 2020, apparently, everyone will be able to see their GP between 8 am and 8 pm 7 days a week. People over 75 will be guaranteed same day GP appointments. A cap on residential social care and nursing home costs will be introduced so that people don't have to sell the family home. No one believes that Hunt or the Treasury have any intention at all of delivering these promises.
The electorate in an ideal world, wants to see hospitals properly staffed so that the quality of care is the same every day of the week, but within the current manpower and resource envelope negotiations are necessary to ensure that any proposed extended services are appropriate and safe for doctor and patient alike. Instead, the government attacks the very people we rely on to look after us when we are ill.
Deep deficit
As accounts are closed at the end of June they reveal that the NHS is carrying its biggest ever financial deficit, heading for around £2.8 billion in 2015/16. Advice being given by Treasury on how to present the figures might prompt an inquiry by the Public Accounts Committee. Directors of Finance are urged to be "creative", claiming back VAT and counting future income as early as possible while moving debt into the following financial year.
The issuing of Guidance was, apparently, prompted by the fact that some trusts appear to be using inconsistent accounting practices. Really? More like stating the actual financial position, perhaps.