After the Referendum we must now do something about what remains of our fishing industry. It's time to reflect on the devastating impact of the EU and how to revive the industry along with fishing stocks…
An island surrounded by sea, at a latitude and with sea conditions that offer optimal conditions for the reproduction and management of fish should have a thriving fishing industry, able to feed its own people and to trade with the rest of the world.
Instead we are a net importer of fish. EU commissioners, influenced by the lobbyists maintained in Brussels by the large aquaculture capitalists, have fixed the size of quotas under the EU's Common Fisheries Policy (CFP). Trawlermen and inshore fishermen have lost out to the behemoths like Marine Harvest, the Norwegian-owned giant that dominates Scotland's £630 million salmon farming industry.
When Edward Heath signed Britain up to the Common Market in 1973, he surrendered the 200-mile or median point fishing limit enshrined in international law, and misled parliament about transitional arrangements. In fact, though Heath was careful to avoid mentioning it, Brussels had already arrived at a position on fisheries – that they were a "common resource" to which all member states should have access, even, absurdly, those with no coastline. Heath settled for exclusive fishing rights inside a six-mile limit and partial control of a six- to twelve-mile limit but only for ten years, which could only be renewed by unanimous agreement of every member state.
Catastrophe
The effect on our fishing fleet was catastrophic. House of Commons Library figures show that the home fishing fleet, from a high point in 1948 of about 13,300 vessels, now consists of 6,383. In 1973 we were landing a million tonnes of fish; since then, landings have been in steady decline, and in 2009 were around 0.4 million tonnes, the lowest in any years outside the two world wars.
In 1984 we went from being a net exporter to a net importer of fish. The number of fishermen fell by around 43 per cent between 1994 and 2014. Boats were scrapped or turned into leisure craft. By contrast, the EU provided grants to subsidise boat-building in other countries.
After the ten years had elapsed, there was a free-for-all in British waters. Fish stocks were badly damaged by rapacious over-fishing by foreign fleets, especially the Spanish. Some Spanish skippers bought British boats in order to bypass any attempts at regulation.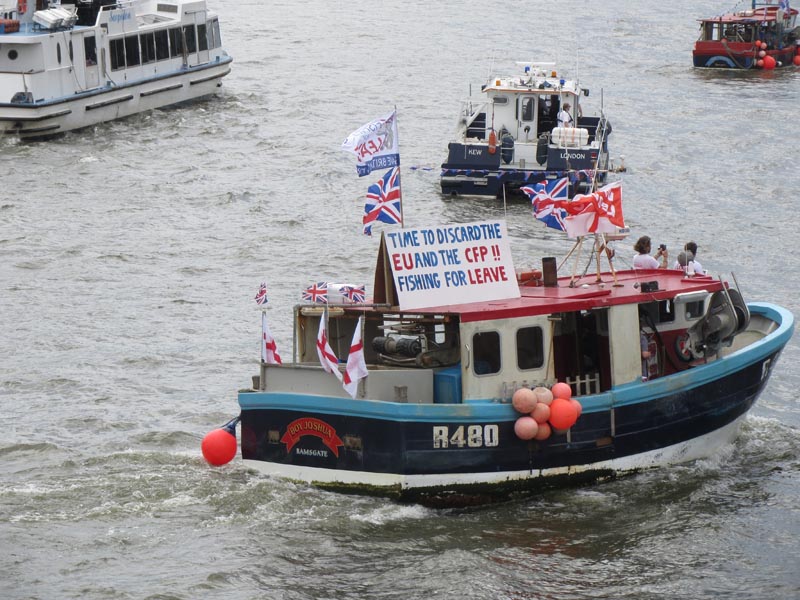 The government, forced by a vigorous campaign by fishermen, passed the Merchant Shipping Act 1988, which required all ships landing catches in British ports to be at least 75 per cent British owned. Then a Spanish company, Factortame Ltd, brought a case against Britain claiming that this was contrary to EU law.
After the usual legal to-ing and fro-ing the European Court of Justice backed the company. The British government had to pay damages of over £100 million. The House of Lords then ruled that British legislation was subordinate to EU law.
Each year the EU Council of Ministers sets a Total Allowable Catch for each fish stock and fishing area based on guidance from the Advisory Committee of the International Council for the Exploration of the Sea. This is then allocated as quotas to member states in accordance with fixed percentages based on historic fishing rights.
Greenpeace says the government of the day significantly underestimated the contribution made by small fishing vessels – less than 10 metres long – to the industry and so allocated them a tiny proportion of the quota. As the quota each year is based on previous allocations, the smaller fishermen have been unable to increase their share and find themselves harder up each year.
Now nearly half of the total English fishing quota is controlled by companies from overseas, according to an investigation by Greenpeace. One Dutch vessel, the Cornelis Vrolijk, accounts for almost a quarter of the entire English catch and about 6 per cent of the total UK quota. The 370-foot trawler may operate out of Hull under a British flag, but its entire catch is landed in Holland.
Quota-grabbers
The five largest foreign-controlled vessels take 32 per cent of the English quota. In total, nearly half of the total English fishing quota is controlled by companies from overseas. And the Dutch and Danish want an even greater share of fish in British waters.
'Hardest hit have been the small fishermen.'
Norway's refusal – twice – to join the EEC and then EU, in 1972 and 1994, and Iceland's 2013 decision not to pursue a membership application, were driven in no small part by a determination to protect their fishing industries. And their position is vindicated by the statistics. In 2014 Norway landed 2.027 million tonnes in its domestic ports, double that of Spain, which landed half that (1,109 million tonnes), while Britain landed 0.406 million tonnes in 2013 (the last year for which comparable figures from the UN are available).
Probably hardest hit have been the small fishermen, the 5,000-strong small scale fleet which fish in the UK inshore waters. Increasingly marginalised, they hold just 4 per cent of the UK quota between them. They fish sustainably and seasonally and benefit local communities by selling their catch to local fishmongers and restaurants. They provide work for others, such as net makers, boat builders and engineering companies and often diversify into tourism, offering trips for recreational anglers and tourists.
Jobs
The hinterland of our port cities and towns has suffered along with the fishermen themselves. Small-scale fishing provides 65 per cent of the jobs at sea in England and Wales, and evidence from the New Economics Foundation in 2012 suggested that if fish stocks were restored, the UK would gain €469.8 million in revenue, and increase the number of fishing jobs by 3,000.
The CFP has been "reformed" multiple times over the years, each time with worse results for Britain. In particular, the stick of conservation has been used to beat the fishermen, though small fishermen have no interest in over-fishing or in throwing catch back into the sea. By contrast the large shellfish and salmon farms have become breeding grounds for disease.
The working class's historic decision to vote Leave on 23 June creates the conditions under which our fisheries can be revived. Workers in the industry, and outside, must give serious thought to the action needed to develop this resource. What do fishermen need, now and in the future? What training and apprenticeships do we need to bring young people into the industry? Where will we build the boats? How will we manage the stocks? At last we can start to answer these questions.