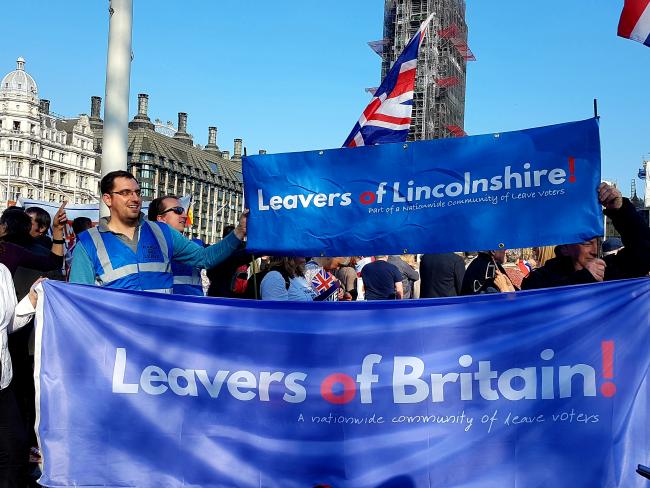 The working class has used the Brexit party to tell the pro-EU ruling class to carry out our 2016 instruction to leave – and we have given that ruling class a bloody nose.
Three years after we voted to leave, it was a staggering failure that we were made to participate in the EU's elections. Even Theresa May herself admitted that taking part in these elections would amount to "failure".
Impotent
Those elections were for a remote and impotent body. The EU Parliament cannot initiate or amend legislation. It can only approve or reject and even then, other unaccountable EU institutions can overrule it. The only point of the EU vote on 23 May was to say "No" once more.
We have had 40 years' experience of the European Union and its predecessors followed by three years of lies about the perils of independence and the "stupidity" of those who voted for Brexit. But what happened was over 58 per cent of votes for pro-Brexit parties, including the Conservatives and Labour.
'It's not enough to leave politicians to get on with Brexit.'
Activity and debate in the class over the past few months has brought it home to many more people that it's not enough to pass a vote and leave politicians to get on with it. That's the message for all Britain's MEPs and whoever becomes Prime Minister.
We should have left the EU on 29 March. On 28 March MPs voted by 441 votes to 105 to change the EU exit date. So, more than three quarters of MPs opposed leaving three years after we decided to leave.
Extension
In 2017, 498 MPs voted to trigger Article 50 which said we will leave with a "withdrawal agreement or, failing that, two years after the notification". That was clearly to leave with or without a deal on 29 March 2019. Too many MPs have refused to obey their own law. That can't be allowed to happen again.
May is no better than the MPs. She broke the European (Withdrawal) Act 2018 by ordering a civil servant to ask the EU to extend Article 50 to 12 April, before Parliament had passed the enabling legislation. She changed the date by fiat – ignoring the promise she gave Parliament 108 times – without even asking Parliament's permission. She did not even tell her Cabinet.
The EU at once agreed to May's request for an extension. And they want to keep us in even after 31 October. European Commission president Jean-Claude Juncker said on 23 May, "I am getting fed up because we are waiting for the next extension."
The failure to leave on the promised date of 29 March has proved to be a tipping point when people lost any remaining trust in Parliament and government.
Control
We cannot wait for a new Churchill, we cannot rely on Boris Johnson or the Brexit party to deliver Brexit for us, the people must take control. To win Brexit, to enforce our referendum decision, we the people must enforce our own sovereignty, our own control. We have to take the initiative, to plan and work for our independence.
The first order of business is to get on with leaving. A new prime minister could trigger a no-deal Brexit without parliament having the power to stop it. The Institute for Government, a Whitehall think tank, said that although MPs could express an opinion they would not have "legal teeth" to stop a no-deal Brexit. Under UK law, enacted by last year's EU Withdrawal Act, Britain will leave with or without a deal on October 31 unless the date is changed by the government or Article 50 is revoked.