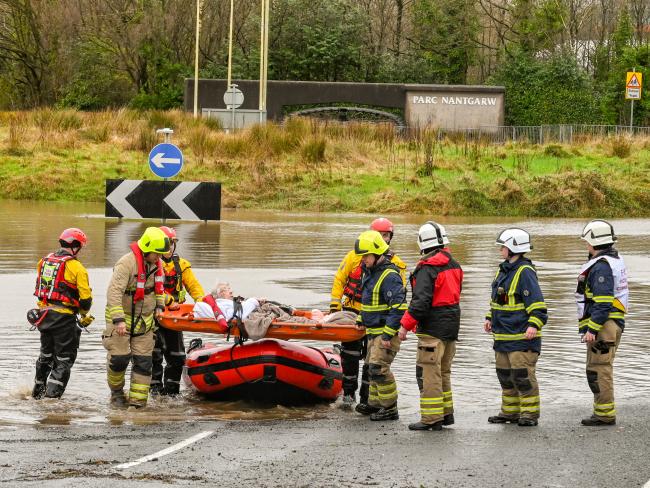 The Fire Brigades Union is doing its utmost to alert the country to the risks of fire and flood across Britain. The union has warned of the impact of cuts on their response to predictable catastrophic events.
On Wednesday 1 November firefighters from all over Britain assembled outside the Houses of Parliament to launch the Firefighters' Manifesto. The union says that without better funding, standards will fall. That means slower response times, with increased risk to crews and the public.
Firefighters are part of an integrated fire and rescue service, the scope of which is not always fully appreciated. Rescues increasingly involve incidents of flooding in homes and workplaces.
Resources
The firefighters want people to be aware that while their role has increased, resources have shrunk. As a consequence while they are rescuing people from rising flood water, this can leave others at risk of fire.
The manifesto begins with an outline of the devastating impact of the past 13 years on the fire and rescue service. This includes the loss of one-fifth of firefighter jobs, central government funding reduced by 30 per cent in cash terms and the closure of dozens of fire stations.
'Response times are at a record high.'
Response times are at a record high. And dealing with floods, wildfires and other similar events leaves services dangerously overstretched.
The manifesto sets out a series of practical demands including an immediate injection of cash into the service. It also calls for national standards on response times and crewing levels. It's surprising to learn that there is currently no national standard response time.
Coordination
Crucially the union demands better coordination in relation to flooding and extreme weather events. Public safety is dependent on joint working between local authorities, highway authorities, water companies and several other organisations. This can be improved.
More widely, the manifesto proposes a series of measures to ensure safe housing, which if implemented would reduce fire and flood risk. The degree of training necessary for all those involved in flood protection should not be underestimated – it's important to mitigate the high risk to emergency workers.
In contrast to the charade of the ongoing Covid Inquiry, firefighters bring a practical and knowledgeable approach to the issues.
Urgency
The manifesto launch came soon after Storm Babet. Some firefighters were still involved in the clear up and couldn't attend. That recent experience meant that those who spoke on the day did so with immediacy and urgency.
The FBU has put the government on notice. Lame excuses from ministers about the wrong wind direction will not wash.
Examples
Statements on the union website provide recent examples of how stretched the service has been.
in one of them, Shaun McGowan, a Fire Brigades Union rep at Kingsway East station, Dundee, said, "On the first night of the flooding, we woke up to the call at 1am and worked throughout the night until 11am the next morning. As the flooding spread, we were sent all across the region to respond to life and death incidents – missing persons, people trapped in cars, urgent evacuations.
"It was clear that resources were stretched very thin, and we were being called to incidents miles away over the two days because there wasn't anything available closer. It's not hard to see how there could have been fatalities in our area.
"Our fire station has just had our second appliance cut, meaning we only have one. At the time of the floods, a big fire broke out in Dundee. When crews and fire engines are cut, we always ask what would happen if two life threatening incidents happen at once? We simply don't have the resources to respond and have to wait for backup to travel from miles away. It's a disaster waiting to happen."