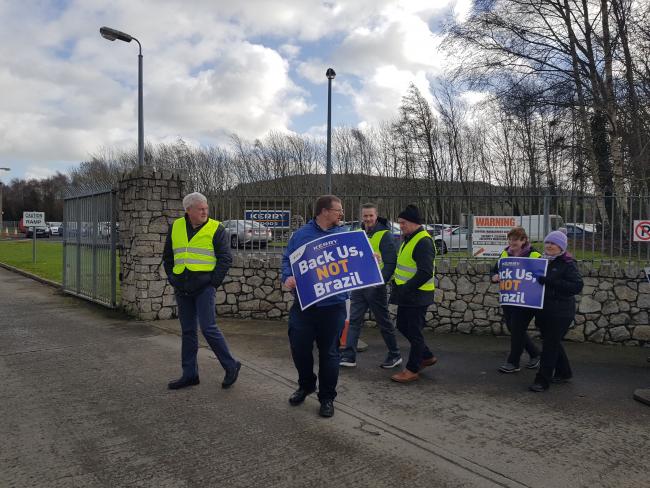 Beef farmers in Ireland are holding a series of protests calling on their government and the EU for support. Their concerns are a new EU trade deal and the impact of Brexit at a time when beef prices are already falling.
The new trade deal with Mercosur – a trade bloc whose members are Argentina, Brazil, Paraguay and Uruguay – took 20 years to negotiate. It reduces tariffs on many goods including agricultural products and automobile parts. Farmers expect that cheap food imports will undercut European produce.
At the end of July the Irish Farmers' Association held a demonstration at the EU Food and Veterinary Offices in Co Meath. They specifically wanted to highlight the current import of substandard South American beef products and called for a ban on them. That followed a demonstration on 10 July in Dublin by thousands of farmers and their families.
Vulnerable
Irish beef farmers are particularly vulnerable as Brazil and Argentina are both major beef producers. They fear that lower costs will be irresistible to major food companies. They say that South American beef production lacks regulation to EU standards and that beef already being imported from Brazil is substandard.
There are questions over traceability and animal welfare in some of Mercosur countries, as well the use of drugs banned in Europe. Environmental standards are lower too. A particular concern is the well documented deforestation for cattle ranching – on the increase again in Brazil after reducing over the last decade.
No veto
The details of the deal remain to be negotiated. There's little chance of the deal being rejected and the main provisions on beef imports are already set. Ireland has no veto: the vote will be on a majority of EU member states, none of which are as reliant on beef as Ireland.
'They are talking about bringing food halfway across the world to displace European product.'
Jackie Cahill, a TD for Tipperary and former president of the Irish Creamery Milk Suppliers Association, said "They are talking about bringing food halfway across the world to displace European product, and that is driving farmers bananas. The hypocrisy of the commission to allow a deal like this to go through when adapting to climate change is all the talk in Europe," he said.
Hoping for help from politicians at home or in the EU doesn't look as if it's going to get far. Philp Hogan the Irish member of the European Commission – ironically with the portfolio for Agriculture and Rural Development – called the deal "fair and balanced". He pointed to other trade deals that allow EU beef into Japan and Mexico.
Hogan said "For this agreement to be a win-win… carefully managed quotas will ensure that there is no risk that any product will flood the EU market and thereby threaten the livelihood of EU farmers."
The Taoiseach Leo Varadkar tried to deflect criticism by saying that Brexit will be worse for beef farmers. He promised a full assessment on the final legal document and said that if it was not in Ireland's interests "we will not hesitate to vote against it".
Omission
Varadkar omitted to mention that such a vote could not change the deal. Nor did he acknowledge the EU's intransigence in negotiation that may lead to tariffs on Irish beef exports to Britain.
Understandably few Irish farmers seem to be impressed by the political statements or promises that only good quality beef will be imported. They see the trade deal as opening South American markets to German and other EU manufactured goods at their expense.
• A shorter version of this article was published in Workers September/October 2019 edition