The economy grew by just 0.3 per cent in the first quarter of 2015, said the Office for National Statistics on 28 May, confounding – as ever – predictions from City analysts, who had been expecting higher growth. In fact, growth was half the figure for the final quarter of 2014 (0.6 per cent).
That there was any growth at all is all down to the services sector, which represents three-quarters of output and grew by 0.4 per cent. But that is the weakest growth since 2012.
Meanwhile, exports fell by 0.3 per cent while imports increased by 2.3 per cent. The trade deficit widened from £9.6 billion in the fourth quarter of 2014 to £13.2 billion.
If that all sounds like bad news – and it is – a more detailed look shows an even worse picture. GDP (Gross Domestic Product) may have risen by 0.3 per cent, but with a rising population GDP per capita rose by only 0.1 per cent.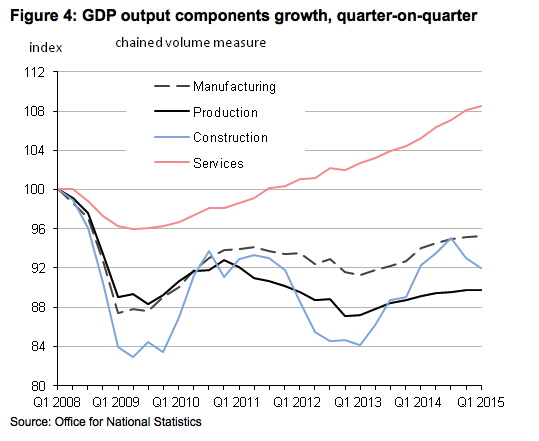 Worse, comparisons with 2008 (see graph above) show that manufacturing, construction, and production generally are all well below the situation seven years ago. So much for David Cameron's vaunted "march of the makers".