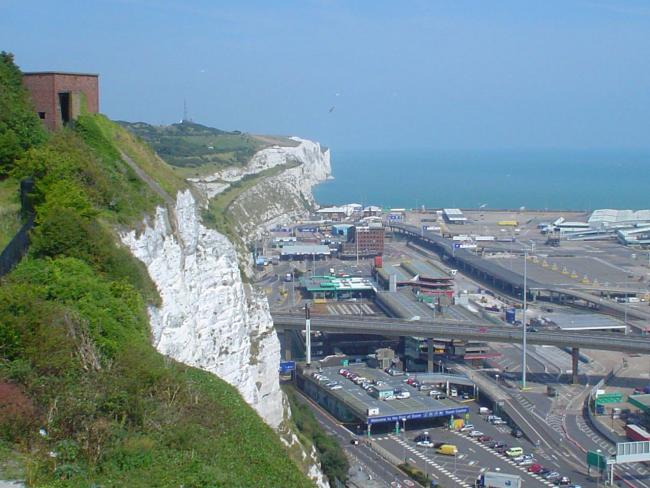 People smuggling across the Channel is increasing, with tiny dinghies crossing busy shipping lanes used by 500 ships a day and putting lives at risk. And it's a lucrative trade – so much so that crime bosses have been recorded saying that smuggling people is more profitable than smuggling drugs.
So great was the concern about the spike in crossings over the Christmas/New Year period that the Home Secretary Sajid Javid cancelled his holiday and returned home. We had just one cutter and two smaller boats patrolling the Channel coast, quite unable to cope with the size of it.
Navy?
Where is the Navy? There isn't a great deal of it left, and some of it is deployed in moves against Russia and China, or on patrolling other people's borders. The Navy sent a ship to the Black Sea a few weeks ago to protect Ukraine after an incident with Russia near the Sea of Azov. A warship is sailing around the South China Sea, to make the point that these are international waters. 
Two ships, HMS Echo and HMS Bulwark, are operating in the Mediterranean to pick up thousands of migrants crossing in small dinghies and boats from Africa. Part of Operation Sophia, an EU project, they deliver them to European ports.
Since he got back from holiday, Javid has made a start on the problem in the Channel. He took up the Navy's offer to provide backup for the Border Force, and announced two Border Force cutters would be returning home from abroad, while HMS Mersey would be deployed to help with patrols in the interim. Most observers see this as inadequate, given the length of coastline around Britain.
He also held talks with his French counterpart Christophe Castaner, who said afterwards: "It is in our interest, as it is for the UK, to not allow new smugglers to operate which would attract new migrants." It will not be so easy for smugglers to operate from France as it is for them in Libya.
Ports
The increase in attempts to cross by boat is believed to be due to increased security at ferry ports and Eurotunnel. According to the BBC, more than 56,000 attempts were made by people trying to get into Kent from French ports and terminals in 2016.
Of the 504 migrants recorded as seeking to cross the Channel in small boats in 2018, 276 managed to get to British waters and coasts and 228 were intercepted by the French authorities. This is just the latest form of people smuggling into Britain. Regular cross-Channel routes see thousands attempting the journey illegally every year.
'Border controls have become quite inadequate to deal with the rapidly escalating problem.'
One reason why the slogan "Take Control" won so much support in the Referendum is that our border controls have become quite inadequate to deal with the rapidly escalating problem. The absence of border controls across the EU Schengen area is a contributing factor and will continue to affect Britain after Brexit.
Staff cuts
Also significant is that Border Force actually had a staff cut of 7 per cent in 2017/18. The National Audit Office reckoned in October that it would need 2,000 more staff to cope with Brexit. Yet trade magazine Personnel Today revealed at the end of last year that Border Force "had still only made 452 offers of employment, of which just 149 had been accepted".
Some say it is immoral not to allow all would-be migrants into Britain. But that is a sure way to increase the trickle to a flood. And we should be clear about "desperation": if they fear persecution, why risk their lives – and those of their children – to come here when they could claim asylum in France?
Britain cannot accommodate all the people of the world who want to come here – and should not give special exemptions for people rich enough to buy the services of organised smugglers. Securing our national borders is a prime function for government.