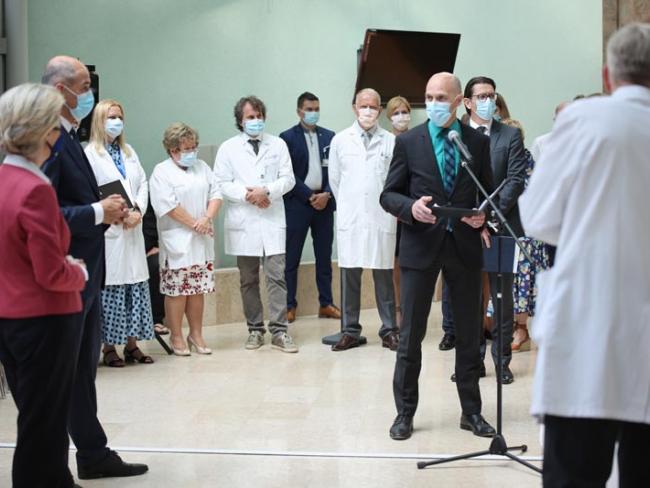 All is not harmony inside the European Union. On 1 July Slovenia took over the rotating presidency of the European Council – and promptly ignited a furious row with the European Commission over what Slovenia sees as unequal treatment of countries like its own. 
At root is the crucial issue of national sovereignty of EU member states, an argument which is being played out over the question of whether European law always trumps national law. The problem is not just confined to the familiar awkward squad of Poland and Hungary. 
According to the news site Politico, the inaugural meeting of the new presidency between Slovenian prime minister Janez Janša and Ursula von der Leyen and her commissioners, held in Ljubljana, started badly when the Slovenian produced a photograph of European judges on a hiking trip with "left-of centre" politicians and accused them of political bias. 
'Swine'
Then it went downhill, and Commission Vice President Frans Timmermans refused to join the group photograph. The next day, the Slovenian justice minister is said to have referred to "swine" in the EU's "highest bureaucracy".
If tempers are fraying and diplomatic niceties are failing to be observed, it's because there is a lot at stake. EU Justice Commissioner Didier Reynders said on 30 June that EU members could bring down the EU by their challenges to the supremacy of EU law. Cases questioning the supremacy of EU law have been launched in Germany, Poland, France and Hungary.
Primacy
In an interview with the Financial Times, Reynders said: "What is the risk if we don't take care of this? It is that we will destroy the union itself…When we have a problem in one member state, the risk is a spillover effect, that you will have in all the member states, or in some member states, a tendency to challenge the primacy of EU law and the exclusive competence of the Court of Justice."
Defending the EU's legal challenge against Germany, Reynders said: "If you don't stop that, you will have more possibilities for different member states to challenge the primacy of EU law and the competence of the ECJ."