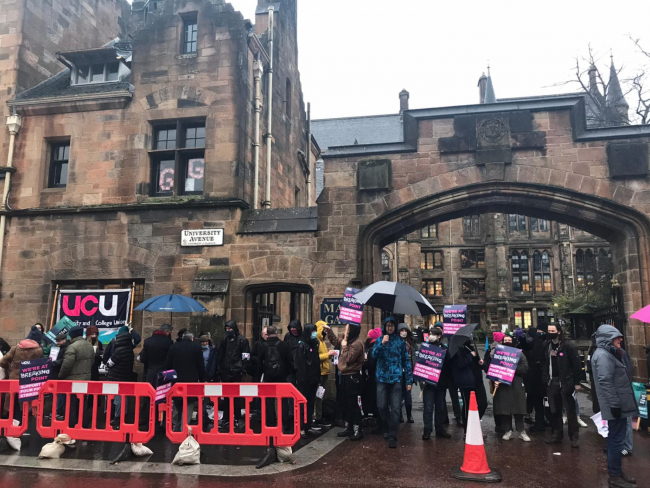 Support is growing for the university staff action over pensions, pay and working conditions taking place at campuses across Britain and Northern Ireland, with picket lines swelling. Students too are producing their own banners to show their appreciation for the extra unpaid hours they know staff put in to help them get their degrees. 
As University of Glasgow PhD student and Graduate Teaching Assistant Rosie Hampton, herself on a fixed-term contract, eloquently explained to BBC Scotland: "We are in a position now where everybody's conditions are affected – student learning conditions are worsened by the fact that staff are exhausted. 
"You can feel the enthusiasm and passion from everybody who want to be able to do a good job – but the pay and conditions have just made it so difficult so we need to be able to take a stand." When the three-day strike ends on 3 December, UCU members will be taking other action and working only to contracted hours. 
Divide and rule
Meanwhile the individuals leading the Universities and Colleges Employers Association and Universities UK continue their ineffective efforts to divide and rule university workers. And as employers always are when they are backed into a corner, they're nasty with it. One unnamed vice chancellor was reported as saying: "I don't care if it's bloody, as long as the blood spills within the union." 
'The heart of the issue is an orchestrated attempt to destroy the scheme.'
The dispute ostensibly centres around the employers' refusal to put sufficient money into the Universities Superannuation Scheme (USS) – with the result that someone on point 37 of the pay spine (the starting salary for lecturers) can expect a 35 per cent cut in guaranteed benefits when they eventually retire. 
But the heart of the issue, as Workers has reported, is an orchestrated attempt to destroy the USS, aided by the USS itself – which is using unrealistic assumptions to suggest that employee contributions will need to rise from 9.8 per cent of salary now to 18.8 per cent of salary by 2025 to maintain benefits, with employers' contributions rising from 21.4 per cent of salary to 38.4 per cent over the same period. These assumptions seem to be consciously devised to encourage workers to quit the USS.
Collective
Collective thinking, anathema to capitalism, is what underpins company pension schemes whereby both employees and employers contribute, with pensions a form of deferred pay. Such schemes strengthen workers because they reinforce the need for collectivity, so they have been systematically destroyed by employers and government working on their behalf.
Other workers take note: the EU's reserve army of labour is no longer undermining job security and pay, and there are far fewer workers competing for the same jobs. So now is the time to make demands: to be paid properly both while working and during retirement. It's not a gift, it's a right. But like everything else under capitalism it has to be fought for. University workers are now in the forefront of that fight.