Like health care, social care is a vital service. Both need to work together…
 Both social care and health care are in trouble in Britain today. Worse, the problems in each service are damaging the other.
There are also significant differences. Social care is fragmented, even more than the NHS after the creation of trusts. And for the most part social care lacks the core of skilled, professional, organised workers that you find in the health services. The instability, shortage of funding and lack of planning for social care all contribute to a sector where wages are low and dubious employment practices are common.
The challenges faced in supporting adults who need care besides medical services have been evident for a long time. Successive governments have failed to find answers. Each "solution" seems to make things worse.
Against this background, economist Andrew Dilnot chaired a commission in 2010 to address the issues associated with care of the elderly. Their report recommended capping the maximum amount individuals contribute for social care over their lifetime. That would eliminate the catastrophic care costs faced by some people. The state would meet all funding over the capped amount. Dilnot said that limiting people's liability in this way would help to develop a market for financial products. People would be able to insure themselves against the cost that they were likely to incur.
The commission recommended that the contribution any individual is required to make should be capped at £35,000, excluding general living costs. The asset threshold above which people in residential homes are liable for the full cost of their care should be increased from the then current level of £23,250 to £100,000. They should, however, make a standard contribution to cover their general living costs of between £7,000 and £10,000 a year. Eligibility criteria for services should be set nationally and needs assessments should be "portable" between local authorities to prevent a post-code lottery.
'This is a political decision to marginalise the elderly.'
If the Dilnot Commission's recommendations had been implemented in full at the time, forecasts indicate that no one would have to spend more than 30 per cent of assets to fund their care. Recommended changes to the proposed funding system would have required £1.7 billion in additional public expenditure (0.14 per cent of GDP) for 2010-11 rising to £3.6 billion (0.22 per cent of GDP) by 2025-26 taking account of demographic pressures.
No argument
There is no conceivable financial argument against these proposals being implemented. This is a political decision to marginalise the elderly and their families at a time in their lives of greatest need. The cost of these recommendations as a whole is modest in comparison, for example, to the cost of bailing out banks after the 2007-08 financial crash.
At the time of writing taxpayers have an accumulated non recurrent exposure of £58 billion in respect of the Royal Bank of Scotland alone. And RBS continues to lose on average around £8 billion a year with no end in sight.
The idea of capping social care charges was not set aside entirely. The Conservative Party manifesto for the 2015 general election addressed social care on those lines. It said it would cap charges for residential social care from April 2016 – at £72,000 for people above state pension age. It also proposed allowing deferred payment agreements, so no one had to sell their home while still alive.
Individual liabilities were to be limited; giving everyone, in their opinion, the peace of mind that they will receive the care they need, protected from unlimited care costs such as those arising from dementia. Other aspects of the Dilnot recommendations were included. The level of personal assets at which people are eligible for state help with residential care costs, irrespective of the cap, was to rise from £23,250 to £118,000.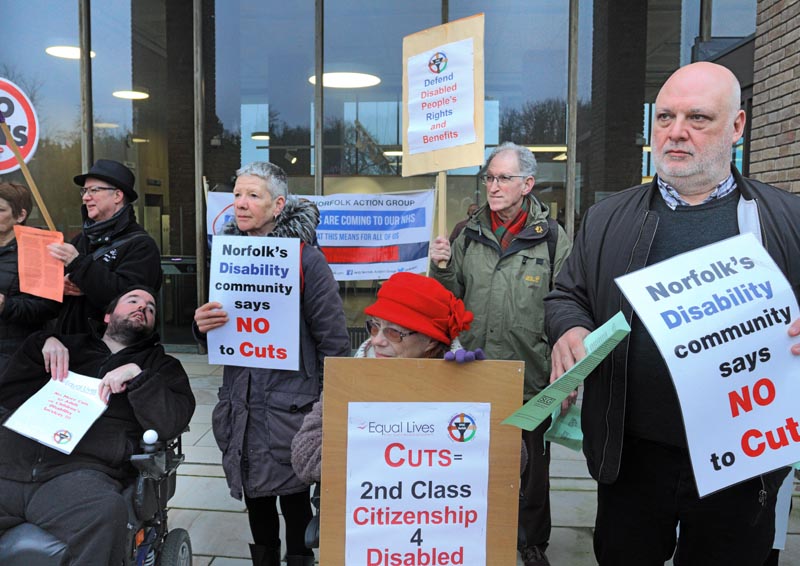 These proposals were shelved despite being a manifesto commitment. Council leaders approached the Chancellor and Health Secretary asking them to set aside funds to implement these promised changes. Instead they wanted funds to mitigate a crisis in day-to-day services for elderly and disabled people, a direct result of government cuts to local authorities. They argued that it would be deeply damaging to press ahead with an ambitious reform programme if the foundations of the system being reformed could not be sustained.
The social care funding gap in England was £700 million a year by 2015-16. This was projected to rise to £4.3 billion by 2020. Osborne allocated £1.5 billion to councils and announced in his 2015 Autumn Statement that they could also raise an additional 2 per cent in council tax as part of a "social care precept". This was intended to raise £2 billion over several years to support services for the elderly.
No ring-fencing
The money was not ring-fenced. According to the Institute for Fiscal Studies there is no evidence that the money was used for the intended purpose. No doubt that's because local authorities have a statutory responsibility to balance their books and to cover deficits due to cuts in central allocations. On average the local government grant from the Treasury for 2015-16 was cut by 24 per cent.
This farce only made matters worse. The way of paying for social care was not reformed. The immediate crisis in social care was not fixed. The funding shortfall rose.
This has been repeated again for 2017-18. An additional £1 billion was allocated in the March 2017 Budget ostensibly to relieve pressures. But the Association of Directors of Social Services have already warned the elderly and disabled to expect cuts to care services and associated rising charges because they are obliged to make savings of £824 million during the course of the year.
The Conservative Party manifesto in 2017 took a new direction. It sought to align the basis for means-testing across both domiciliary and residential care.
'The immediate crisis in social care was not fixed. The funding shortfall rose…'
This is the first time any government has ever proposed that the value of the home you are living in while being cared for should be taken into account alongside other assets and income. They proposed a single capital floor at £100,000 but with no ceiling on care costs. It was asserted that "this powerful combination maximises protection for pensioner households with modest assets, often invested in the family home, while remaining affordable for taxpayers".
This proposal was said by its advocates to be more equitable, within and across the generations, than the proposals made by Dilnot, which they claimed, mostly benefited a small number of wealthier people. In fact Dilnot protects, to an extent at least, ordinary working people who own their own home from being asset stripped.
This proposal had a decisive influence in the 2017 general election. Unsurprisingly it was withdrawn from the subsequent Queen's Speech to be replaced by a commitment to consult on the way forward. We need to ensure that this consultation begins as a matter of some urgency.
The crisis in social care has not diminished in any way since 2010. Recently the Care Quality Commission reported on the state of health and adult social care in England. It's not an encouraging picture.
More than a third of people aged 85 or over have difficulties in daily living. They are therefore most likely to need health and care services. The number of people aged 85 or is forecast to double within the next 20 years. But even now, their care needs are not being met.
Estimates suggest that 1.2 million people in England do not get the help they need. That's about one in eight of older people and just under a 50 per cent increase since the Dilnot Commission in 2010. It's entirely predictable that such a shortfall will lead to more serious needs for those people. Besides the increased pressure on care services in future, this will increase demand on the NHS in the short term.
Beds
Care for people leaving hospital is often not available. People remain in hospital unnecessarily, but others need those beds. There has been a sharp increase in discharge delays related to a shortage of adult social care. Between April 2014 and December 2016 days of delayed discharge increased threefold, although there has been a slight improvement since then.
It's not just those waiting for the beds that suffer from keeping people in hospital longer than necessary. Long stays can affect patient mobility, and increase the risk of infection. All of which will increase demand on health and care services down the line.
Although demand for social care is increasing, supply is falling. There are around 4,000 fewer nursing home beds in March 2017 compared to two years earlier. That's about 2 per cent of the total, but with wide variation across the country. In a few areas the fall is as large 20 per cent.
Care homes are closing too; around two a week currently. Around 12,000 beds were lost in this sector last year. Nearly all are commissioned from the private sector, operating on 14 per cent margins. Every pound the taxpayer puts in buys 86 pence worth of care. And 3,500 elderly patients are needlessly stuck in hospital beds. One in three of them wait for more than a month for discharge at an estimated cost to the NHS around £170 million a year.
Turnover
Domiciliary care in people's homes is no better. Local authority funding has fallen, with tougher rules about who is eligible. There's a high turnover in the mainly private providers of this care; some have handed contracts back to local authorities.
Vacancy rates are high at around 10 per cent for domiciliary care workers and 7 percent for the whole sector. In part that's a consequence of high turnover – around 28 per cent in 2016-17. All of this leads to low quality and inconsistent care. There is no chance that the notorious 15-minute home visits will go while this situation remains.
'Funding has fallen, with tougher rules about who is eligible.'
It's not a trivial or isolated problem to change this. The sector has the capacity to provide care for over 450,000 in residential care homes, nursing homes and other facilities in around 16,000 locations. Personal care provides for a further half a million people, mostly domiciliary care in their homes. The sector employs an estimated 1.4 million workers and contributes £42 billion to GDP.
The public sector budget for social care is about £19.7 billion. Age UK estimates the shortfall in current unmet needs is around £4.8 billion a year. Around £2 billion has been allocated from the Better Care Fund, but this money has not, for the most part, resulted in more resources.
Yet change we must. The NHS was founded on the principles that fear of being unable to afford treatment is abhorrent and that the cost of ill-health should be spread across the community. Although under attack, that still holds good and should do so for social care too, as it is intertwined with good health care. The ideas set out by Dilnot would make a good start.