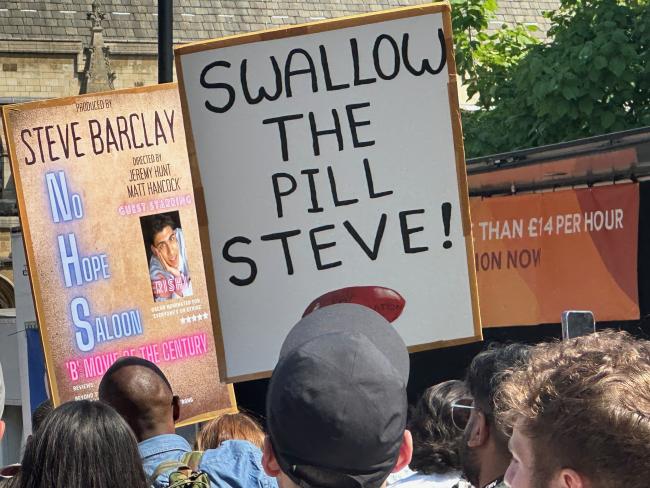 Junior doctors struck from 20 to 22 September, with more strikes planned for 2 to 4 October, and a national rally outside the Conservative party conference in Manchester on 3 October. Hospital consultants will also strike on 20 September and on the October dates.
The British Medical Association (BMA), the doctors' union, launched its campaign for pay restoration in 2022. Junior doctors have had a 26 per cent pay cut in real terms since 2015, and 8,700 medical posts in England are unfilled. Junior doctors struck for the first time in March. 
Like all workers, the doctors are required to reballot periodically. The latest ballot of junior doctors, announced at the end of August recorded a 98 per cent majority for continuing strikes, on a 71 per cent turnout, and action has been maintained. Membership of the BMA has grown during the campaign, to a record 190,000. 
Consultants
Consultants too have seen their pay fall by a third in the past 14 years, and 86 per cent of BMA consultant members voted to strike, also on a 71 per cent turnout.  Their strikes are organised with careful and detailed advice to members on maintaining a Christmas day service for emergencies. 
On 18 September the chair of the BMA consultants committee sent an open letter to Prime Minster Rishi Sunak, suggesting a possible solution based on the offer made to junior doctors in Scotland.  Some consultants are members of the Hospital Consultants and Specialists Association, which has announced it will reballot its members on action, following an overwhelming vote in a consultative ballot that ended earlier in September.
The government refuses, for public consumption at least, to negotiate, and a counter on the BMA website records the number of days since the Secretary of State for Health and Social Care, Steve Barclay, last met them for talks, 136 for junior doctors and 172 days for consultants at the time of writing. 
Misinformation
Hoping to undermine public support, the government has disseminated misinformation about  pay and pension levels and Barclay has issued a consultation about minimum staffing levels. 
NHS staff of all professions view with cynicism this sudden concern for patient safety, staffing levels and waiting lists. In June 2015, for example, NHS England suspended the work of the National Institute for Health and Care Excellence (NICE) on minimum staffing levels. 
Waiting lists have been growing since before the pandemic, as analysis by the BMA demonstrates, driven by workforce shortages, increasing demand and blockages in hospital discharge caused by the dearth of social care provision.