The franchise to run the heavily used Thameslink service for seven years has gone to a company partly owned by French state railway operator SNCF...
Britain's biggest rail passenger franchise was awarded in June...to a company partly owned by France's state-owned rail operator, SNCF. In line with EU rules designed to break up state-owned railways, the government blocked its own state-owned rail operator from bidding but allowed in the French one.
The new seven-year Thameslink franchise will provide train services from September extending from Brighton and Gatwick Airport to Cambridge, Peterborough and King's Lynn, connected through central London using the Thameslink rail line – which has recently been upgraded at taxpayers' expense to the tune of £6.5 billion.
But this franchise will not take the usual revenue risk normally associated with the privatised railway. Instead, it will be a "management contract", and an estimated £8.9 billion will be provided in subsidies over the seven years. No wonder there was stiff competition!
No guards, no conductors
It is no surprise that the government has awarded the franchise on the basis that the new operator cuts out guards or conductors on the trains. This will leave a train driver in sole charge of trains that may be involved in serious incidents in tunnels under London with up to 12 coaches packed with passengers.
No wonder then that rail union RMT has condemned the proposals to do away with the guards, and launched a campaign of opposition. This was one of the key aspects of the much criticised McNulty report, which called for massive cuts in rail staff and whose recommendations are now being implemented by stealth as each franchise comes up for renewal.
The British state-owned rail operator that currently runs East Coast, the route from London to Edinburgh, wasn't allowed to bid for it, just as it wasn't allowed to bid earlier this year to continue running East Coast after 2015. The government was forced to take control of this franchise in 2009 after the private operator National Express ran into financial difficulties.
'Nothing short of economic vandalism…'
The TSSA rail union says the line has been a success story under public ownership. "This is nothing short of economic vandalism by a chancellor who does not want voters to know the truth about the East Coast line – it is a public sector success story," said Manuel Cortes, the TSSA's general secretary. "It has been the cheapest franchise to run for the past five years and it has produced the greatest return to taxpayers – over £600 million."
It's also no wonder that foreign companies are queuing up to bid for British franchises, with SNCF leading the charge in their bid for East Coast. The German state rail operator Deutsche Bahn has also been awarded a lucrative contract by Transport for London (TfL), along with a Chinese partner, to run services from London Liverpool Street to Enfield, Chingford and Cheshunt under the London Overground branding.
So British workers will be contributing through subsidies and sky-high fares towards profits that foreign rail companies will then reinvest in the railways of Paris, Berlin and Hong Kong!
Sleeper franchise
Another announcement was for the new sleeper train franchise for overnight services between London and destinations in Scotland. The devolved Scottish government was happy to fork out £60 million to help Serco buy new trains. This is the company that was involved in the electronic tagging scandal and had to repay £68.5 million to the government for overcharging.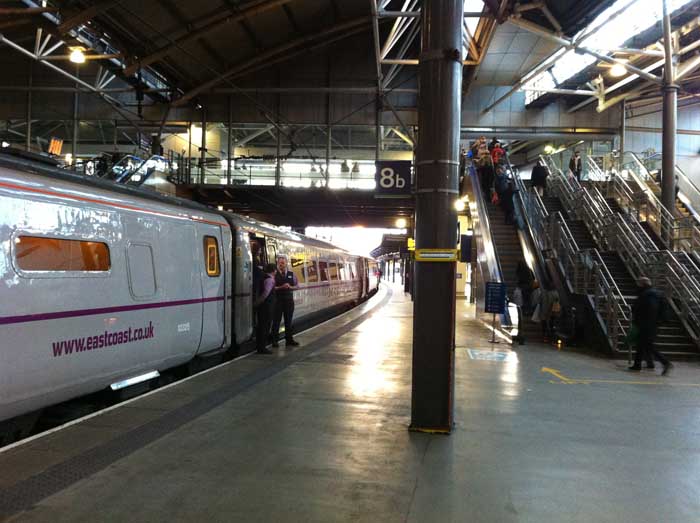 Serco was awarded the franchise, apparently on the somewhat dubious basis that they ran a "luxury" sleeper train in Australia! Rail union RMT said it was "deeply concerned" that the contract had been given to Serco, with their Acting General Secretary Mick Cash saying "this is a company with a truly shocking track record in the delivery of public services. With their appalling list of failures in the UK and globally, they should never have even been considered as contenders for the Scottish sleeper service.
 "The logical option of public ownership was not even looked at. Serco has a reputation for promising the earth and delivering quite the opposite as they seek to maximise profits and sweat their assets for every single penny piece."
No wonder either that rivals First Group were "gutted" having lost out again in their bids for a major franchise. Their gravy train seems to have hit the buffers!
The next announcement will be that for the franchise covering services from London Fenchurch Street to Southend. For some reason, the award has been postponed by at least a month.
Hold-up
The unexplained hold-up is giving fresh hope to those opposing the privatisation of East Coast, which the rail unions have been trying to delay using the tactic of seeking a judicial review. That seems doomed to failure, although even a small delay would potentially mean the decision would have to be made after the General Election in May 2015.
But pinning hopes on Labour is likely to be futile. So far, the Labour shadow cabinet have been making sympathetic noises about wanting to retain East Coast in the public sector "for comparative purposes". But they have been clear that if it is indeed privatised before the election, they would not seek to reverse the decision if they were in office.
Of course, the malign influence of the European Union (EU) may mean that unless they are prepared to defy EU law (and they won't!), the Labour Party will be powerless in the face of the provisions of the latest pronouncement from the European Commission and European Parliament in the form of legislation known as the Fourth Rail Package.
This legislation follows other EU laws that were embraced by John Major's government in the 1980s to bring about privatisation and fragmentation of British Rail. Later EU laws have imposed competition and deregulation on rail freight and international passenger services, usually resulting in lower pay and worse conditions for rail workers across Europe.
Public ownership
Many thought that the Fourth Rail Package couldn't make things worse in Britain, since as originally proposed it would merely introduce to the rest of Europe the discredited system now operating in Britain. They were wrong. Although the original proposals were watered down, the effect would be to prevent any future government from returning the railways to public ownership, and prevent a reunification of train operations with the infrastructure.
Even worse, the creation of a European Railways Agency (ERA) around 10 years ago is now threatening the ability of each nation state to exercise its right to oversee the safety regimes of rail operators. For example, new operators will be able to choose whether to go to the British safety enforcer (the Office for Rail Regulation, sometimes still known as Her Majesty's Railway Inspectorate) or go to the ERA. This can only serve to undermine the health and safety of both passengers and rail staff.
Network Rail becomes an official public sector company in September. The company continues to upset both rail workers and passengers with its lack of willingness to address structural weaknesses in the rail industry.
The directors of the company, among the highest paid public servants in the country, continue to arrogantly pay themselves huge bonuses while denying many of their managers pay rises that keep pace with inflation.
Meanwhile, the company announced profits exceeding £1 billion, a situation that is unlikely to be lost on managers who have had years of pay cuts in real terms, and whose union TSSA will shortly be submitting their pay claim.
'Taxpayers continue to pay around four times the subsidy at today's prices that British Rail received in its final year.'
An opportunity to bring all of its track renewal activities back in-house was missed when the company chose to bring its mechanised work in, but insisted on awarding new contracts for other track renewals. The new set-up seems designed yet again to undermine the pay, terms and conditions of the staff who will find that the protections provided by the TUPE regulations go only so far. Pensions in particular look likely to suffer.
Huge costs
Britain's taxpayers continue to pay around four times the subsidy at today's prices that British Rail received in its final year of existence. The McNulty report recognised the huge costs of fragmenting the railway to bring about its privatisation, but failed to provide any workable solutions beyond cutting staff and their pay. It did not even address the issue of the huge profits to be made from the rail industry, something not lost on foreign state-owned rail companies who see Britain as a nice little earner.
All of this was made possible by the EU. It's time Britain's workers said NO! to privatised railways, and NO! to the interference of the EU in our affairs. Britain needs a railway system that will serve the needs of Britain's workers, not the needs of foreign get-rich-quick companies. Bring back British Rail!