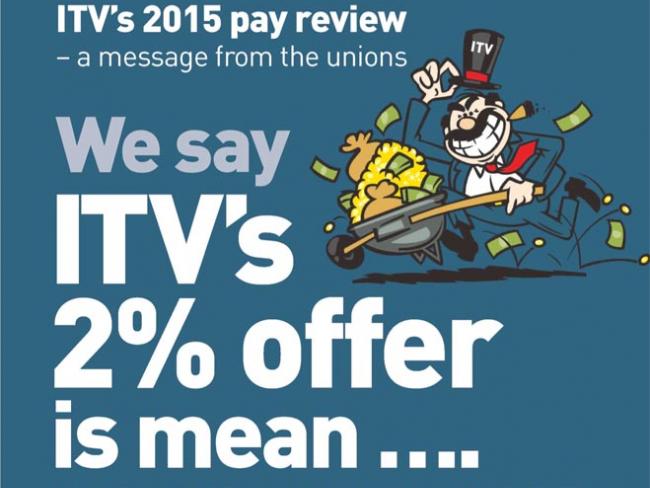 Union members at ITV have agreed to reject the company's 2 per cent pay offer for 2015 and will move to a ballot for strike action unless the offer is substantially improved.
In ballots which closed on the 22 January, there were overwhelming votes for a strike ballot, on high turn-outs, from members of BECTU, the journalists' union NUJ and Unite.  Votes cast by BECTU members showed 86 per cent in favour of a ballot for strike action with 14 per cent voting against. Members in the NUJ voted similarly with 85 per cent voting for a strike ballot. Union members in Unite also posted an emphatic 78 per cent vote for a strike ballot. Turnouts were said to be high.
The unions have argued that ITV's offer, described as "mean", following a sustained period of growth and increased profitability, has to be improved.
ITV staff, say the unions, have contributed to key positives for the company:
8 per cent rise in revenue for the first nine months of 2014, up to £1.8 billion
company profits up 40 per cent in the first 6 months of 2014 to £250 million
saving targets for 2014 exceeded
20 per cent increase in shareholder earnings every year for three years
company's 2013 profits up 30 per cent to £435 million
2013 bonus for CEO Adam Crozier of £8.4 million.
Welcoming the vote by BECTU members, Spencer MacDonald, assistant general secretary, said:
"Today's ballot result expresses our members' views on ITV's pay offer and highlights two extremes. On the one hand, workers' basic earnings have fallen behind RPI by at least 4 per cent over the past five years alone; on the other, ITV is posting record-breaking profits.
"There is now the opportunity for both parties to resolve the dispute by directly communicating with each other to try to reach an agreement. Our offer of talks remains open. However we will move to a ballot for strike action if the company fails to prioritise this issue."