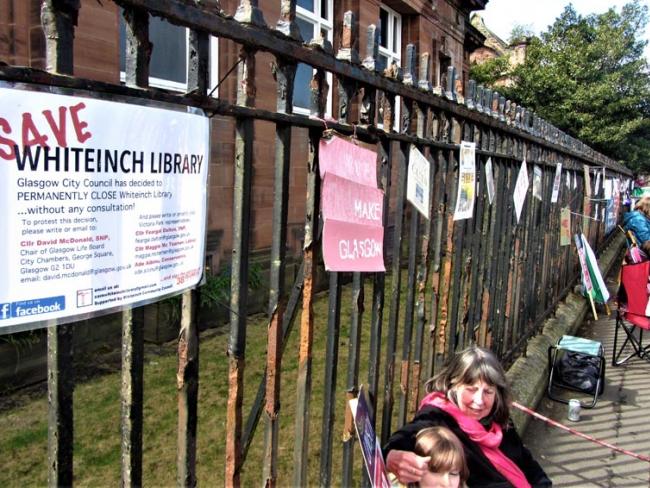 Library users in Glasgow have reacted to closure proposals from the SNP-run city council with weekends of read-ins and demonstrations at the threatened sites. Before the pandemic, Glasgow, with a population of 633,120 the most populous city in Scotland and the fourth biggest in the country overall, had 33 libraries, but only 19 have so far reopened after Covid-19 closures. 
In March the council, backed by the Green Party, forced through a budget for 2021-22 that involved widespread reductions in spending. It was a big blow to Glasgow Life, the so-called "arm's length organisation" which runs the city's libraries and museums as well as leisure and community centres.
One month later, Glasgow Life – its budget axed by almost 15 per cent – announced that five libraries, Barmulloch, Couper Institute, GoMA (the Gallery of Modern Art), Maryhill and Whiteinch, would not reopen. Glasgow Life and the SNP council have been taken aback by the public reaction to the announcement. 
Derision
The council's offer to mount "pop-up" libraries as replacements has met derision, as has its evasive language that the threatened libraries were not to be closed but "not scheduled for reopening". 
A city-wide campaign, Save Glasgow Libraries, and local groups at the five affected libraries, quickly formed and set about vigorous campaigning. Covid-19 regulations prevent demonstrations outside Glasgow City Chambers, so the campaigners have organised local events in the communities served.
Arms length
Councils around Britain have adopted the tactic of handing over libraries from direct council control to entities variously known as trusts, community interest companies or arms-length bodies for more than 10 years now. The handover to Glasgow Life took place in 2006, under a Labour council, in the teeth of union opposition.
The effect is the same, whatever the name: to allow closures by stealth, with councils pretending to to distance themselves from the cuts, and to erode library workers' pay and conditions.
Glasgow council workers in Unison, Unite and GMB are opposing the closures. CILIP Scotland, the Scottish section of the professional association for librarians, has launched a campaign with the hashtag #LibrariesAreEssential, sending an open letter to all public library authorities and trusts emphasised the social and economic contribution public library services can make to town and city recovery after COVID-19.