The Covid-19 pandemic has taught us – if we needed to be taught – that there is such a thing as society. And that there is such a thing as collective responsibility for the health of the country…
Health Secretary Matt Hancock has announced that Covid-19 vaccinations are to be made compulsory for all workers in care homes in England, and that consultations are to commence on extending this policy to the NHS in England. The government will require care workers to have both jabs within 16 weeks of the necessary regulations being approved by Parliament. If they refuse, they could lose their jobs.
Hancock has admitted that the vast majority of staff in care homes have been vaccinated, but told Parliament that compulsory vaccinations in care homes and hospitals would protect not only the individuals vaccinated but those around them, and would save lives.
NHS and care home staffs' unions Unison and GMB have both condemned Hancock's move. Yet both have also failed to provide a cogent explanation as to why they did so. Both suggested that staff would rather leave their jobs than be vaccinated – exacerbating existing staff shortages – but that seems unlikely. Both extol the virtues of persuading rather than coercing workers, and in common with nearly all other unions both encourage their members to be vaccinated. 
So is Hancock going over the top by insisting that care and health workers have the jab? Certainly, the fact that up to a quarter of care staff in London are still not vaccinated must be a serious concern at a time when Covid-19 infections are rising again after restrictions were eased, albeit from a very low number. Nationally, around 15 per cent of care workers are not vaccinated. The figures for NHS staff are similar. 
Refusals
Remember that all these staff were given priority for receiving the jabs, so these are individuals who are refusing vaccination rather than workers who have not had the opportunity. Campaigns by government and trade unions to persuade them to be vaccinated have clearly not completely worked. 
On 14 June the government postponed the ending of all Covid-19 restrictions despite giving clear signals that it would do so on 21 June. Prime Minister Johnson is now talking in terms of "living with the disease", conveying a much more realistic assessment of how the pandemic must be managed in the future. 
After all, the uncomfortable fact is that Covid-19 probably won't be eradicated in our lifetimes. Talk of "zero covid" is fanciful in the extreme, like talking of "zero flu". 
'Talk of "zero covid" is fanciful in the extreme…'
The failure to meet the target date of 21 June to end all restrictions has understandably caused despair for many longing to get on with their lives. The pandemic has created greater levels of unemployment, it has seriously damaged the education of many, and has caused increased ill health. The lockdowns in particular have resulted in greater mental illness, and the intensified pressure on hospitals has seen longer waiting times for patients. For some, the wait was too long, and they died – not recorded as Covid-19 victims, but killed by the virus just as surely.
Notwithstanding, massive steps have been taken towards beating Covid. Since the last lockdown ended in April, restrictions have eased considerably. The vaccination programme has been a success. 
But the recent predominance of the highly infectious Delta variant of the Covid-19 virus first recorded in India did reverse the downward trend in infections – which is why the government decided to postpone what it had called "freedom day". 
Protection
It is encouraging that the vaccines seem to be providing effective protection against the Delta variant. Most of those being admitted to hospital or dying in June were those who had not been vaccinated, and there is strong evidence to show that the vaccinated are at much lower risk of infection. If they are infected they are very unlikely to need hospitalisation, or die. Until recently there was a clear correlation between cases, hospital admissions, and deaths. The mass vaccination programme now seems to have broken that link.
'The figures for deaths should be treated with some caution…'
Throughout the Covid-19 pandemic, lockdowns and restrictions have been imposed on the British people in order to control and limit the spread of the disease, with two express aims; to minimise deaths, and to avoid the NHS being overwhelmed. Around 5 million people have been infected with the virus in Britain, with 470,000 of those admitted to hospital with Covid-19. 150,000 have died having tested positive for Covid-19. At the peak of the pandemic, daily positive tests were around 80,000, with 4,000 a day being admitted to hospital, and 1,300 a day dying having tested positive. 
And a growing number of those infected are experiencing "long Covid", where the effects of the disease persist for months, causing many to be absent from their workplaces on a long term basis, often leading to them losing their jobs.
The figures for deaths should be treated with some caution. The deaths recorded are of those who died within 28 days of having tested positive with Covid-19. This is not the same as the number who died as a result of having been infected. A small number of those who have died as a result of Covid-19 were not tested, and were therefore not recorded in the official figures.
It seems likely that far more died for another reason but their condition was either exacerbated by Covid-19, or the virus played little or no part in their demise. So the official figures for deaths have been inflated. The fact is that while there is no doubt that a small number of young healthy people died from Covid-19, the vast majority that died were over 60 years old, and most had other medical issues that made them particularly vulnerable to the Covid-19 infection.
A better picture of what has been going on is provided by "excess death" figures. These figures compare the average annual death rate with a particular year. In 2020 there were 697,000 deaths in Britain, nearly 85,000 more than the average. This would support the view that deaths actually caused by Covid were greatly exaggerated by official figures. 
And at present this year, excess deaths are actually lower than the average.
From mid-April 2021 to the middle of June the official Covid daily death rate was below 20, and the daily number of hospital admissions has been below 150. While infections are rising rapidly again, hospital admissions and deaths are not. Hospital admissions have risen slightly, but by mid-June deaths were actually down to around 10 a day.
Inevitably, there is now much debate about how to manage the pandemic in this new situation. The vaccination programme is clearly responsible for this turnaround in our fortunes, but many scientists are concerned that until at least another 20 per cent of adults have received the second vaccination, the virus may still again increase out of control. 
It is this situation that has prompted an evaluation of the mandating of vaccination for care and NHS workers. Alongside this, debate rages about allowing those vaccinated much more freedom than those that have not been jabbed, including the freedom to travel abroad.
Some care home employers have already made vaccination compulsory – having already decreed that staff either agree to be vaccinated or lose their jobs. Many other employers, not just in the health and care sectors, are thinking of doing likewise. In some workplaces, many workers are now expressing concerns to their employers about having to work alongside colleagues who are not vaccinated.
There are various reasons why some refuse to be vaccinated. Most but not all are bogus, though there are valid concerns from, for example, people with serious allergies. Fuelled by misinformation on the internet and in the media, some believe that vaccines are inherently harmful – even that the vaccines have the ability to alter their DNA or their minds. This nonsense is exposed as such now that 8 out of 10 adults in Britain have received at least one jab. The evidence is overwhelming and clear.
Risks
Some believe that the risks of the vaccine are as great as the disease. No vaccine is 100 per cent safe, but there is overwhelming data showing that the risks associated with contracting Covid-19 are huge compared to the risks of vaccination. 
For example, Covid sufferers are 8 to 10 times as likely to get blood clots – a condition known as CVT – as people who get the AstraZeneca vaccine, according to researchers at Oxford University, where the jab was developed.
And some are persuaded not to be vaccinated by superstition or religious or even political beliefs. It is hard to counter irrational beliefs.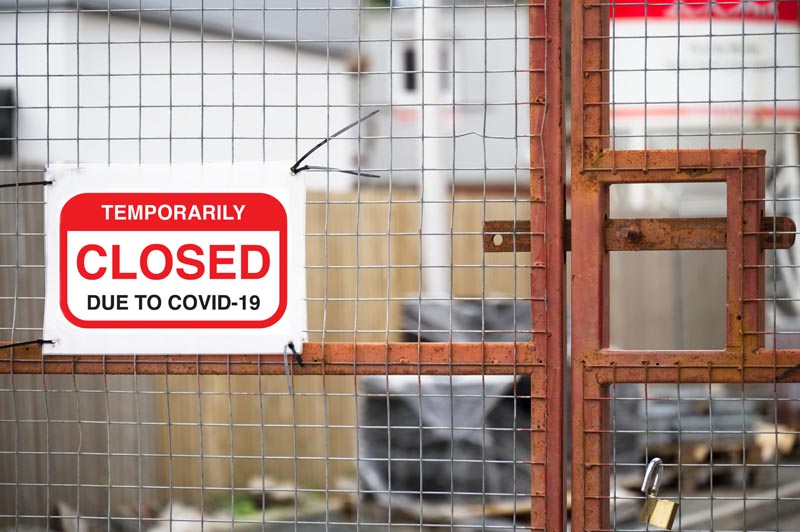 There is no doubt that the Covid-19 vaccinations are as safe as they can be. In Britain, they have now even been cleared for use with pregnant women and children over 12 years of age.
But some individuals have no interest in collective health and wellbeing or society. They would not be vaccinated even if failure to vaccinate enough people resulted in a pandemic that would kill most of the world's population or devastate the world's economy.
While they may wish to take huge risks with their own health and lives, they cannot be allowed to put others at risk – and that especially applies in the workplace. Indeed, that is the basis of Britain's health and safety law; the Health and Safety at Work Act 1974 requires employers to take all reasonably practicable steps to reduce workplace risks to their lowest practicable level, protecting the health and safety not only of the workforce but of the public. This last point is especially pertinent in respect of the care and health sectors.
The Management of Health & Safety at Work Regulations require employers to carry out a suitable and sufficient risk assessment to manage a risk, in this case the very serious risk of Covid-19 infection leading to hospitalisation, long Covid, or death. 
The regulations compel employers to use a hierarchy of control measures that put actions such as the wearing of PPE and masks along with social distancing way below a measure that actually controls the infection itself – vaccination.
There is no doubt that the death toll among front-line workers not only in care and health but in other areas like transport would have been greatly reduced had workers been vaccinated.
 Looked at from a standard health and safety risk assessment perspective, vaccination is by far the most effective means to control the risks of Covid infection. And such an approach in relation to infectious disease is not novel – the NHS already requires many front line workers to be vaccinated against other diseases.
It beggars belief that many will accept that workplaces can only end the measures introduced to control infection when the vast majority of their staff are vaccinated, but then not support moves to get more individuals vaccinated. Control measures in workplaces generally work on the basis that there are rules in place to ensure the health and safety of the workforce as a whole. Individuals cannot opt out of those control measures.