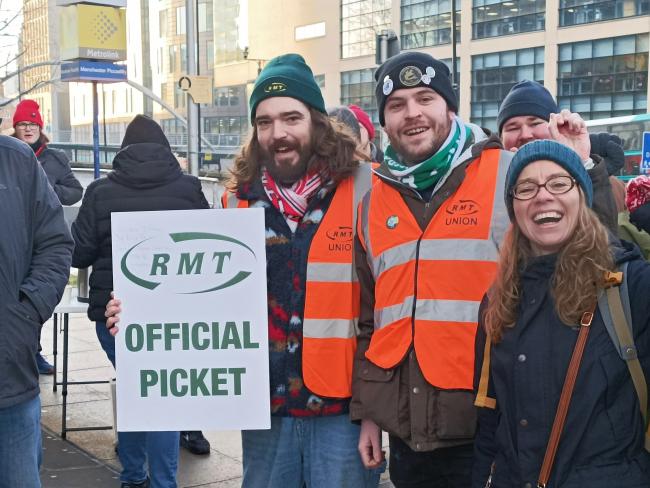 Resilient and determined members of rail union RMT have forced the government to put a new offer through the Rail Delivery Group in an attempt to settle the dispute. Members will now vote on whether to accept the deal.
The dispute with the train operators, represented by the RDG, has been running for nearly eighteen months. This latest development follows an overwhelming vote by RMT members to continue the long-running dispute.
Hard-won
Critics of the deal, both within the union and outside, have suggested that the deal is no different to that rejected earlier in the year. They point out that the offer is well short of matching inflation. Such criticism fails to understand that the dispute was not primarily about pay, but about defending hard won terms and conditions.
The deal which will be put to members would mean a pay rise of 5 per cent backdated to April 2022. That will put a substantial sum of money in members' pockets in time for Christmas.
No strings
This increase comes with no strings. Previous offers coupled pay rises with unacceptable demands for changes to contracts of employment drastically worsening terms and conditions. The deal also gives security of employment to staff until the end of 2024.
If the deal to settle 2022 pay is accepted, fresh negotiations will begin in February with each employer. These will discuss the 2023 pay increase along with changes to roles, rates of pay and terms and conditions.
Respite
RMT has already secured a pay increase for members. It will be under less pressure to agree to unpalatable changes, and will still be able to take industrial action then if necessary. Even if there is a return to industrial action, members will have had some respite.
The payment will to an extent make up for the loss of pay from strike action during the long and bitter dispute. The union overall will be in a much stronger position.
Bitter
The offer was undoubtedly extracted from employers against the background of the government reversal on ticket office closures. The operating companies are known to be bitter about being hung out to dry by the government over that issue.
The government instructed the employers that they must plan to close ticket offices. But the employers were then blamed by that government when they had to reverse their decision after massive union and public pressure.
Deals elsewhere
RMT had reached agreement on pay increases with the three train operators not covered by the dispute – Merseyrail, ScotRail and Transport for Wales – even though they did not match inflation.
Those deals were reached because the three train operators are not running services on behalf of the Department for Transport. There was no requirement in those deals for RMT members to agree to changes in employment contacts – and no move to close ticket offices.
Many months ago RMT also settled a dispute with Network Rail, which manages rail infrastructure. Network Rail proposed a similar deal to the one now made by train operators.
'A deal was possible months ago.'
This all backs up RMT's assertion that a deal was possible months ago if the government was prepared to allow employers to uncouple pay from organisational change.
The deal on the table is a positive step forward for RMT, its members, and the railway industry – which has suffered continued attacks from the government – and is good news for the public. With growing numbers of passengers using trains, a brighter future is possible.
Update
• On 30 November RMT announced ballot results on the deal with the Rail Delivery Group. Union members in all 15 train operating companies voted heavily in favour. Mick Lynch, RMT general secretary, said "We will be negotiating further with the train operators over reforms they want to see…This campaign shows that sustained strike action and unity gets results."