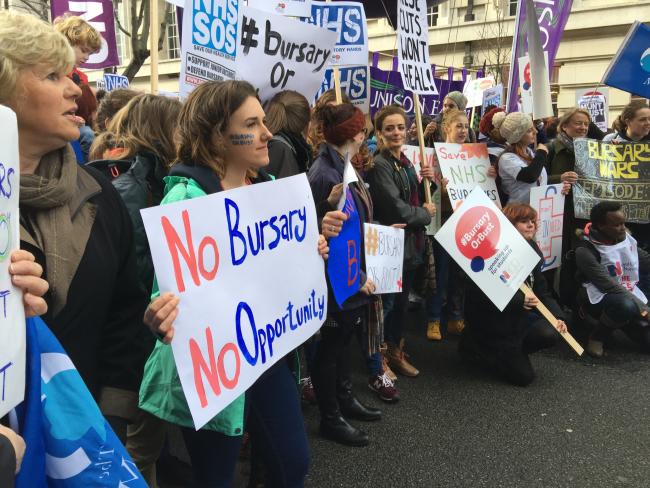 Nursing students stepped up when they were needed in hospitals. Their unions are calling for the government to scrap their tuition fees. This would complete the reversal of the disastrous decision in 2017 to cut support for student nurses and midwives, which contributed greatly to the current shortage of nurses.
At the beginning of May unions representing nurses, midwives and allied healthcare professionals called on the government to improve support during their training. This would recognise their contribution during the current coronavirus crisis and make a material difference to them. By abolishing future tuition fees and introducing student living grants, the government could start to tackle the shortage of nurses and others entering the medical professions.
No answer
On 6 May the Royal College of Nursing, the Royal College of Midwives, Unison and the National Union of Students wrote to the health secretary Matt Hancock. They have yet to receive an answer to their proposals. These were: to reimburse tuition fees already paid and forgive loan debts for current students; abolish the fees for all new students; and to introduce living maintenance grants.
In 2017 the government abolished the previous arrangements for student nurses, midwives and so on. They used to be paid a bursary and did not pay tuition fees. Instead they would have to apply for student loans and would be charged fees. The government spuriously argued this was "modern" and "fairer" as they were taking degree courses not employed by hospitals as in the past.
Drop
The reality is that nursing students work while they are training and their situation is not comparable to most other students. The result was a catastrophic drop in applications for nursing courses – over 30 per cent since 2016. The new government elected in December 2019 promised to recruit more nurses. It reintroduced the bursary, but did not do anything about fees or the loan debt of current students.
"This is why we entered the crisis with unfilled posts."
Donna Kinnair, head of the RCN, said said: "Before the pandemic, we had witnessed the devastating impact the removal of the bursary had on student nurse numbers…This is a major reason why the nursing workforce in England entered the COVID-19 crisis with almost 40,000 unfilled posts.
"Many student nurses have elected to become an invaluable part of the workforce at a time when the country needs them most, but they are still paying tuition fees, and this is simply not right. Now is the time for the government to recognise the ongoing contribution of student nurses by dropping the debt, covering tuition fees and building a workforce fit for the present, and the future."