The Scottish separatists have become Britain's "can't do" party. They can't push through separation, and they haven't been able to stop Brexit. And their stewardship of the Scottish economy is increasingly rejected…
On 14 February a Scottish National Party amendment intended to wreck Brexit progress by extending Article 50 for "at least three months" was decisively defeated in the House of Commons. After failing to win a second referendum, the SNP was trying to push Britain into the period of European elections, binding successful candidates to serve their full term.
This is typical of its actions over recent years – in co-ordination with Scottish Greens and other anti-Brexit elements – to play the role of a "fifth column" within Britain, serving the interests of the EU. 
Meanwhile, to maintain its viability as a "government", this SNP minority administration is forced to rely on the six votes of the Greens in the Scottish Parliament to pass its budget for 2019-20. Their agreements have resulted in what many trade unions see as a series of attacks on workers, a serious decline in services and severe financial crises in several cities.
Heads in the sand
That's nothing to do with Brexit. Instead, it's the SNP's typical "head-in-the-sand" delay in dealing with the financial crash of capitalism that for the past decade has allowed debts to build. All this has re-energised trade unionists faced with job losses and declining wages, as well as citizens suffering the effects of these cuts. And some successes have spurred on their efforts.
 'The SNP plays the role of a "fifth column" in Britain serving the interests of the EU.'
A vigorous campaign has emerged to fight the imposition of a "workplace parking levy", widely seen as an attack on workers merely going about the business of having to get to work. They are now faced with a bill of £498 a year just to park at their own workplaces. The Greens made the adoption of this levy a condition of their support for the SNP administration.
They are copying the only council in Britain to have adopted such a plan – Nottingham – where a similar levy costs £415, with VAT bringing the cost close to £500 a year. Teachers have been adversely affected by this and the largest teaching union here, the Educational Institute of Scotland, is demanding that they be refunded.
The GMB union wrote a strongly worded letter to the SNP Finance Minister, Derek Mackay, saying that its members "would be absolutely furious if they were hit by the levy" and accusing him of "siding with the Greens over ordinary people trying to get to work." Gary Smith, of GMB Scotland, wrote: "ill-thought out punitive measures, like this one, appear to have been conceived in ignorance of the reality of the journey to work for many of our members."
The SNP and its Remain supporters also fail to see the advantages of a successful Brexit that would render obsolete the need for "competitive tendering" where rail and ferry services have to be open to all comers throughout the EU. Abellio – owned by the Dutch state – was awarded the franchise to operate ScotRail. The SNP administration has been seen by rail unions and the travelling public to have been soft in their oversight of Abellio, allowing standards to slump with growing delays and cancellations.
With the next ScotRail franchise due for reconsideration in 2020 the opportunity would now be available to bring the network back into public ownership. Meanwhile unions are having to tackle problems such as the rundown and transfer of rail customer service jobs from Fort William to Glasgow, with the Transport Salaried Staffs' Association demanding intervention to protect jobs in the Highlands.
Debt
A serious threat to cities in Scotland is arising in the form of debt and financial crises. In Edinburgh the city's Trade Union Council was due to protest at the council offices on 21 February at the prospect of £53 million cuts in 2019-20. This would threaten over 300 jobs, worsen decline in social services, compound homelessness and addiction, and throw schools and teaching into crisis.
Already unpaid volunteers are taking over some services, as in community centres that have lost their dedicated Community Learning & Development Workers. The Edinburgh Integration Joint Board – funded by the City Council and Lothian Health – is already in financial crisis but is now expected to make a further £35 million in cuts in 2019-20, with 1,000 people waiting for care to be provided and 1,500 waiting for assessments.
On 14 February, Unite, GMB and other trade unions joined with Dundee TUC in delivering a protest Valentine's Day' card to the city council which voiced opposition to planned cuts to services in the city and condemning the lack of planning and action from the council in ensuring industrial employment opportunities in the area (see photo, top).
These issues will be raised when the city hosts the forthcoming STUC annual conference from 15 to 17 April at the Caird Hall. Delegates will have the opportunity of hearing arguments for the benefits of Brexit in the form of a motion from Clydebank Trade Union Council and at a fringe meeting.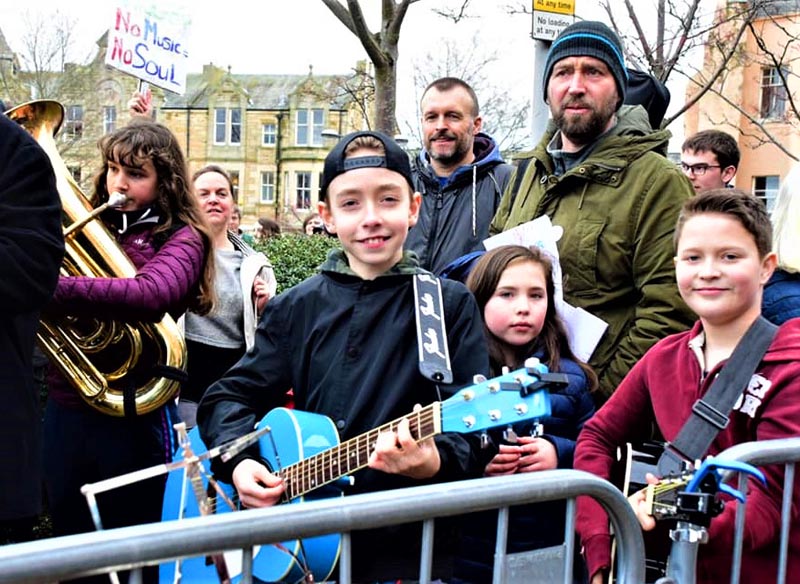 In late February the City Treasurer of Glasgow is due to announce £41 million of cuts when presenting his budget. All council-owned buildings such as museums and concert venues will be re-mortgaged – already under way. Many local facilities – including libraries, swimming pools and golf courses – face closure.
The successful struggle over 13 years for equal pay and conditions by women council workers means an additional search for funds. This had never been properly planned for under the Labour administration which dealt with the early years of this campaign. There has been a decade of cuts in the city amounting to around £500 million.
The SNP minority administration in Edinburgh has been accused of starving the city of funds. Its block grants from UK central funds have been rising in recent years, yet it continues to starve local government budgets throughout Scotland. So a city once known as a Yes city (in the sense of yes to separatism) – is at the receiving end of SNP impoverishment. No wonder the campaign Union City Glasgow is taking hold there.
With such job losses in prospect it is understandable that the SNP's pleas for a separate immigration system for Scotland is falling on deaf ears. Its plan is one of many that would give it direct access and links to the EU over the head of any UK government, and facilitate its attempt to re-join as a separate country and adopt the euro.
Scottish "embassies" have been invented and placed around the world in an attempt to claim an independent foreign policy – to hand over to Brussels should they achieve separation. Offices in Paris, Berlin and Dublin have opened in recent years at a cost of around £1.1 million a year. 
Scotland House in Brussels costs £2 million a year, with 18 diplomats and civil servants. There's a diplomatic presence, too, in China, USA and Canada.
But SNP efforts to evolve an independent immigration policy via the Scottish Affairs Committee in Westminster have been rejected by businesses in Scotland.
Business leaders have now indicated their preference for a single UK-wide immigration system and this was confirmed by Gregor Scotland, the principal policy advisor for the Confederation of British Industry in Scotland.
Music success
A heartening success in the fightback against cuts to services was the forced reversal to the plans of Midlothian councillors to scrap music tuition in their schools. The outcome was largely achieved by a vigorous campaign by teachers and their school students, backed by EIS and Musicians' Union (catch a taste of this on vimeo.com/316844667).
The campaign culminated in hundreds of the music students playing brass, woodwind, guitars and percussion outside the offices of the Labour-led council in Dalkeith on 13 February. The annual budget meeting could not ignore the harmonious protest and overturned their decision. Savings were still enacted to sort a shortfall of £10 million by raising council tax by 4.79 per cent.