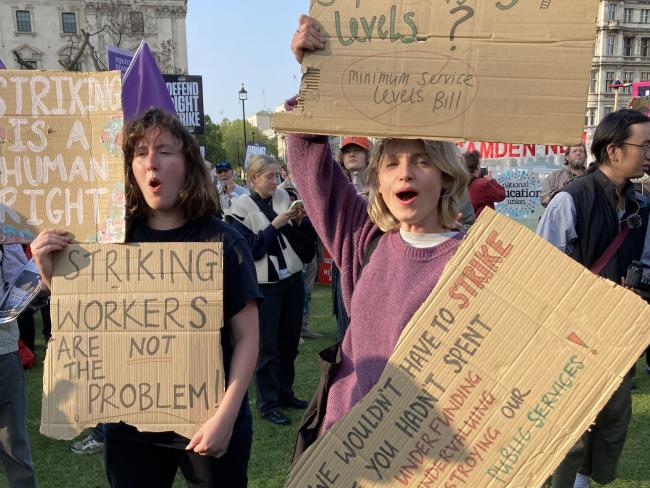 In response to the government's latest attempts to shackle workers' struggle, the Trades Union Congress has called a special conference on Saturday 9 December.
In July the government passed a law giving it the power to set minimum service levels during industrial action. And in early November it announced details of how that would operate. It cynically describes this as "protecting public services over Christmas" – despite presiding over a shambles of public service provision of its own making.
Poison
And the latest step is that the government is trying to reverse a court decision which blocked it from passing a law letting employers use agency workers to replace those on strike. The TUC says this move is likely to poison industrial relations – and is an attempt by the government to divert attention from its appalling record.
Unions criticised the proposed minimum service levels law on several counts. Apart from the frontal attack on the right to strike and to take action, it enables a government minister to determine what is "safe" or "effective". Given the general level of ministerial competence, that's a sick joke.
Unacceptable
The new regulations will initially apply to railways, ambulances and border security. There's provision to extend that to fire and rescue, education and nuclear facilities. Many workers experience unacceptable service levels in those areas already due to underfunding and staff shortages, regardless of any strike action.
'Workers took control.'
Workers in transport, health and education have taken industrial action over the past two years mindful of the immediate impact on the public – their fellow workers. Ambulance workers for example took control during action to ensure that the most serious calls were attended. And those in dispute have made it clear they are fighting for the future of their sector by raising pay and conditions.
Rail union RMT has said it will fight this attack on workers' rights, which even the government thinks will lead to more strikes. Mick Lynch, RMT general secretary, called on employers not to use the minimum service level notices as this will not resolve disputes. Given how the government has just treated the employers over ticket office closures, he may get a sympathetic hearing.
No solution
And Unison, which represents many ambulance workers, said this law won't solve any problems. The union's head of health explained, "The public wants ministers to cut waiting times, shorten delays and attract more staff to the NHS. Not make an already dire situation significantly worse."
And while bringing in this law, the government perversely claims it is bringing Britain into line with other countries and invokes the International Labour Organisation standards. Yet the government usually ignores ILO standards – which it did in 2022 with the proposal to allow agency workers to break strikes.
Unlawful
Unions believed that was unlawful and in breach of ILO standards and recommendations. Several of them took the government to court and won last June. Initially the government said it would not appeal.
But now they've changed tack and are trying again to impose that restriction – this time with a consultation. The government says it wants to balance the rights of workers with those not involved in the dispute.
This may backfire – just as the consultation on ticket offices did. They have failed to whip up public antagonism against workers fighting for pay. And agency employers aren't too happy about it either.
'This is a sign of weakness by government.'
The imposition of service levels and the use of agency workers are further attempts by government to prevent workers taking effective action on pay and conditions. They seek to make strikes and other action ineffective. This is a sign of their weakness: existing laws setting high thresholds for action in ballots have not worked. If anything they have stimulated union organisation.
The last TUC special conference was 41 years ago, in response to the anti-trade union laws proposed by Margaret Thatcher and her governments. Despite massive opposition over several years, key elements of the 1980s labour law remained on the statute books long after Thatcher was out of government. They form the foundation of the current law on strikes and industrial action.