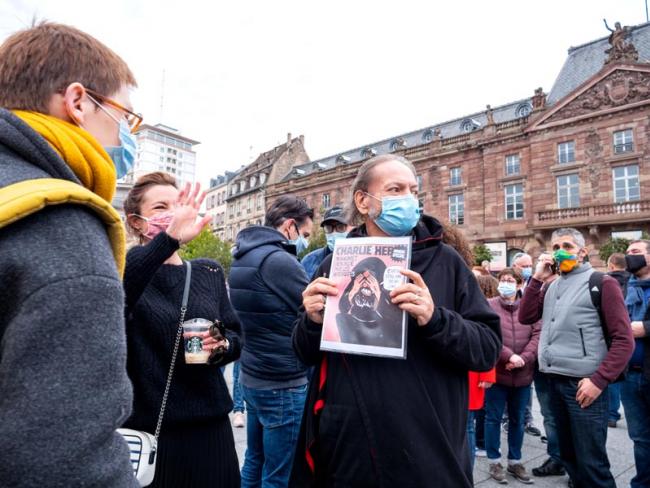 In Workers in 2017, on the occasion of the barbaric terrorist attacks in Westminster, Manchester and London Bridge, we said anyone who states that "our primary reason for hating you will not cease to exist until you embrace Islam" (an Islamic State declaration in 2016 in explanation of terror attacks) is a fascist. We pointed out that fascist attacks such as this were replicated across the world (and still are being replicated, witness the recent horrors in north Mozambique).
Now we have another spate of vicious assaults on workers, this time in France and Vienna. France is a particular target because of its insistence on the importance to citizens of the right to speak out, of dialogue between human beings who don't necessarily agree, and the need to educate children in schools about this importance.
The 2015 attack on journalists at Charlie Hebdo, a satirical magazine which published a cartoon that outraged their Islamist murderers, has been followed up by the beheading in the street of a teacher, "guilty" of teaching his pupils about having the courage to express differing views freely.
The terrorist, of Chechen origin, was followed by another attacker, this time a Tunisian migrant, who murdered three people at a church in Nice in the South of France. And another attack, in Vienna, with four people shot and killed and many others seriously wounded. He was originally from North Macedonia, and had previously tried to travel to Syria to join Isis. 
Challenge
In France the challenge to these horrors was immediate. In spite of the pandemic, people met in their thousands in towns and cities across the country, holding placards proclaiming "We are not afraid! You will not divide us!".
A woman at one rally told French daily newspaper Le Figaro that she was a French muslim who was there to express her disgust at the killings. Tareq Oubrou, imam of a mosque in Bordeaux, told France Inter: "A civilisation does not kill an innocent person, barbarism does."
Here, some responses to the outrages were muted and nervous, with mutterings about Islamophobia. Such reservations, such apologists, permit, in fact encourage, the barbarous events to continue.
These acts must be confronted boldly and identified without fear for what they are. No mitigation, no excuses. We have said it before but must say it again: people who stab, bomb, and shoot workers in the name of religion are fascists.