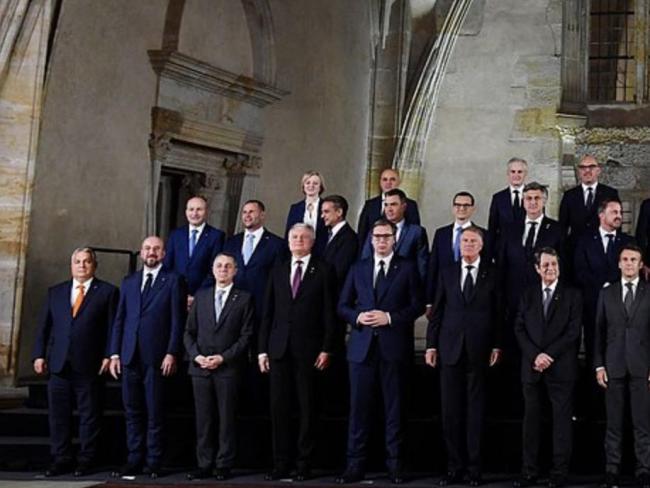 Before travelling to the meeting of European leaders in Prague on 6 October, Prime Minister Liz Truss declared that the British people have three urgent priorities. They are "security, energy and migration" – and she said she agrees with them.
Truss has an odd way of implementing these priorities. There's talk of blackouts this winter, migration is soaring, and instead of increasing Britain's security she is making the world a less safe place by leading Europe in arming Ukraine, training their soldiers and leading sanctions against Russia, with the defeat of Putin at the top of her list. 
Billions for war
Britain has increased military support for Ukraine to the tune of £2.3 billion this year – "and we will match or exceed that next year," she promised. So public spending is good if it is spent on foreign wars. And before she went to Prague she wrote an article for The Times, pledging to "redouble our resolve". 
The most significant aspect of Truss's Prague speech is the aggressive tilt away from any peace settlement. Her first priority, she said, is that "we must ensure that Putin is defeated". 
She claims the British people support her war aims, but she has little or no evidence for this. There has been no discussion in parliament: members of the "opposition" party are forbidden even to discuss the war. 
'There has been no debate with the electorate…'
There has been no debate with the electorate about Britain's increasing involvement and the rising cost. In this – as in everything – we are taken for granted, and what's worse allow ourselves to be taken for granted.
What do British workers think? Ukrainian President Zelensky wants to involve NATO further, with boots on the ground, but a YouGov poll in June suggested that most opposed direct military conflict between British and Russian forces.
In the poll, only 34 per cent supported RAF strikes on Russian targets in Ukraine, and only 27 per cent backedsending troops into Ukraine. Since then the government has ramped up involvement in Ukraine.
The same poll showed support for sanctions, but that this support would wane if sanctions led to domestic fuel shortages. And an Ipsos poll in October indicated that less than half of young people back Britain's current Ukraine policy.
But these are just opinion polls. What is lacking is discussion and debate in the forums where workers meet, and without that the government is left free to do whatever it wants. 
End involvement
Truss's government has already declared its intention to increase military spending by 50 per cent, to 3 per cent of GDP, paid for by higher taxes. Do we want to hand over our money for more military spending abroad? No, we should end all involvement in the war. 
Britain should stop sending ever more arms, which costs us dear and only pours fuel on the flames of war. The government must stop trying to block attempts to promote a diplomatic solution to the war in Ukraine. It's not our fight.
Workers' widespread fears for the onset of winter weren't mentioned in Truss's statement. Yet these fears are echoed throughout Europe. An interesting question for a poll now would be, "Are you willing to pay more in taxes, suffer fuel shortages leading to choices between heating or eating, and hikes in inflation to pay for more weapons for Ukraine?"