Are mayors the wise men who should lead today's educated population? Or are they surplus to requirements? We need to dig deeper to find the real power in London, look at the role of the City, its financial sector…
By 1889 London was an important centre of industry and production. The London County Council (LCC) was born – the first authority to be directly elected by the people – covering only the area known today as Inner London. It was geared to industry in its origins and purpose.
But today the way London is run and the interests it serves are quite different. Local democracy as a way to influence and improve people's day-to-day lives is an illusion, as Londoners are well aware.
Blow
Voters at the Uxbridge by election in July dealt a blow to plans for expanding the Ultra Low Emissions Zone (ULEZ). The residents of that constituency had the incidental opportunity to raise questions about net zero polices – as would many others if given a chance.
This also raised questions about who should be allowed to impose such painful policies on Londoners. Labour Party leader Keir Starmer ungraciously blamed the Labour Mayor Sadiq Khan for electoral defeat, when victory was expected. Certainly the mayor must bear responsibility, but ULEZ is Labour policy. Neither the mayor nor his party are listening to the people.
Disparity
The disparity between rulers and ruled goes back way before the LCC. The self-importance and adulation attached to the position of mayor was evident in the sixteenth century.
An impressionable tourist, the Scottish ambassador William Dunbar no less, in 1501 praised the walled City's "famous Maire...Above all Maires" for his wisdom, as much as his sartorial splendour, decked in "velvet gownes" and "cheynes of gold".
The ambassador chose not to notice the apprentices and guild masters, the medieval forerunners of our skilled working class. London, the "Flower of cities all", as well as home to "merchauntis full of substaunce and of might", was a centre of working class activity and organisation from earliest times.
Disturbing
In June, the prime minster Rishi Sunak praised the financial sector in the City of London in terms we should find disturbing. He appeared to say that Ukraine not Britain – and certainly not London – will be the beneficiary of the City's "deep and liquid capital markets...the engine room of private sector investment to ensure [Ukraine] succeeds both on the battlefield and in its economic recovery".
Meanwhile, we are told by parliamentary politicians across the board and their cheerleaders that, Britain is broke, local government is bankrupt, and there is "no alternative" to hunger, homelessness, and austerity. They are united in blaming this in the Russian invasion of Ukraine and the pandemic only differing on what to do post-Brexit ("let's go back to the EU", or "let's open everything up to global capital")
Parasite
How did City finance go from being an asset to a hindrance in the running of London? And how can workers rid themselves of this anachronistic parasite?
Once created, the LCC, under a chairman and innumerable committees and subcommittees – no mayor needed – set itself to meet some fundamental demands of the working class. That included: improved education, electrification of tramways, and expansion of the underground railway as well as combatting river pollution, overcrowding and slum housing. This entailed development of a suburban commuter belt, compulsory purchase of land for council housing, setting housing standards and so on.
"The LCC set itself to meet some fundamental demands of the working class."
In the twentieth century, and without any need for a mayor, money was secured from government for major infrastructure projects. the Thames Barrier, the Jubilee Line, the Docklands Light Railway. And infrastructure solutions to London's increased traffic were built – including the Westway, the M25 and Dartford Crossing, and the second Blackwall Tunnel.
These projects and many others were transformative, but it was the audacity of the banner on the roof of County Hall in 1983 shaming prime minister Margaret Thatcher with the latest London unemployment figures that captured the public imagination. She was closing down industry and there was struggle for jobs.
Malign
In 1986, prime minister Margaret Thatcher abolished the Greater London Council, successor to the LCC. At a stroke the London boroughs lost their collective grip over policy and resources. By then power had shifted in London. Something fundamentally more malign was at work than Thatcher's hatred of a Labour-led GLC; it involved the City, and the EU.
In the final years of the GLC, London had been given over to finance capital – it was no longer a major industrial city. Factories were closed down. British companies were swallowed up by multinational consortiums. State aid for industry was in effect barred under EU rules.
Offshore
This all suited the new globalist offshore regime very well. The lifting of exchange controls by Thatcher in 1979 had meant they could get their hands on British capital.
Long term public debt as a means of funding was just what finance capital wanted – privatisation, public-private partnerships, private finance initiatives and so on. These mirages had also captured Labour thinking by the end of the 1990s.
Tony Blair and the Labour Party had their eyes on a self-important mayoralty for London, such as they had seen in European towns. The referendum in 2000 for a London Mayor was decided on a 34 per cent turnout. Voters were decidedly underwhelmed. Blair rigged the direct election for mayor by handing a third of the votes to MPs and MEPs.
Identity politics
And what people now call identity politics – the elevation of minorities over the majority – had also bewitched the trade unions and the new mayor and former GLC leader, Ken Livingstone. Multiculturalism became a divisive issue under Livingstone. He encouraged skyscrapers, and invited foreign billionaires to buy up London property, evading growing concerns over London's economic base.
The fight had not gone out of the railway workers, who tried to control the way upgrading the Underground was financed. The proposed Public-Private Partnership carried a heavy cost – due to favourable terms for the private partners – and risked safety. The RMT and Aslef unions went on strike, perhaps the first attempt to take control of the industry.
Ultimately the Courts endorsed PPP funding. By 2003 the Underground was privatised. But the unions were proved right when the Metronet consortium collapsed and the government had to step in.
Immigration
Meanwhile the government was losing control of immigration. A population explosion added to the problems of traffic control, overcrowding, class sizes, and access to GPs.
The present mayor and head of the Greater London Authority (GLA), Sadiq Khan, professes to run London, but on whose behalf?
The mayor likes to emerge for a housing photo opportunity. But the housing crisis is deepening on his watch.
Need
Over a million people in London rent from private landlords. Rents are expensive and the accommodation is often inadequate. And people without a home are obviously among those with the greatest housing need. But the first three months of this year saw the smallest number of completed new homes since 2014.
The more families in need come to live here the harder it gets for Londoners already on waiting lists. Taking forecast immigration into account, London's population is predicted to grow from 9.6 million today to 10.8 million by 2041.
Khan is happy with that scenario. He sees his powers extending to the Wider South East region with a population of over 24 million, drawing in St Albans, Epping Forest, Basildon, Thurrock, Dartford, Medway, Sevenoaks and Reigate.
Individual London boroughs have more responsibilities than the present day GLA. But since 2010, central government, bowing to finance capitalism, has cut council funding by 40 per cent in real terms.
Debt
One after another, boroughs such as Croydon, Thurrock and Slough are declaring themselves bankrupt to compete for government bailouts – after accumulating debt to prop up day-to-day spending.
Such property speculation can end in failure and greater debt for the council, but not for the developers. Croydon is the prime example in London, but this has been happening for years around the country.
This is a corrupt trend – operating in cahoots with developers and without consultation – using council tax revenue to build hotels, shopping centres and tower blocks. Ignoring height restrictions and affordable homes targets, they demolish and waste perfectly good existing buildings, and call it regeneration.
Campaigns
Local campaigns such as those against the ULEZ or to save open spaces may not have the obvious political potential of widespread workplace struggle. Nor are they always correct. But they embody a refusal to be dictated to – a healthy alternative to passive complaining.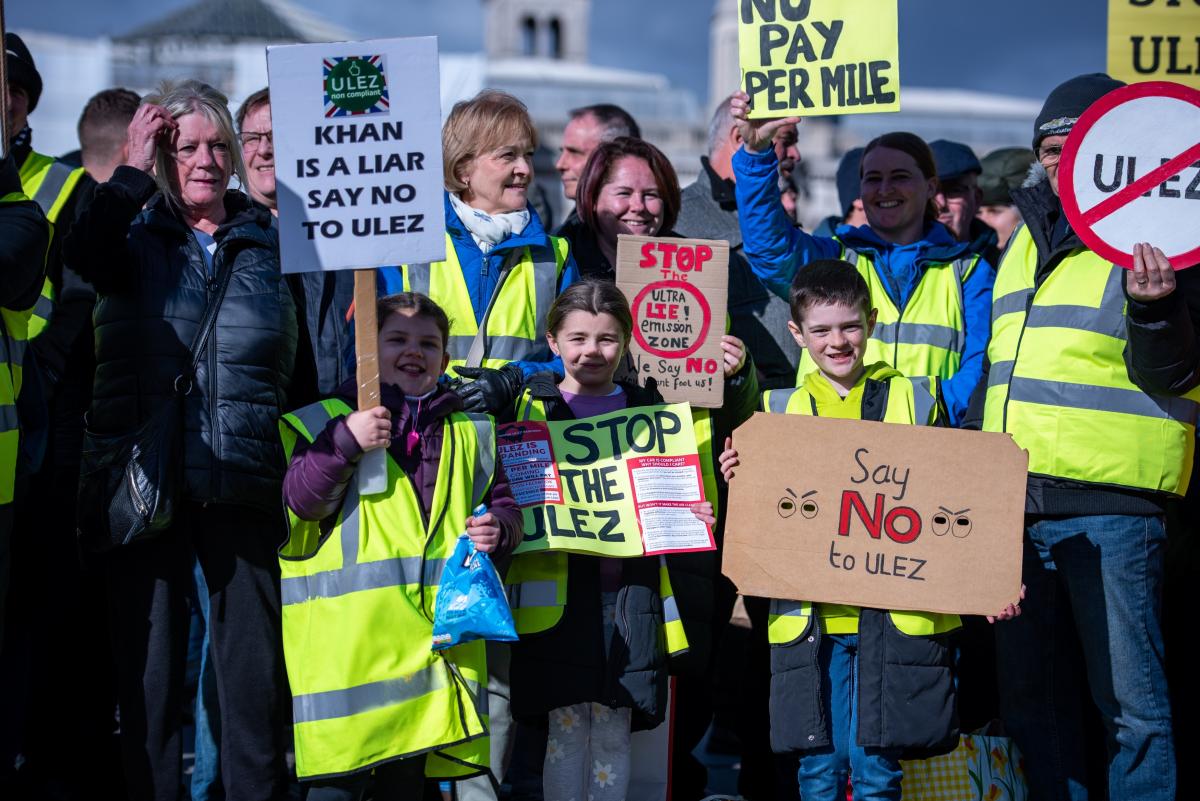 New grass roots organisations are springing up, putting landlords, land owners, borough councils, mayors and assemblies to the test. Participation is key to taking power. But political structures are undemocratic: the opportunities don't exist outside the parliamentary system for people to decide local priorities and mandate their councillors.
All local government is based on the parliamentary model, the social democratic one, forcing us to accept capitalism, which decides whether London will live or die. It obscures the true system of international finance capital, the real driver of central and local government policy.
We should rid ourselves of the idea that the City of London and its clutch of banks and financial institutions is at all beneficial to workers. Its influence is running London into the ground.
'International finance capital is the real driver of central and local government policy…'
We should deny finance capital the "square mile" (actually far more) it squats on, and put it to productive use. Take back control of the exchange system and invest for the people's needs, for education and training. End the waste of human capital.
Could workers run London? They have proved they are capable of a high degree of organisation. They don't need establishment figures, parliamentary or trade union, to lend an air of respectability to their deliberations. Just look at what workers have achieved in and around London.
Failure
Skilled workers have constructed great infrastructure projects – the Channel Tunnel, the Elizabeth Line, the new Thames Tideway Sewer. The High Speed Railway from London to the North was to be another. But the failure of capitalism has put a halt to that, resulting in a 50-acre abandoned building site around Euston.
London is home to some of the greatest teaching hospitals in the world. A new generation of nurses, backed by doctors and consultants, and the public, has taken steps to assert the value of their profession and to save the NHS.
Physiotherapists, ambulance workers, rail staff, teachers, lawyers, airport security and immigration staff and Amazon delivery workers have all taken action recently. They have taken responsibility not just for improving pay, but for the trades, industries and professions that make up the capital. If a mass desire to overthrow the finance system is added, workers will really be fighting to run London in their class interest.
This article is based on a CPBML public meeting held in London in June. A shorter version appears in Workers magazine September/October 2023 edition.