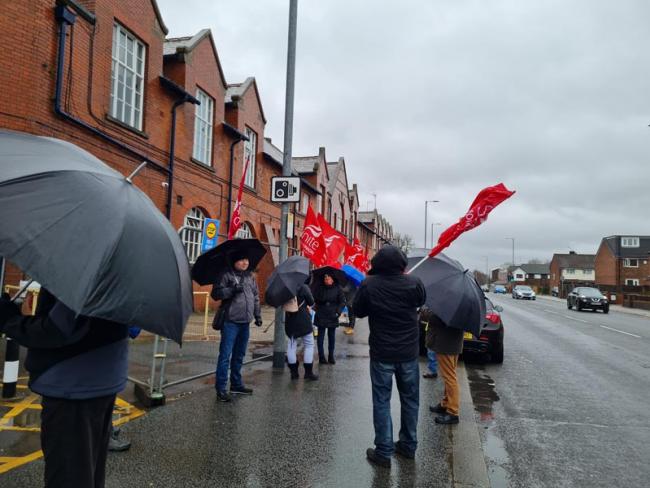 Manchester bus drivers working for Go North West have defeated a plan by the company to fire and rehire them on worse pay and conditions. The drivers, who have been on indefinite strike since the end of February, forced the company to negotiate a deal.  
The deal was presented yesterday (17 May) to drivers at a mass meeting at the Queens Road depot, which voted overwhelmingly to accept. 
The agreement means that drivers no longer stand to lose thousands of pounds in wages and the parent company, the Go Ahead Group, has committed to not using "fire and rehire" as a tactic in future. This will come as welcome news to other workers in the group who feared they might be next if the Manchester drivers were forced to accept the threat.
Determination
The Manchester drivers maintained the strike for 85 days in the face of concerted company attempts to break it. This included hiring other bus companies to run the affected routes, often with unsuitable vehicles and in breach of Covid-19 guidance.  
Striking drivers compiled a dossier of the safety failings of the sub-contracted bus operators and submitted it to the Driver & Vehicle Standards Agency and the North West Travel Commissioner.
The victory was achieved by the solidarity and tenacity displayed by the strikers, aided by some nifty union footwork in bringing pressure to bear on the multinational company across the world, and the massive support provided by trade unionists across Britain, spearheaded by Manchester Trades Union Council.
Pressure
Unite put pressure on the Go Ahead group by approaching politicians and trade unionists in Sweden where the company was bidding for a contract. Soon, everyone knew about Go-Ahead's "fire and re-hire" treatment of its workers in Britain. Go-Ahead suffered a similar experience in Germany over more contracts. The union also targeted Go Ahead shareholders.
Go-Ahead must also have had an eye to the fact that Andy Burnham, recently re-elected Mayor for Greater Manchester, wants to end the current bus free-for-all in Manchester and award bus contracts on a planned basis. Go-Ahead's treatment of Manchester bus workers was clearly not going to help it to secure the new contracts.
• Meanwhile, 105 bus routes in north London will be severely disrupted when 4,000 Unite bus workers employed by Metroline go on a 48-hour strike on 25 and 26 May, followed by a three-day strike beginning on 7 June. 
The long-running dispute in London results from attempts by Metroline to impose worse terms of employment including a system of "remote signing on" which could see drivers start and finish their shifts in various locations on a route – but only get paid for their time on a bus.