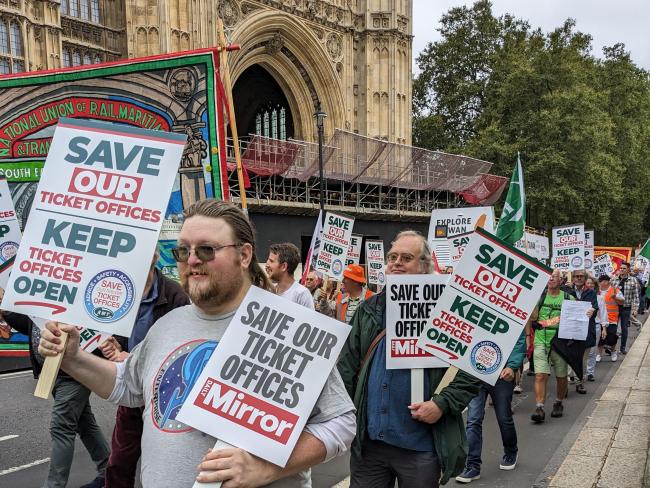 The government's about turn on the planned closure of all railway ticket offices in England is a significant victory for people power. Overwhelming opposition and smart campaigning forced the government to scrap its plans.
Victory in the fight to stop the closure of ticket offices was achieved by the united opposition of all those determined to defeat the government's proposals announced in July. The scale of the public response completely surprised both government and train companies.
Brilliant
Several tactics were employed in a campaign brilliantly coordinated by rail union RMT, supported by sister unions Aslef and TSSA. These included organising and promoting responses to the consultations – deliberately set for a short period and broken up between train operating companies.
Demonstrations, writing to politicians and a strong campaign on social media backed this up. Everyone was clear that the government was behind the closure plan, and that it was trying to hide behind the train operating companies.
Forceful
Passenger watchdogs, Transport Focus, London Travelwatch, Transport for All and others, objected to the plans in their entirety. They made a forceful case against closure in responding to consultations, pointing out the many inadequacies and shortcomings of the plans.
The government has made a tactical error in targeting ticket offices for closure. Their proposals enraged rail passengers, community groups and rail workers alike. An unprecedented 750,000 people responded to the public consultations, making it the biggest ever response to a public consultation. And 99 per cent said no to closures.
'Attempts to belittle the need for ticket offices were rejected.'
Attempts to belittle the need for ticket offices were rejected. People who use ticket offices know that behind the window is a worker whose knowledge and expertise they value. They did not want to lose the person who is on your side when it comes to making sense of the array of fares and planning travel.
Different views
The Rail Delivery Group, which represents train companies, says the government forced the closure idea. But in a terse response to the decision, RDG chief executive Jacqueline Starr made it clear they will press on with modernisation and improvement. Rail workers and passengers may have different views to those of the RDG and government on what that means.
Local and regional politicians have welcomed the victory, recognising the strength of feeling. They will need reminding of this in future battles over transport provision in the wake of the HS2 cancellation, chronic underinvestment elsewhere and cuts to rail and bus services – or if the government comes back for the ticket offices in a more subtle way.
This victory on ticket offices will encourage workers to engage in future battles for rail and other transport with employers or governments with the confidence that we can win.