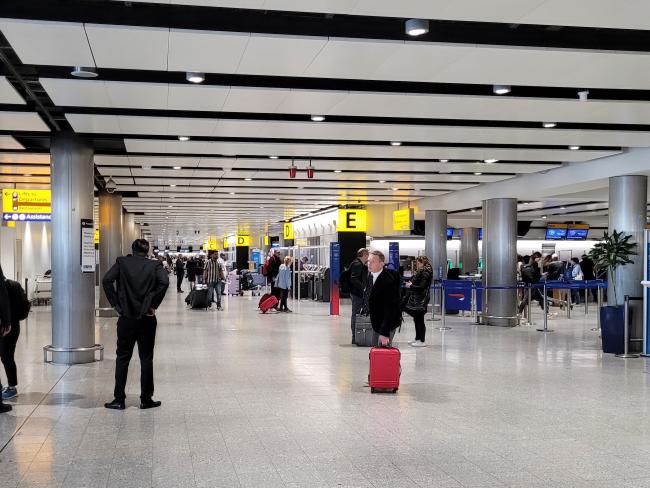 Airline travellers have suffered several months of cancellations and long delays at airports. The situation worsened during the half-term school break and over the Platinum Jubilee bank holiday.
Passengers reported long delays at airports around the country, including Heathrow, Gatwick, Bristol, Manchester and Leeds-Bradford. Unite, the union representing many workers in the industry expects that delays will worsen during the summer holidays. EasyJet's French pilots' union, SNPL, agrees.
On one day in late May, 377 flights were cancelled affecting 56,000 people. And Heathrow imposed a cut in passengers flying out at certain times of day until the beginning of July.
Blame
This has prompted a round of blame and finger pointing. Government blames the airlines; they blame the government – and Brexit. Both want workers to pay for it through government spending and worse employment conditions.
Sharron Graham, Unite general secretary, said, "We are determined that workers will not pay for this crisis. Unite is utterly determined to fight for that."
"We are determined that workers will not pay for this crisis."
Dominic Raab, the deputy prime minister, said the aviation industry were unprepared for a return of holidaymakers. He explains, "I don't think the airline operators have done the recruitment they should have done".
Grant Shapps, secretary of state for transport, met with aviation bosses. He said it is the job of the industry to ensure flights go ahead. He claimed that the government has helped by changing the law to hasten recruitment process. In his view, the delays arise from selling more flight than the airlines could operate.
Shapps also pointed the taxpayers' financial support during the pandemic, to the tune of £8 billion. The airlines, and others, say that the government's furlough payments were withdrawn too soon and should have been extended even though other businesses did not have that support.
Punt
In reality, airlines – notably BA and easyJet – and the airport operators, took a punt that they could get away with redundances and that it would be easy to get people back when travel resumed. It's not turned out that way.
Oliver Richardson, Unite aviation officer, said that both the government and the airline industry had "failed passengers and failed people who work within the industry". The the government didn't support the industry during the pandemic to the extent other countries like USA and Spain had done. And tens of thousands of jobs were removed with the difficultly of recruiting them back and the industry being no longer attractive.
Failure
Richardson said the union had anticipated the problem and made a request to government for an extension of the furlough scheme through the winter. As a seasonal industry, failure to keep staff during the winter was bound to have a knock on in following the summer
According to Unite, airport operators are avoiding the real cause of the problem in blaming major delays on government security restrictions for the lack of airside staff. The aviation chiefs simply have not been recruiting for the summer across the board.
Spin
The companies involved seek to put PR spin on their failures. British Airways claims it is carrying the "biggest recruitment drive" in its history and on strengthening its "operational resilience" while reducing its schedule to "provide certainty for our customers".
Travel agent TUI apologised to customers affected disruptions. It claims that "the vast majority of our flights are operating as planned", but says that because of "ongoing challenges" it has cancelled nearly 200 flights from Manchester Airport in June, which it describes as "a small number".
Easy Jet recently decided "to make advance cancellations of around 24 Gatwick flights per day between 28 May until 6 June" and believes late notice cancellations are "necessary to provide reliable services over this busy period."
Unsustainable
But the industry is still wedded to short-term, unsustainable, reactions. EasyJet, like BA, (and probably other airlines too) are using fewer cabin crew on flights, but removing seats to achieve a passenger/staff ratio that meets regulations. And many employers in the sector are calling staff to work more with extra overtime to sort out the crisis.
Richardson said the union will not tolerate workers "being forced by their employers to work excessive overtime" and which in any case is not a long term solution. In his analysis, "Until… the fundamental structural problems" are resolved, "delays, cancellations and chaos will continue."
Accused
Unite accuses businesses of taking support from public expenditure during the pandemic and then cutting jobs anyway. This led to the airport crisis across the country. Sharon Graham advocated that support out of public money must be "hard-wired" to job guarantees.
Graham said that taxpayers should not pay firms to sack their workers and cut their pay and conditions, including "fire and rehire". She continued "…instead of bringing stability those firms have brought us chaos…This is a crisis of their making."
The only solution is by giving staff "higher wages and better working conditions." Unite has successes include pay increases for workers at Heathrow, Gatwick and Glasgow airports.
Review
On Tuesday 14 June, Oliver Robinson for Unite and senior industry representatives gave evidence to the parliamentary select committee inquiry about flight cancellations. Notably the CEO of British Airways did not accept the invitation.
The same day the Department for Transport and the Civil Aviation Authority wrote to airlines to review plans and schedules over the summer, based on a realistic assessment of available resources.