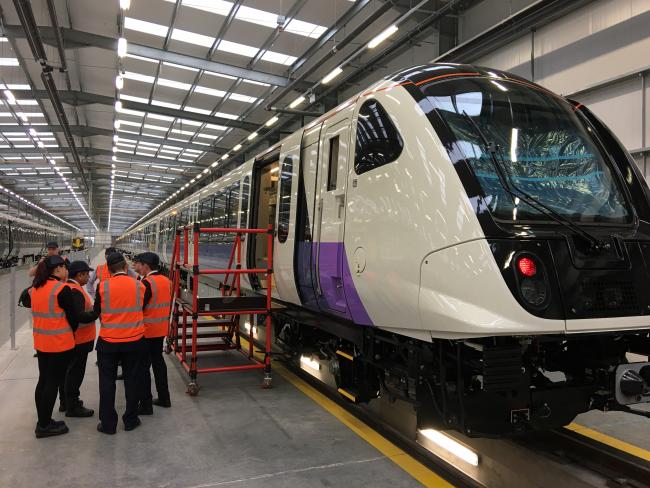 Following new contracts, Bombardier has announced the creation of new apprenticeships at its Derby loco works. The Litchurch Lane site will host ten welding apprenticeships to work on the new Aventra trains. Although few in number these apprenticeships are a positive sign for the future.
Aventra trains are designed, developed and built in Derby as the successor to the highly successful Electrostar series. The Derby works produced over 2,800 carriages of that type, the final one being completed in November 2017. They secured the future of the works, which had been under threat.
Aventra trains are already on order from Crossrail, London Overground, Greater Anglia and South Western Railway. Last December Bombardier secured further contracts worth £105 million from c2c (London to Southend) and £542 million from the new West Midlands Trains franchise. A total of 2,600 carriages are on order, with options for several hundred more.
Opportunity
This series of contracts will keep 2,500 workers employed into the next decade, beyond Britain's exit from the EU. The continued existence of the Derby works provides an opportunity for train building to be developed further in an independent Britain.
Experience suggests such developments would be unlikely in the EU. Former Labour transport minister and EU supporter Lord Adonis drew up the rail rolling stock procurement rules in 2008 that nearly finished off the Derby works. In 2011, working to the rules drawn up in conjunction with the EU Commission, the contract for the Thameslink train replacement programme of 1,200 carriages was handed to Siemens of Germany.
'Lord Adonis drew up rules in conjunction with the EU that nearly finished off the Derby works.'
Adonis was by then working for the coalition government under Osborne and Hammond. He disdainfully dismissed the complaints of local action groups, rail unions and Derbyshire MPs that the terms of the procurement process had been deliberately skewed in favour of Siemens. Controversially, the terms of financial support for each bid played a material role in the decision, regardless of the merits of the construction proposals.
Uneasiness existed about the Thameslink contract because of a corruption investigation into Siemens AG at that time. More importantly, although the EU Commission insisted that preference for local deals was illegal, Germany was doing precisely that. This prompted the House of Commons Transport Committee to make a scathing criticism of the Adonis rules in December 2011.
Capacity
In 2016 and with new rules in place, Derby's skilled workforce succeeded in winning the Crossrail contract to supply trains for the Elizabeth Line. HS2 rail is in prospect, as are other railway improvements. We need much greater capacity and in turn more apprenticeships if that work is to be done in Britain.
The opportunity to expand British rail engineering outside the stranglehold of the EU is there to be grasped, as Bombardier workers have shown.