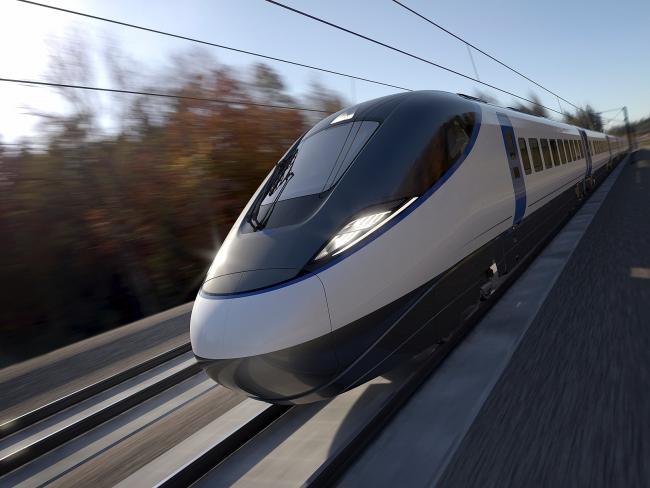 The government is expected to make further cuts to the HS2 rail project. This uncertainty amounts to deliberate sabotage. It puts engineering jobs at risk as well as undermining the transport benefits.
Rishi Sunak and Jeremy Hunt have suggested they will cancel HS2 phase 2 from Birmingham to Manchester on the grounds of cost increases. That's on top of the earlier elimination of the link to Leeds and ending the London section short of the planned terminus at Euston.
Job losses
Over 2,000 jobs are now at risk at Alstom's train building factory in Derby according to Unite the Union. Not only that, but a further 17,000 jobs in the supply chain are also threatened.
The HS2 rail project promised a strategic high speed rail link, increasing network freight capacity and modernising long distance passenger travel. Such investment is for the long term; it needs long term planning, not politically expedient reactions.
No enthusiasm
Prime Minister Sunak, who is reputed to have no enthusiasm at all for railways – existing or new – has now suggested that the HS2 project will be further delayed or "re-phased", and has refused to commit to even build HS2 beyond Birmingham.
Unite and the other rail industry unions (RMT, Aslef, TSSA and GMB) have issued a statement through the TUC calling for urgent talks with government. This highlights the benefits and potential of the project and the risk to future infrastructure projects.
The Labour Party has also rowed back on previous commitments to deliver the original HS2 project in full, including new lines to Manchester, the East Midlands, Sheffield and Leeds.
The decision earlier this year to delay key parts of the HS2 project earlier led to design teams being disbanded. Contractors are reviewing their continuing involvement in the current phases of the project.
Delays
Alstom, a French-based multinational company, took over the Derby factory in January 2021 when it acquired Bombardier Transportation. Work for Derby will dry up in early 2024 because the order book has been affected by delays in starting work on trains for HS2. These are now not likely to begin until 2026 at the earliest, and possibly not at all.
Government decisions not only have immediate consequences, they also threaten Britain's future ability to develop and build modern rail transport and related technology.
No assurances
Alstom is looking at plans to reduce the workforce at Derby after a lack of assurances from ministers. The company said, "Derby is very important to Alstom and to the UK rail sector. It is the only UK factory that can design, engineer, build and test trains for domestic and export markets."
"This could be the destruction of the rail supply chain in this country."
"There is no pipeline of work for Derby from the first quarter of next year because of the delays and dithering," Steve Turner, assistant general secretary for manufacturing at the Unite trade union, said. "This could be devastating for Derby and we could be looking at the destruction of the rail supply chain in general in this country."
Vital
Alstom Derby is vital not only to the HS2 project, but also to continuing the modernisation of Britain's existing railways. The loss – or even mothballing – of Britain's premier train design and construction facility along with the loss or reduction in thousands of highly skilled engineering jobs.
That would be a massive blow to the future of our country. If the ability to build trains in Britain is lost, it will be hard to revive it. Any new trains would have to be imported.
Alstom was also looking to work to replace or re-engineer Cross Country and Chiltern diesel trains and to build new electric trains for SouthEastern. But the government has also delayed awarding contracts for investment in Britain's existing railway network. This is essential due to the continuing growth in passenger numbers despite the uncertainties in the rail industry.