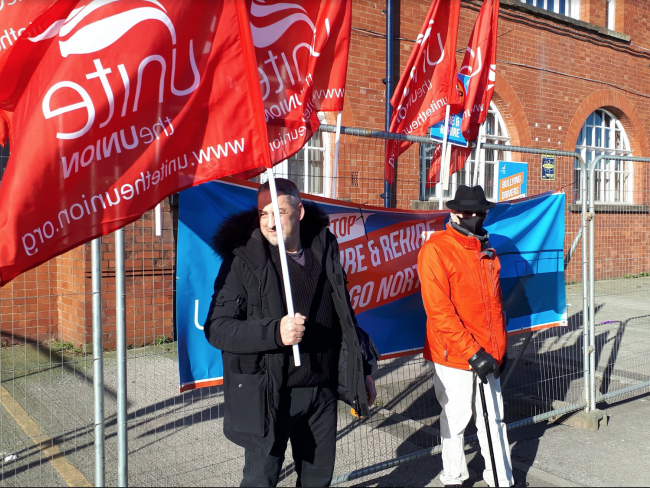 Manchester bus drivers working for Go North West began an all-out strike yesterday (28 February) after voted overwhelmingly to take strike action against the company.  
Go North West wants to fire and rehire workers on worse pay and conditions. In response to the company's proposals and its bullying approach 82 per cent of workers voted for strike action on a 77 per cent turnout.
The company was created following the takeover in 2019 of Queens Road garage by the Go-Ahead Group from failing First Bus, which had been steadily selling its operations in Greater Manchester.  
The Go-Ahead parent company runs bus operations throughout the country, making a total operating profit of £77.9 million in 2020. The figure is down on the previous year, under the temporary impact of Covid-19, which has seen a steep fall in bus and rail use. 
Under cover of Covid-19
Now, under the cover of the pandemic, the company is attempting not just to recoup its losses from its staff but to impose permanent changes to intensify its profit into the future, starting in Greater Manchester.
Drivers' union Unite says that the "fire and rehire" plans put to workers in Manchester would result in:
A 10 per cent cut in bus drivers.
Workers forced to work longer for no additional pay, resulting in them being £2,500 a year worse off.
Tearing up the existing sick pay policy, which will force workers to work when they are ill and needing to self-isolate.
The dispute also comes at a time when the Greater Manchester Combined Authorities are consulting on a London-style franchising plan that would give them – instead of the private bus companies –control over fares, timetables and routes.  
Since deregulation bus use in Manchester has dropped by 40 per cent, compared with a doubling of use in London. The private bus companies see franchising as a threat to their profits and are combining to oppose the move.  
Drivers at Go North West are now in the front line of the attack by bus companies in Greater Manchester that see their profits threatened. The clarity shown by the overwhelming vote for strike action bodes well for future battles to defend pay and conditions and bus services in the area.
• Strike action continues on bus lines run by French company RATP in south and west London. The company is owned by the French state, and was originally the Paris equivalent of Transport for London, but it now runs transport services in Italy, the US, Africa and Asia as well as in Qatar and Saudi Arabia.
Unite says the company is trying to force drivers' wages down to 2015 levels, and is threatening to introduce zero hours working, so that drivers would be paid only for the time they are actually at the wheel.
Three RATP-owned bus companies are affected: London United, London Sovereign and Quality Line.