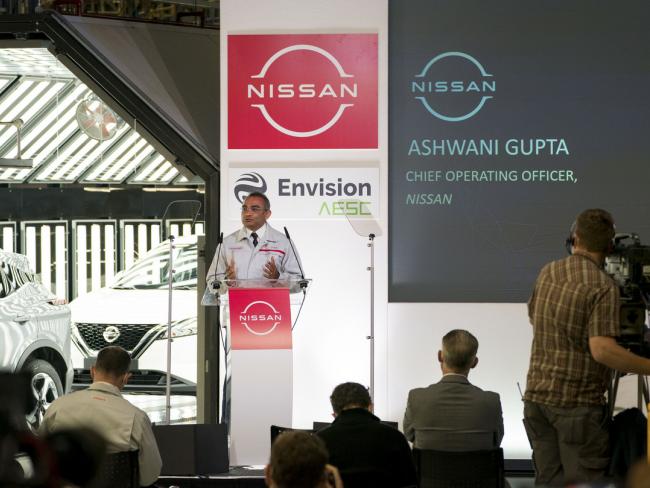 Nissan has confirmed plans to build a "gigafactory" to make batteries for electric cars as well as a new electric car as part of a £1 billion expansion of its Sunderland factory. The investment by the Japanese carmaker, its Chinese partner Envision AESC, and the government will eventually create 6,200 jobs at the plant and in its UK supply chain and will support another 75 jobs in research and development.
Steve Turner, Unite assistant general secretary for manufacturing, joined the union's shop stewards and the Nissan management team and workforce, alongside senior cabinet ministers, to unveil plans for the new facility in Sunderland, which will secure Nissan's future and bring over 2,000 new jobs to the area. The government is part funding the development, and Sunderland City Council has been heavily involved in the project.
Turner said: "Today is a vital step forward in securing a cleaner, greener future for our industry.  Nissan and this incredible workforce were determined that Sunderland should lead the pack as we transition to electric vehicles and today they have delivered.
"They have battled for years to convince the government to support and invest in UK battery manufacturing, and today's very welcome announcement will bring much-needed job security to the plant and thousands of new skilled jobs to the region."
More needed
But Turner warns that Britain needs "at least" another six "gigafactories" to secure its future as a green automobile manufacturer, along with investment in the domestic manufacture of the high-value components the industry requires. 
"Ministers must say more today about when these sites will be forthcoming. No loose promises for the future. Our economy and UK manufacturing demands investment now in the technologies of the future," he said. 
In battery production a gigafactory is a plant capable of producing batteries with a combined output of a billion gigawatt-hours a year. In the case of Sunderland, the factory will enable the production of batteries with a combined output of 9 billion gigawatt-hours a year, sufficient to power 100,000 electric cars.
Much of this production will be exported to European markets, says Nissan. The Sunderland plant already exports 70 per cent of its cars to EU countries. 
Thank you, Brussels
In an odd twist, the new development has been helped by clauses inserted into the UK–EU Withdrawal Agreement at the EU's insistence regarding the sourcing of components in electric vehicles exported from Britain to the EU.
During the negotiations Brussels protested rather too loudly that Brexit would mean cheap batteries flooding into Britain and giving it an "unfair" advantage. What it actually wanted to do was force British manufacturers to source components from European manufacturers. All this led it to demand – successfuly – a clause that electric vehicles exported from Britain to the EU have to contain at least 40 per cent of their components manufactured either in Britain or in the EU, rising to 55 per cent by 2027.
An electric battery can amount to 50 per cent of the component cost of an electric car. And Nissan has clearly decided that it makes more sense to have control over its own supplies of batteries – and the shortest possible supply chain – than depend on German suppliers such as Volkswagen. So, another own goal from Brussels.
Boris Johnson's government is eager to take credit for the new investment – but conveniently forgets that it had wanted to be allowed to export electric vehicles with only 30 per cent British- or EU-made content.
• This article has been amended to make it clear that the percentages of sourced components in electric vehicles that can be exported to the EU relate to components made either in Britain or the EU.