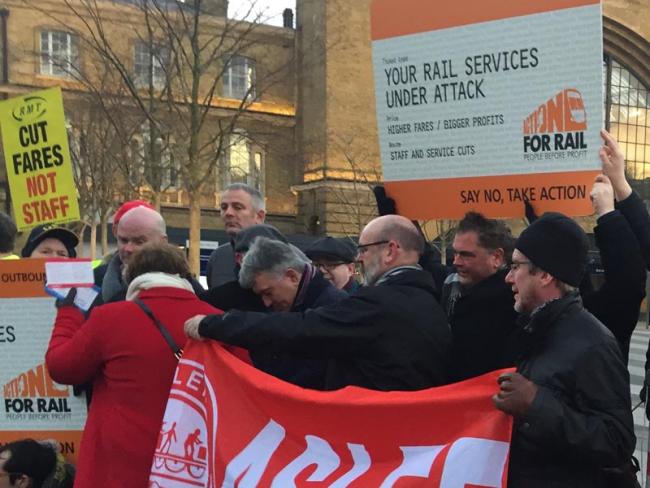 Rail unions RMT and ASLEF, and three passenger groups (Bring Back British Rail, We Own It, and Action for Rail), have combined to kick off the new year with two days of protests at mainline stations across England and Scotland on 3 and 4 January 2017.
Fare increases of 2.3 per cent greeted angry commuters on their first day back at work after the Christmas break. The average cost of a season ticket into London is now over £4,000, up by an average of 27 per cent since 2010 according to Labour research. The TUC notes this is twice the rate of inflation and wages over the past ten years.
More for less
On some routes the increase has been a staggering 162 per cent. Virgin Trains charges £10,200 for a season ticket between Birmingham and London.
We already have the most expensive fares in Europe. Now workers are being forced to pay even more for less. At stations such as King's Cross, Manchester Piccadilly, and Glasgow Central protesters drew attention to cancelled and cut services, overcrowded carriages, reduced ticket offices and driver-only trains.
Milking the system
"Southern Discomfort" was how some described their experience on Southern Trains, where private operators are milking the system and provoking strikes. Passengers on this route now pay £1,000 more than in 2010 and are being asked to risk their safety without guards.
EU directives have been harnessed to privatise British railways at a cumulative cost of £11 billion, and EU rules have prevented bidding for franchises against foreign state-owned companies. Campaigners say that if all this money were saved fares could be cut by 18 per cent. Brexit offers that opportunity, and the chance to start running our railways in the interest of British workers.