Rail workers in the RMT union have scored a significant victory in their battle with private train companies to secure the future of guards on trains. It's part of a wider fight…
One of Britain's biggest train companies, Northern, has finally agreed to the union's demand that there should be a guard on all trains, both those currently running and all new trains that will replace them. This came after 47 strike days during a bitter two-year dispute.
The RMT union suspended its action in a deal with the German state-owned company after talks brokered by former TUC General Secretary Brendan Barber, now chair of ACAS. Talks will continue to finalise guarantees which will allow RMT to formally end the dispute.
RMT General Secretary Mick Cash paid tribute to RMT's guard members in Northern Rail, praising their resilience, and describing them as an absolute credit to both RMT and the wider trade union movement. He also thanked the travelling public for their extraordinary support.
The Northern victory comes after similar success in Merseyrail after a long period of one-day strikes. Train drivers, members of Aslef, refused to cross picket lines during that dispute, making the industrial action much more effective. Elsewhere Aslef members have been less willing to take such action.
End in sight
Talks between RMT and Merseyrail have gone on for many months. The end is now in sight; but it remains to be seen if the company will give the union the guarantees it seeks to end the dispute.
At South Western Railway (SWR) RMT has secured progress along the lines of Northern after an emphatic renewed mandate for action by its guard members to carry on the fight to put public safety before private profit. A massive 88 per cent voted in favour of industrial action. This was the fourth such ballot, forced on the union by anti-trade union legislation.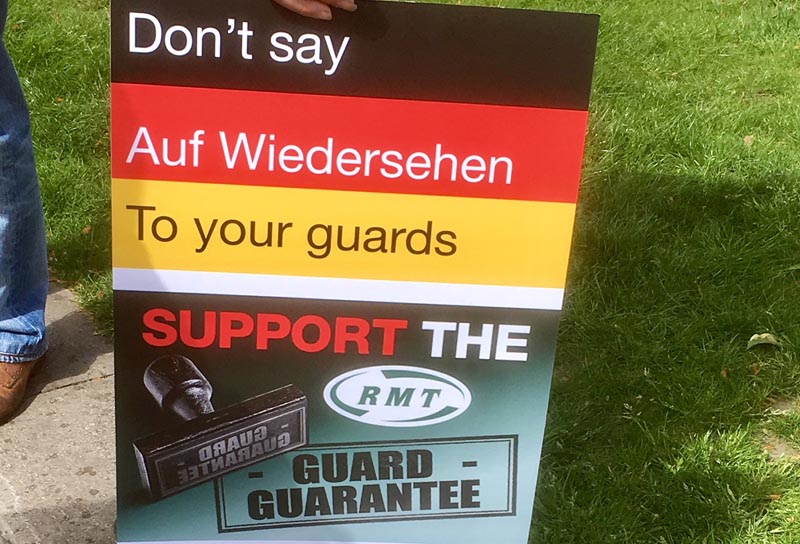 SWR guards are seeking assurances about their future on the route which runs from London to Portsmouth, Southampton and Exeter. They have held a number of one-day strikes, and guards and RMT drivers had been instructed not to book on for any shifts on 22 February, 9 March and 16 March. As Workers went to press, that action had just been suspended.
That huge vote for action at SWR came a day after the RMT secured its victory at Northern. The pressure was on SWR to respond seriously about running all trains with a guard on board. It was the last company holding out. One by one the others have made deals with the union.
RMT members have been resolute in their campaign, taking on the private train companies and the government. Both have been hell-bent to abolish guards in the pursuit of greater profits – at the cost of making railways less safe and less accessible.
Dogged determination has paid off. Company after company eventually caved in as they realised the effect on their finances. The government propped up the rail companies' finances, but that was as ineffective as its anti-union laws in stopping the guards.
The union has run a series of well attended public meetings up and down the country in support of its campaign. It also made astute use of social media and video. This has attracted great support from the public, as well as the many trade unionists who have supported picket lines.
'Virgin Group owner Richard Branson has netted over £25 million in dividends from the West Coast…'
Train company finances are fragile. The guards' widespread industrial action and the self-inflicted timetable fiasco last May have hit their income. For example SWR's dispute resulted in an 8 per cent fall in passenger journeys. There are rumours that this company is in serious financial difficulties and will be the next one to hand back its franchise.
Office of Rail and Road, the rail regulator, reported rail industry income of £19.4 billion last year, 1.3 per cent down on the previous year. Income from fares was down 2.4 per cent while costs rose by 1.4 per cent.
Annual franchise payments to the government fell from £700 million to £400 million. The private operators paid out dividends of £300 million. Although that was about one-quarter lower than last year, it is about 6 per cent more than 5 years ago.
Mick Cash slammed this as "another £300 million added to the great rail rip-off." He went on: "…that could have been invested in guaranteeing safe staffing levels and improving services [but] has been siphoned out of the railway in dividends by the greedy private train operators while they have slashed their returns to the public purse by the same amount."
Network Rail, the state-owned infrastructure owner and operator, paid out £400 million in compensation to train operators for delays caused by them. Much of that sum contributed to the operators' profits instead of going to the passengers who are entitled to it. Passengers are now paying an average of 3 per cent more for their tickets. As wages fail to keep pace with fares, rail travel is becoming unaffordable for many.
Virgin Group owner Richard Branson has netted over £25 million in dividends from the West Coast operation. His partner Brian Souter's Stagecoach not only had a similar amount from West Coast but also made £35 million from the East Midlands Trains franchise.
Branson and Souter have been happy to bank their profits after dumping the loss-making East Coast franchise back on the public sector without fulfilling their promises to the government. This shows how running trains is a virtually risk-free enterprise for privateers.
Network Rail recently announced a radical reorganisation following the appointment of Andrew Haines as their new chief executive. He has talked about the need for devolution "to enable us to get much closer to our (private) partners…", "embedding a customer mindset" and "cutting through red tape and bureaucracy".
It's unclear what that all means for safety. But the overall aim is clear – align the Network Rail structure closely with the private operators to facilitate even greater profit-making at the expense of passengers and taxpayers.
But memories of Network Rail's private predecessor Railtrack are still vivid. Railtrack was brought down by the Blair government in 2002 after the profit motive was put before safety and there was a series of serious avoidable rail accidents.
Network Rail's devolution announcement might be premature. Chris Grayling, still clinging on somehow as Secretary of State for Transport, has asked former British Airways chief Keith Williams to undertake a "root and branch" review of Britain's railway industry with the instruction to "seek revolution not evolution". Or possibly Grayling intends the review to provide a fig leaf to spare his blushes over the shambles he has presided over.
A post-Brexit Britain must have the ability to manufacture its own railway equipment, particularly for HS2. Unite the Union, which has just won recognition at Hitachi's new train factory in northeast England is concerned that Britain's resurgent rail 
manufacturing industry could be shunted into the sidings. The union has urged the government to support British manufacturing, jobs and skills by investing in rail infrastructure and awarding contracts to British factories.
'Rail's problems are eclipsed by those of buses…'
Unite Assistant General Secretary Steve Turner wrote to Grayling warning that high-quality skilled jobs across Britain could be hit unless the government acts. He called for the government to bring forward the investment needed to upgrade the existing regional and intercity rail networks and to award contracts for new rolling stock to British-based train manufacturers as part of a proper industrial strategy.
The problems of the rail industry are eclipsed by the crisis facing the bus industry, although that attracts less publicity. Around one-fifth of public transport journeys are by train. But buses are the backbone of Britain's public transport system, accounting for 60 per cent of all trips.
The Campaign for Better Transport reports that local authorities have axed a huge number of bus routes in the wake of a steep decline in their overall spending. About 17,000 routes have gone since 2013. This leaves the bus network smaller than at any time since the 1980s.
Councils have little or no obligation to subsidise buses – last year 11 councils spent nothing at all on running bus services. More will be tempted to follow as their statutory spending obligations are under increasing pressure.
Existing subsidised routes are under threat too unless government funding increases. 12,700 existing English bus routes are subsidised, that's about 44 per cent of the total.
Councils are legally obliged to provide free bus passes to anyone of state female pension age and to disabled people, and to reimburse the bus operators for carrying them. Local authorities have to pick up the bill – £652 million last year. The government doesn't fund that, of course.
The Local Government Association wryly observed that unless the government urgently provides more funding, free travel for older people will be ended as there will be no buses for them to travel on!
Bus profits
RMT has criticised private bus companies in England for pocketing £3.3 billion in profits while presiding over deep cuts to vital routes and attacking the jobs, pay and working conditions of their staff.
The elderly, the least well-off and the unemployed suffer the most from the bus crisis. Mick Cash said, "With services in decline and vulnerable and isolated communities taking the brunt of the cuts it is now clear that decades of bus privatisation have failed and we need a new national strategy for our buses underpinned by public ownership."
British workers should perhaps take Grayling's advice when considering what change is necessary to secure a decent transport system for Britain – seek revolution not evolution.
• Related article: Ferry contract scandal