Local railway campaigners in Bristol have been celebrating a quarter-century of struggle with an innovative socially distanced event culminating at Severn Beach. The campaign, Friends of Suburban Bristol Railways (FOSBR), was originally founded by a few local activists to save the Severn Beach branch line from Bristol to the beach on the Severn Estuary.
The line had been under constant threat since the "Beeching cuts" in the 1960s. But things came to a head in 1995 when rolling stock began to be diverted to serve the needs of nearby Abbeywood and buses began to be used for the last leg of the journey from Avonmouth to Severn Beach. 
Clever awareness-raising stunts attracted interest and support, and eventually Bristol City Council was persuaded to subsidise the line for a number of years. As passenger numbers increased the subsidy decreased but FOSBR wanted more.  
Ambition
Ambition extended to other networks around the Bristol area and the re-opening of local railway stations as well as the restoration of four tracking. This has also help stimulate economic regeneration in the region, for example in nearby Portishead as we reported in April.
Dogged, persistent argument and campaigning have achieved significant victories over the years, with the line attracting over 1 million passengers a year – with the result that phased improvement for the foreseeable future is expected.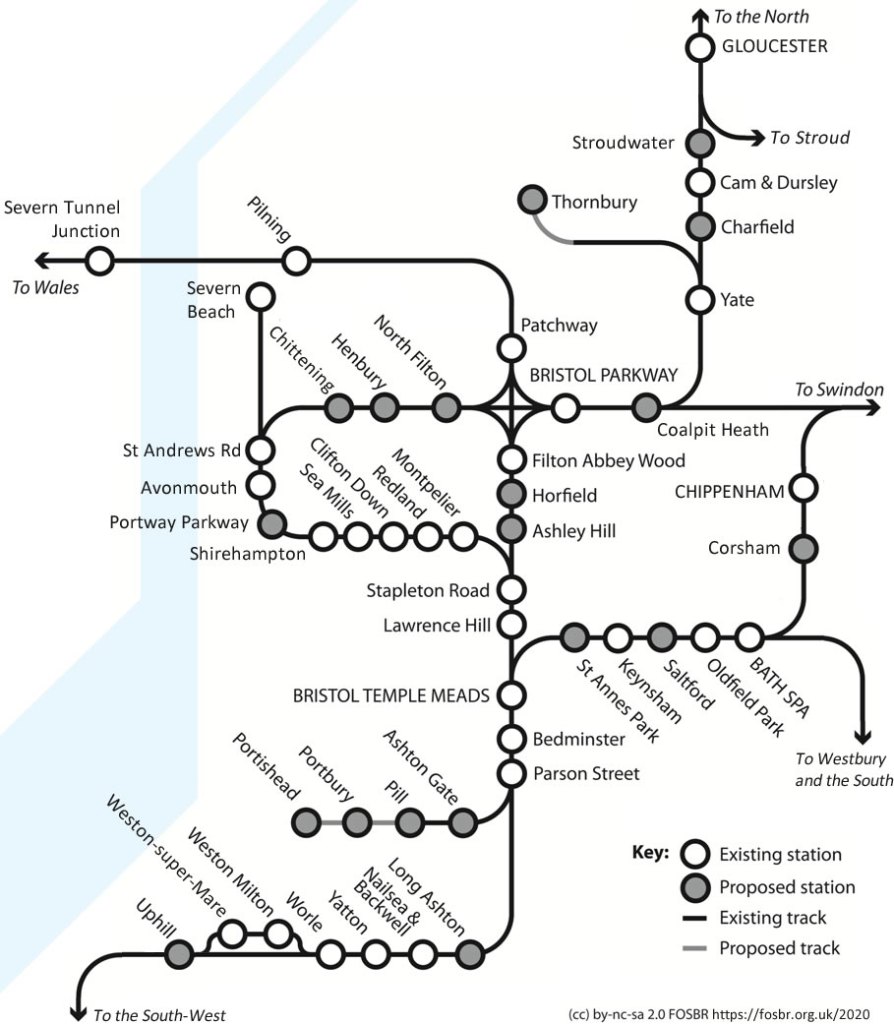 Talents
Friends of Suburban Bristol Railways is made up of a formidable team of all the talents from technical wizardry to a deep knowledge and understanding of how railways operate. That imagination and ingenuity came into play when working out how to mark the anniversary against the background of the pandemic.  
Unable to hold a large public meeting, the campaign decided to go for a series of small mobile meetings in keeping with the guidelines – "FOSBR 6s" in cafés and pubs near the 10 main stations along the Severn Beach line.
The first of these took place during the weekend of 25 September. FOSBR 1 joined the train to Severn Beach at Stapleton Road, 2, 3 and 4 joined at Redland, 5 got on at Sea Mills and 6 joined them at Avonmouth.
Sporting mural masks donated by Severnside Community Rail Partnership, the six groups alighted at Severn Beach and walked round to Shirley's Cafe for relaxation, reminiscence and discussion of where next. Two further meet-ups took place that weekend, with more planned over the next few weeks. For pictures and more news on the campaign, see the FOSBR website.
As a Radio Bristol journalist remarked [item starts at 56:20], the campaign is the perfect example of a community organisation taking control. Amen to that.