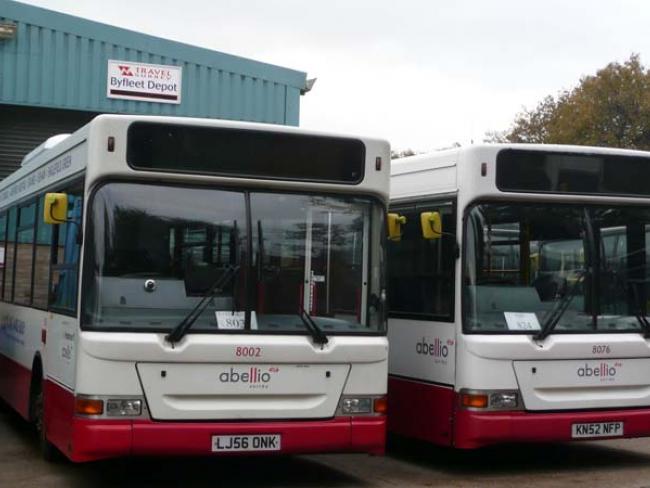 More than 100 bus drivers working for Abellio Surrey at its Byfleet depot are being balloted for strike action in a dispute over pay and conditions. The ballot, which ends on 19 May follows a recent consultative ballot in which the drivers voted overwhelmingly in favour of strike action.
The dispute centres on a two-year deal on pay and conditions with Unite, agreed in 2014, which management is ignoring and seeking to by-pass. The union claims pay and conditions are being "salami sliced", cut off bit by bit by a hardline management which has so far refused to negotiate. It also wants better meal breaks.
Like other transport companies in Britain, Abellio is owned by a European state-owned company – it's a subsidiary of the leading Dutch train operator, Nederlandse Spoorwegen, itself owned by the Dutch government. Abellio has more than 60 routes in London and Surrey, with depots in Beddington Cross, Battersea, Walworth, Fulwell and Hayes as well as Byfleet.
Profit to Netherlands
Abellio operates routes out of Byfleet under tender to Surrey County Council, but is now complaining that it will be making a loss if Surrey withdraws its subsidy following the council's review of local transport services. But Unite points out that large profits are taken by the Dutch government before the Abellio declares the residue for tax in Britain – draining money out of the local economy without putting anything back.
Less than a year into the agreement with Unite, the firm has reneged on one of the key elements. Last year, Abellio agreed to increase the new starter rate to £11.11 an hour and to reduce the time drivers had to serve before qualifying for full pay from two years to one and nine months. This year the company said that they were imposing a far lower rate of £9.46 an hour, with no further negotiation, and that drivers on it would never qualify for the higher rate of £11.90 an hour.
"All we're asking for is another 15 minutes. It's a question of health and safety for passengers and staff."
The drivers also want longer meal breaks. Local bus drivers are excluded from most of the provisions of the European working time directive because their work is covered by the domestic driving hours' regulations. So while long-distance bus and coach drivers are entitled to a 45-minute break after four-and-a-half hours' driving, the entitlement for those driving on local domestic routes is for a minimum of 30 minutes after five-and-a half hours.
Unite regional officer Dave Weeks said, "If you drive on a motorway, you see lots of signs reminding you to 'Take a break – fatigue kills'. Yet bus drivers can drive for up to 10 hours-a-day and do non-driving work for several hours more, with only a 30-minute break. All we're asking for is another 15 minutes. It's a question of health and safety for passengers and staff."
Last year, Unite campaigned for decent breaks for bus drivers throughout south east England. Other companies negotiated a minimum break of 45 minutes, but Abellio refused to even consider this proposal.