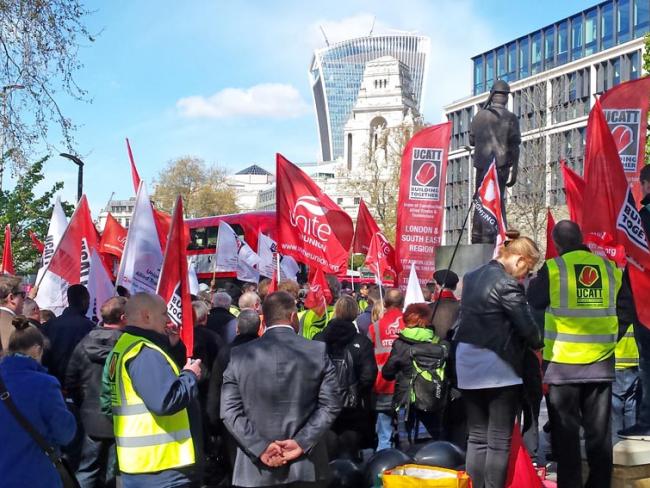 Workers Memorial Day is an annual event held on 28 April to commemorate those killed at work or from industrial diseases. Every year more people are killed at work than in wars. Most don't die of mystery ailments or in tragic "accidents". They die because an employer decided their safety just wasn't a priority.
Today in London a couple of hundred gathered by the Building Worker statue beside the Tower of London not just to remember and honour the dead but to organise and fight for the living. The assembly was jointly organised by UCATT the construction workers union and Unite. It was a positive sign that UCATT had brought many young construction workers to the event in work-gear.
Enough is enough
Before the event, Jerry Swain, Regional Secretary for UCATT London and South East, said: "Workers Memorial Day is when construction workers come together to pause and remember fellow workers who have been killed and injured at work. It is the day when workers say enough is enough and demand that no more workers die because companies are more interested in profits rather than protecting lives."
'Construction, the most dangerous industry in Britain.'
Construction is the most dangerous industry, and London is the most dangerous place to be a construction worker. In 2014/15, seven construction workers were killed in London. It is feared that as the industry continues to grow, safety will become more lax and deaths and accidents could increase. UCATT is concerned that accident rates could further rise due to the Health and Safety Executive having its budget slashed by 50% by 2020 compared to its budget in 2010 and the attacks on health and safety laws by the current Government.
The theme of this year's WMD was Strong Laws, Strong Enforcement and Strong Unions. Jerry Swain observed: "This year's Workers' Memorial Day theme really strikes at the problems faced by British construction workers. Our safety laws have been weakened and government cuts have reduced the level of enforcement undertaken by the Health and Safety Executive. Without the presence of strong unions, workers are placed in even greater danger when working on site."
There are growing attacks on health and safety protection, including in Britain where the government have removed protection from millions of self-employed workers and across Europe where the European Commission are pursuing a dangerous de-regulatory strategy.
But strong laws are not enough, particularly if they are not going to be enforced, which is why we need proper inspections and enforcement actions against those who break the laws.
Fewer inspections
In Britain the number of inspections has fallen dramatically in the past five years. In many other countries enforcement has always been non-existent, which is why we need strong unions. Unionised workplaces are safer, yet the government is trying to stop unions protecting the health and safety of their members by restricting the right of health and safety reps to take time off to keep the workplace safer and curtailing our right to strike to make things better when things go wrong.
Many speakers at the rally reiterated the need to build strong unions at the workplace, which always received the loudest applause. It was a national campaign and there were many other events, including in Aberdeen, Birmingham, Bradford, Chesterfield, Cleethorpes, Coventry, Derby, Dudley, Grimsby, Leicester, Liverpool, Nottingham, Preston , Rotherham, Scunthorpe, Sheffield, Solihull, Sterling, Walsall, Wigan, Wolverhampton and York.