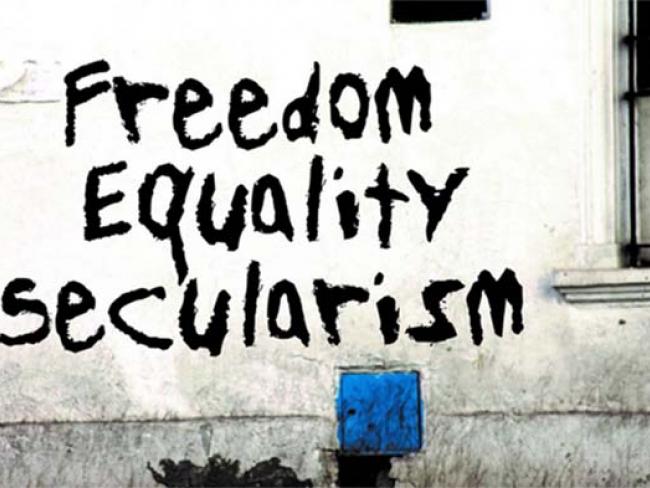 If you missed Secular 2014, a two-day conference on the religious right, secularism and civil rights held in London on 11 and 12 October, you now have a chance to catch up on some of the action – including a devastating analysis by Pragna Patel of what she calls "shariafication by stealth" in Britain.
Patel, from Women Against Fundamentalism and Southall Black Sisters, spoke of a serious situation in which Sharia and other religious codes are being permitted to become part of Britain's justice system.
The severe reduction in access to legal aid for all people, together with what she termed a "faith-based" approach by the justice system towards minority issues, is restricting women's access to justice, she said.
'A rise in the demand for the accommodation of religious legal codes in the very fabric of the legal system'
There has been a rise in the demand for the accommodation of religious legal codes in the very fabric of the legal system, explained Patel, demands which parts of the state "have been only too happy to accommodate".
 This trend, said Patel, has found support from both religious fundamentalists and the anti-racism lobby, who even accused Universities UK of "islamophobia" for (after an outcry) withdrawing guidance permitting gender segregation in university meetings, if outside speakers wanted it.
Worse, the Law Society followed this by issuing guidance to lawyers on how to prepare "Sharia-compliant wills". Patel pointed out that there is no agreement even in Muslim countries about what constitutes sharia law.
Yet, apparently using the advice of fundamentalists who also approve of stoning adulterers, the Law Society's guidance endorses so-called sharia succession rules which state that usually a male heir will inherit twice the amount that a female heir will receive, and that children born outside marriage cannot inherit at all.
These developments, together with the legally sanctioned growth of religious arbitration tribunals, are creating parallel legal systems within Britain.  Legitimising these tribunals means many women feel they have no choice but to use them, said Patel.  They are a serious threat to democracy in Britain.
The conference, attended by delegates from Britain and around the world, was the launching pad for A Manifesto for Secularism. The Manifesto outlines five demands: the complete separation of religion from the state and public policy; freedom of religion and atheism and freedom to criticise religions; equality between women and men; and the abolition of religious laws in the family, civil and criminal codes.