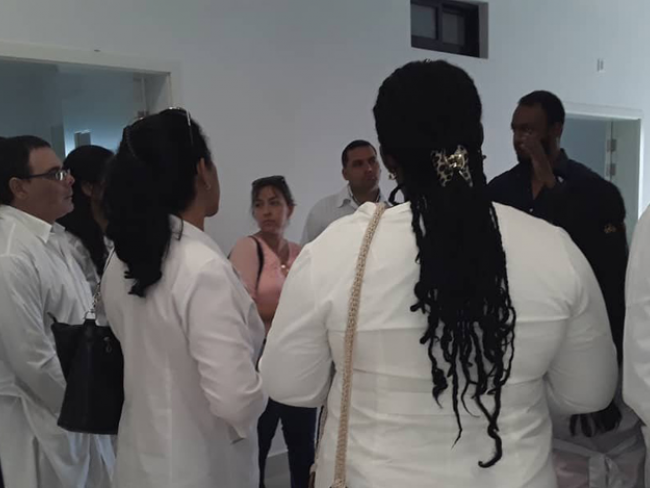 During the current global coronavirus pandemic Cuba is standing out as a shining example not just of international solidarity but also of the development of expertise and medical treatments possible when a country is run in the interests of its people.
In the current fight against coronavirus Cuba has sent health workers to Jamaica, Venezuela, Italy, Nicaragua, Grenada, Suriname and Belize. In the whole region of the Americas, 34 countries and 12 overseas territories are affected and there have been 54,313 confirmed cases and 700 deaths. Its leading antiviral drug interferon alpha 2b has been used in Italy and China, among other countries.
The Cuban medical brigade Henry Reeve has gone to Suriname, joining the more than 200 Cuban physicians already there. The Henry Reeve contingent comprises 51 health professionals, three-quarters of whom are women. More than half of them have previously carried out medical cooperation missions in other countries.
On 21 March 52 members of the Henry Reeve brigade arrived in Italy to help to fight the coronavirus which has killed more than 4,000 people there. The Cuban doctors and nurses will be working in Lombardy, the country's worst affected region.
Thanks from Britain
Britain too has experienced help from Cuba. Early in March, MS Braemar, a transatlantic cruise ship carrying nearly a thousand passengers and crew, mostly from Britain, found itself stranded for a week in the Caribbean, after five of its passengers tested positive for coronavirus, and dozens more passengers and crew members were in isolation, having displayed flu-like symptoms. 
Barbados and the Bahamas, both part of the Commonwealth, refused to let it dock. The British government then asked the USA and Cuba to allow it entry. The USA refused. The Braemar finally docked in the Cuban port of Mariel on 18 March.
Passengers who were well enough to travel back to Britain were taken to the airport in Havana. Those who were too sick to fly were offered treatment in Cuban hospitals, even though at that time there had been only ten confirmed cases in the whole of Cuba. 
One passenger tweeted, "We should all remember what Cuba has done for us, stepping in when none of the British Commonwealth countries and protectorates in the region offered any help." Foreign Secretary Dominic Raab also had the decency to thank Cuba.
"Prevention and containment of new coronavirus require the efforts of the entire international community. Let's reinforce health, care, solidarity and international cooperation," said Cuba's Foreign Minister Bruno Rodriguez. 
In another contribution to human welfare in the fight against coronavirus, the Cuban pharmaceutical industry  – one of the world's leading biotechnology centres – is guaranteeing production of proven, high-efficacy treatment medications, including recombinant human interferon alpha 2b, as well as another group of drugs that are included in protocols for treating patients with this disease and with any ensuing complications. 
Cuban technology is also being used to produce the interferon in Jilin, China, at the joint venture Changchun Heber Biological Technology facility.
Cuba can and will supply interferon to its own public health service and internationally. Cuba has been using it as preventive medicine as well as in treating patients confirmed as having the virus, via nebulization, the quickest way to reach the lungs and have a beneficial impact in the early stages of the infection.
Eulogio Pimentel Vázquez, the general director of the Center for Genetic Engineering and Biotechnology, says, "We have a total supply of the product that is practically equivalent to the amount needed to treat all those who were infected in China."
Also included in Cuba's protocols for treatment are 21 other drugs, including antivirals, antiarrhythmics, and antibiotics that may be used to treat complications that may arise in patients suffering from the virus.
Well supplied
The Ministry of Public Health has assured Cubans that this internationalism does not affect the number of specialists, resources or intensive care requirements needed to treat patients with the coronavirus or other diseases in the country. The country will continue to guarantee the care and treatment of Cubans with non-communicable diseases such as cancer, cardiovascular conditions or diabetes. This is because Cuba has 8.2 doctors for every thousand people, a far better ratio than the USA (2.6), South Korea (2.4), China (1.8) or Italy (4.1).
As of 25 March, Cuba has 59 confirmed cases, 54 of whom have been hospitalised and two of whom are in a critical condition. Teams of medical specialists are providing constant care and monitoring. Cuba is carrying out a plan of intense activity, emphasising sanitary-hygienic measures, food production, the sale of cleaning materials, protection of children and the elderly, and national unity. The result is that, as of 15 March, Cuba had no cases of indigenous transmission of the virus. The diagnosed cases were all introduced by a person who came to the country with the disease.
"Solidarity is the only way to beat this pandemic."
Tedros Adhanom Ghebeyesus, director-general of the World Health Organization, has praised Cuba's efforts, saying, "solidarity among all is the only way to beat this pandemic." By contrast, the US government, has demanded that countries refuse to accept the Cuban medical aid missions. 
The US embassy in Havana falsely accused Cuba of sending these missions only in order to recover "money lost by countries that abandoned this abusive program". It also falsely accused Cuba of "withholding most of the salary of doctors and nurses in international medical missions exposing them to terrible working conditions". 
In 2019, President Trump had, absurdly, added Cuba to a US list of countries allegedly failing to combat "human trafficking", claiming that its overseas medical aid was a form of trafficking, and he set up a programme to discredit and sabotage Cuba's healthcare efforts. Has anyone seen any US medical aid missions?
Cuba's people have created one of the world's best national health services. Cuba has not only educated enough doctors and nurses to care for its own people, it has also educated enough health care workers to care for people in many other countries. Since 1960, 400,000 Cuban medical professionals have worked in 164 countries, saving millions of lives and improving the lives of hundreds of millions of people.