Working-age benefits will be frozen if he is re-elected, Chancellor George Osborne told the Tory party conference in Birmingham on 29 September. The promise won applause from the party faithful, but the consequences might – and should – be a rise in trade union organisation.
A large proportion of the recipients of working-age benefits are not lazing in bed in the morning, nor even unemployed: they are working in jobs so poorly paid that they cannot survive on their earnings.
The government cannot – or will not – say how many people in work are receiving these benefits. In July the Department of Work and Pensions admitted that it does not record the employment status of people receiving housing benefit.
But local authority figures suggest more than 900,000 people in work are receiving housing benefit (it may be more: housing benefit goes to households, not individuals). And figures from the National Housing Federation show the proportion of people claiming housing benefit who are in work has risen from 11 per cent in November 2008 to 22.5 per cent in February 2014.
Income support and housing benefit are the two principal benefits Osborne was alluding to. These operate as a massive subsidy for employers, allowing them to pay below-subsistence wages. If the government freezes these payments, workers will have no option but to go to their employers and get them to fork out the difference.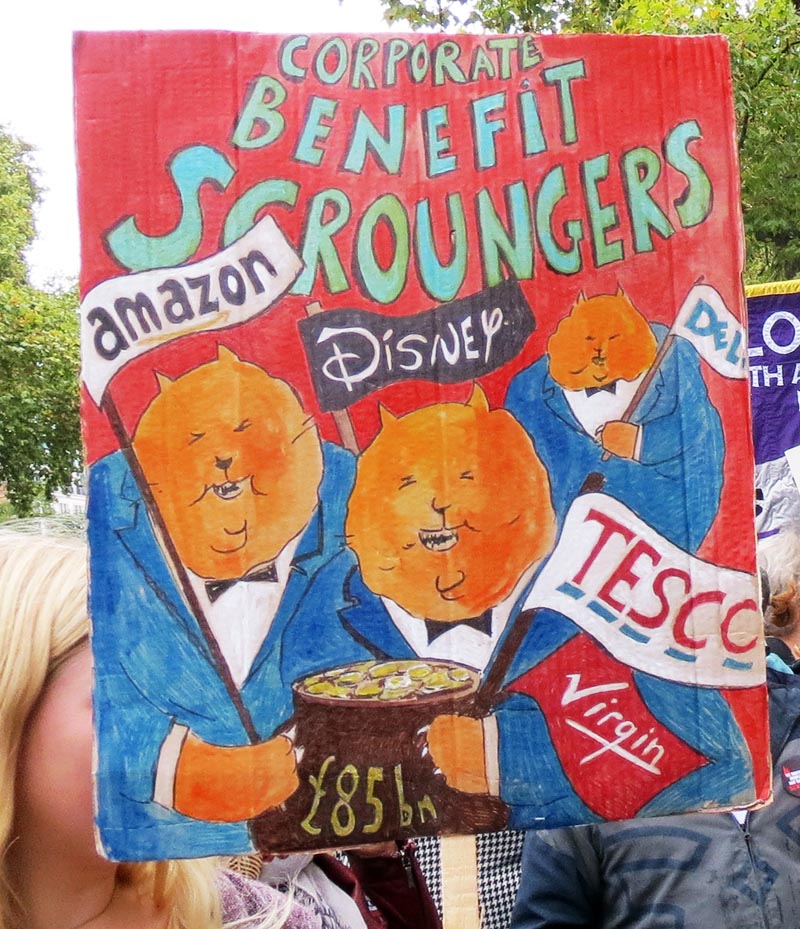 Naturally, employers will pay more only if forced to by collective action, and will not want to see their profits hit. So collective action will require a will to become organised on the part of the workers affected, coupled with a consistent and thought-through approach by the unions – whose approach up to now has been generally ineffective.
Meanwhile, the government is subsidising employers at a staggering rate. Amazon, for example, paid less tax last year than it received in government grants. And that's not counting the hidden subsidy whereby taxpayers top up the pay of Amazon's minimum-wage workers with "benefits".
As an article in The Guardian newspaper on 6 October laid bare, the government doesn't even know how much its support for employers costs the taxpayer. But it appears that grants directly paid to companies, at £14 billion, are around three times the total cost of jobseeker's allowance.