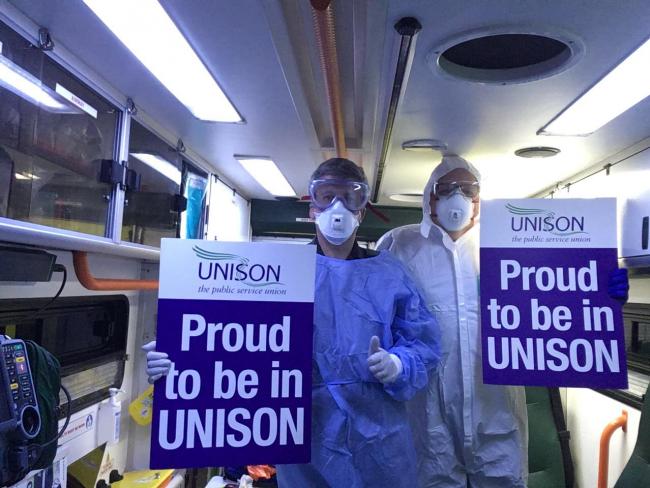 Media descriptions of "health heroes" often stops at doctors and nurses. At the front of the front line, though, are the ambulance services, taking patients from an uncontrolled non-clinical environment, usually people's homes, to the controlled and sterile environment where those doctors and nurses can do their work, continuing the treatment already administered by highly skilled paramedics. 
London, with Britain's largest ambulance service, has been under particular strain. But it has not buckled. Key to the resilience of the service has been the acceptance of responsibility by the main trade union, Unison.  
Unison reps have forgone agreed trade union facility time to work extra shifts, an initiative that other unions would do well to follow, rather than, as ambulance workers have told Workers one union has done, seek to increase the number of reps working from trade union offices. Critically the Unison reps also took responsibility for dealing with the building crisis of PPE. 
999 calls rocket
Demands on ambulance workers have rocketed during the Covid-19 epidemic. Twenty years ago the London Ambulance Service, might have had to deal with a thousand 999 calls in a day. That has leapt now to more than 5,000.
On one day at the end of March, 11,800 calls were logged – and this at a time when almost 1,000 of the service's workforce were off sick or self-isolating (650 of the absences were Covid-19 related). The strain, dwarfing the annual problems of New Year's Eve, brought the service to breaking point. But it did not, and has not broken. 
In the face of conflicting and unclear advice as well as uncertain and inadequate supplies, Unison decided to act. This action was not threatening or taking industrial action, nor even going to the press or moaning to MPs. It was to instruct its members, and to inform the service, that ambulance workers themselves would decide what level of PPE was appropriate for each job.
This system of "dynamic risk assessment" gives confidence to workers to trust their clinical skills, and at least partly stabilised a previously deteriorating situation.