We cannot care for people without planning, and we should stop robbing other nations of skilled workers…
How many times in 2016 have we heard it said that "if it was not for immigration the NHS would not cope"? But have you heard it asked, "why did this come about?" and "what is this immigration doing to the countries the migrants leave?" Or "How much money is being made in the so-called 'free' movement of health care staff?" Or "How does a modest country like Cuba manage to produce sufficient health care staff of all grades when a country like Britain cannot?"
After several years of hostile attack on junior doctors, which has affected recruitment and retention, the Conservative party conference in September heard a proposal to increase the number of UK medical training places by 1,500 every year from 2018 with a view that the NHS would become self sufficient in doctors by 2025.
Given the recent attack on junior doctors it was no surprise that the BMA reacted with some suspicion to the proposal, while welcoming the proposed increase in student numbers. They are right to point out that this proposal will take at least eight years to make a substantive difference. But some of the BMA response was not accurate. In its press statement it said with reference to free movement of health care staff:
"This model has served the UK and the NHS well for decades – moving away from that model is a major risk to the success of the NHS."
So how exactly has denying places at medical school to suitably qualified UK applicants ever benefited the UK or the NHS? Unlike the BMA, the regulator, the General Medical Council (GMC), has been concerned about several aspects of free movement including the impact of lack of language competency on patient safety. But it is the adverse consequences on others which is the most unethical aspect of the process.
The "model" (if it can be dignified with the term) to date may have saved successive governments the cost of growing their own staff but the other side of the equation is that much poorer countries who have paid the cost of training their own healthcare staff have been penalised by the "model".
The other aspect of the government announcement on training places that the BMA objected to was the requirement that UK-qualified doctors work for the NHS for a minimum of four years. This objection is misplaced as the vast majority already do so and this requirement cuts both ways – it commits the employer to offering a post. If this was extended to all NHS healthcare professionals, we wouldn't have the ridiculous situation arising recently where NHS nurses and allied health professionals qualified only to find "no jobs available" due to spending cuts.
There is a huge responsibility on the British people, but particularly trade unions in the healthcare field, to really understand the process of education and training of health care staff and the ethics of the international movement of health care workers.
The NHS does currently rely on overseas recruited staff. Those already here should be valued, and if committed to staying in Britain are part of the working class here. But the "model" of overseas recruitment is damaging to the UK and to the source country.
International shortage
The World Health Organization says that the world needs another 2.4 million health workers. Poorer countries are in particular need. Of the 57 countries with a critical shortage, 36 are in sub-Saharan Africa. Africa has 11 per cent of the world's people and 24 per cent of the world's disease burden, but just 3 per cent of its health workers and 1 per cent of its health spending. Its countries need another million health workers.
In sub-Saharan Africa there is one doctor for every 8,000 people. More than half its countries do not meet the WHO standard of one doctor per 5,000 people.
In Europe countries are educating too few health workers even to replace those retiring. They will be a million short by 2020. But many wealthy countries, which educate fewer doctors than needed, depend on doctors from Africa to make up the shortfall. So these poorer countries pay to educate doctors who then support the health services of the richer countries. In 16 African countries more than half their nationally educated doctors have left to work abroad.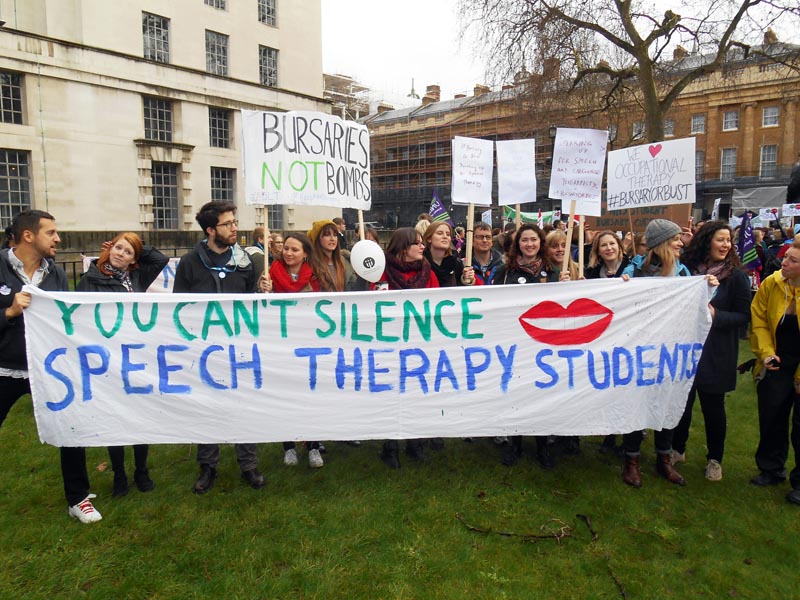 Britain, Australia, Canada, Saudi Arabia, the United Arab Emirates and the USA actively and systematically recruit health workers from African countries. This is considered unethical under many national policies, leads to negative health outcomes, and undermines the right to health.
Edward Mills in a 2008 Lancet article even asked, "Should active recruitment of health workers from sub-Saharan Africa be viewed as a crime?" He concluded, "When the international community permits for-profit companies to actively entice overworked and often underpaid workers away from the most vulnerable populations, it is contributing to the deterioration of essential health-care delivery." This is no passive brain drain: this is exploitation.
African nations support medical education, with more than half the medical schools in sub-Saharan Africa either offering free tuition or charging less than $1,000 a year. But these good policies are under attack. International Monetary Fund and World Bank policies restrict the public spending allowed to poor countries, especially for health care and education. The recruitment of scarce, well-educated labour has cost poorer countries more than they have gained from investment and aid.
The 2010 OECD report on International Migration of Health Workers noted Britain was "the second largest destination country for foreign-trained doctors after the United States. … around a third of all doctors were trained abroad.…Part of the recent increases in migration can thus be explained by the fact that migration was used as a 'quick fix' for unanticipated health workforce needs, whereas training extra doctors and nurses takes many years to have an effect."
In 2010 the WHO unanimously adopted the first Code of Practice on the International Recruitment of Health Personnel – a voluntary, non-legal instrument with no impact on state practice. All 193 WHO member states signed, but only 85 have designated a national authority to implement the Code and just 56 have reported to the WHO. No penalties are imposed on recruiters and employers who violate the Code, the private sector is excluded – and there is no mention of compensation for the source countries.
After the Code was adopted, a Lancet study found that there was an annual growth of 5.4 per cent among graduates from sub-Saharan African medical schools appearing among US doctors between 2011 and 2013. The average annual growth was 4.5 per cent between 2002 and 2011. The study concluded that the Code has not been "either relevant or effective".
Who profits?
Whenever free movement of labour is raised the emphasis is on healthcare staff who want to come to Britain to work and how happy we are that they wish to make good our lack of planning for a sustainable NHS workforce. This image of someone sitting in Europe or Africa thinking about moving to the UK could not be further from the truth. The movement of health care workers is actively arranged by multi-national agencies who in turn charge governments (read taxpayers) for the privilege. The recruitment of nurses from the European Union costs the NHS on average £10,000 a nurse.
The costs incurred to the UK (not to mention the source country) for recruitment from further afield are higher. Active recruitment from sub-Saharan Africa continues, despite the Code of Practice and despite pleas to end such efforts by local and international ministries of health. Western recruitment agencies, such as O'Grady Peyton International (USA and UK), have established offices in South Africa to facilitate recruitment. The Code is supposed to discourage active recruitment of health personnel from countries with critical shortages of health care workers. It has clearly failed.
Professor Sir David Metcalf, the outgoing chairman of the government's Migration Advisory Committee, recently warned that public spending constraints led to greater immigration, particularly of nurses, paramedics and care sector workers. If we reversed the public spending cuts in medical education, we could educate enough doctors and nurses to meet our needs – and not need to take from poorer countries their expensively educated health care workers.
Dr Terence Stephenson, the chairman of the Academy of Medical Royal Colleges, said he was "concerned" that we chose "to remain so dependent on doctors from overseas…Not just from former Commonwealth countries but also from the European Union … I think we should become self-sufficient."
Despite the overseas recruitment there are still gaps on the rota, so British-based agency nurses will also be required to cover – resulting in more agency fees. In addition some British nurses who need immediate cash in their pockets are choosing to work agency shifts rather than work in a permanent post. This means more immediate cash for the nurse but less holiday and sick pay and no pension.
Agencies, knowing that nurses are in short supply, charge fees way above NHS pay rates, £2,000 a shift. Foundation trust spending on agency staff by foundation trusts alone has risen by £540 million since 2010 to £1.4 billion in 2013-14. Put simply, real investment in education and training is being diverted to agency profits.
Training
Currently the government is also claiming that it has expanded the number of training places for nurses and allied health professionals such as physiotherapists and speech therapists. It is true that from September there will be extra places. But it is saying rather less about the other major change to these professions, namely that students will need to pay full tuition fees and not be eligible for a bursary.
'Recruitment from the EU costs the NHS £10,000 per nurse.'
So a typical staff nurse qualifying in 2020 will have a debt of more than £50,000, and as their training entails more than 2000 practice hours they will have paid to work! Also although the government is allowing universities to expand places, the staff shortages in the NHS mean that there are too few qualified staff available to train and support a larger number of students.
Hospitals hired 5,778 foreign nurses last year, up from 1,360 the year before, many from those EU countries particularly hard hit by the EU's destructive "austerity'' (poverty) policies – Spain, Italy, Portugal and Greece. Many of these staff are very skilful, and the aggressive tactics of the recruitment agencies has led to criticism from both the Spanish and Portuguese nursing regulators.
But there are fears that some managers are lowering the bar for recruits' English skills. Dr Peter Carter, former chief executive and general secretary of the Royal College of Nursing, said that it was "totally unacceptable" for hospitals not to give proper English tests. At a recruitment fair in Porto, Portugal, Bedford Hospital hired 25 nurses. They were offered contracts without any formal English tests and some were even given help to fill in the application form.
Educating more nursing graduates would reduce the NHS's dependency on overseas-educated and agency nurses. As Dr Peter Carter said, nurses from overseas had made an important contribution to the NHS. "However, the over-reliance on nurses from overseas demonstrates a complete lack of long-term planning. Instead of training the nurses we need to care for our sick and our old, we go from famine to feast every few years by trying to plug staffing gaps from abroad when care becomes unsafe. Then once things are under control, the NHS cuts back again and the cycle repeats. Proper workforce planning is the only way of meeting the extraordinary demands faced by care services…"
The campaign opposing the cut to nursing bursaries led to one small victory. Bursaries for those who already have a health-related degree and will therefore gain a professional postgraduate nursing qualification in two years have been extended for those starting in September 2017. There is an urgent need to advertise that opportunity and indeed to campaign to extend it.
Given the fact that many post graduate nurses work more years in the NHS than overseas recruits, the economics of funding such a student make more sense in pure financial terms than overseas recruitment.