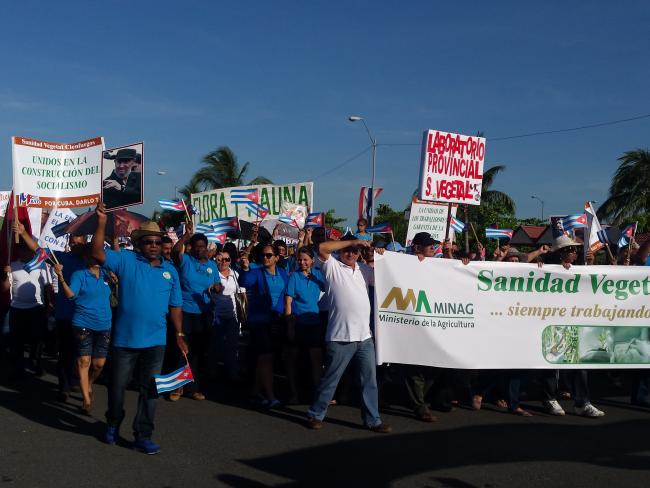 We are Cuba! How a revolutionary people have survived in a post-Soviet world, by Helen Yaffe, hardback, 288 pages, ISBN 978-0-300-23003-1, Yale University Press, 2019, £18.99. Kindle edition available.
The people of Cuba have shown splendid commitment to national sovereignty and social justice. This is one of the best books about that struggle.
Helen Yaffe a lecturer in Economic and Social History at the University of Glasgow, believes that Cuba's popular democracy is often overlooked. She suggest that essential to Cuba's achievements is "…the level of engagement by the population in evaluating, critiquing and amending policy changes and proposed reforms, through representative channels, public forums, national consultations and referenda."
This is reflected in many ways including environmental protection, energy use, sustainable agriculture and healthcare.
The World Wildlife Fund identified Cuba as the only country in the world achieving sustainable development in 2006 and again in 2016. It is improving the quality of life while living within the carrying capacity of its ecosystem. The Fund also said that Cuba led the world in minimising its ecological footprint.
Pristine
The National Geographic magazine called Cuba's environment "largely pristine" and cited its conservation and reforestation programmes as evidence of its environmental commitments. A 2006 documentary The Power of Community: How Cuba Survived Peak Oil praised Cuba's embrace of organic farming, agricultural cooperatives and biofuels. It concluded, "Cuba has a lot to show the world about a crisis we will all be facing." Between 2005 and 2007 Cuba cut its carbon dioxide emissions by about a fifth compared to its 2002 levels.
In 2006 Cuba launched a major state initiative, the Energy Revolution, to improve both energy security and energy efficiency. Cuba is now second in the world after Denmark in terms of distributed energy production.
A key aim was to move to a decentralised, distributed system of energy generation. That would reduce the country's vulnerability to natural disasters. The plan included the installation of new, efficient new power generators, increased emphasis on renewable energy, a progressive electricity tariff and replacement of old electrical goods with energy-saving equipment.
Cuba imported over 1,500 small generators from Danish and Spanish companies and installed them throughout the island. More than 4,000 emergency back-up systems have been installed in hospitals, schools, food production centres and other critical sites.
Yaffe comments that, "… the distributed system is conceptually closer to the kind of localised generation required for a switch to renewable energies." Renewable energy and energy efficiency bring Cuba closer to energy sovereignty, energy security.
"The profit-driven capitalist system is incapable of redressing the environmental damage it causes."
Yaffe praises Cuba's inspiring achievements in sustainability protecting the population from the devastating impact of global warming. These also counter attempts to ostracise the island. She continues, "The fact that Cuba is socialist introduces to the environmentalist table a discussion about alternative development models. It strengthens the argument that the profit-driven capitalist system is incapable of redressing the environmental damage caused by the process of accumulation (through exploitation) integral to capitalism."
Capitalism is only interested in natural resources as a way of making profits. Yaffe contrasts that with Cuba's centrally planned economy where "…the profit motive does not determine production and reproduction, meaning that environmental as well as social costs can be factored into economic decisions. It is not enough, for example, for electricity to be within physical reach: it must also be affordable for all Cubans."
But environmental disasters can occur in socialist countries. Yaffe quotes a leading environmental policy-maker in Cuba, who said that the process of balancing economic development with sustainability "is not automatic, you have to try to create a socialist system where the environmental agenda is driven well, otherwise you will still have environmental problems. Nothing is given, it has to be achieved."
Responsibility
Cuba's people have taken responsibility for producing their own food. Yaffe cites the Cuban invention of organopónicos. They are a way of growing crops on poor soils in small urban spaces such as building sites and other unused land.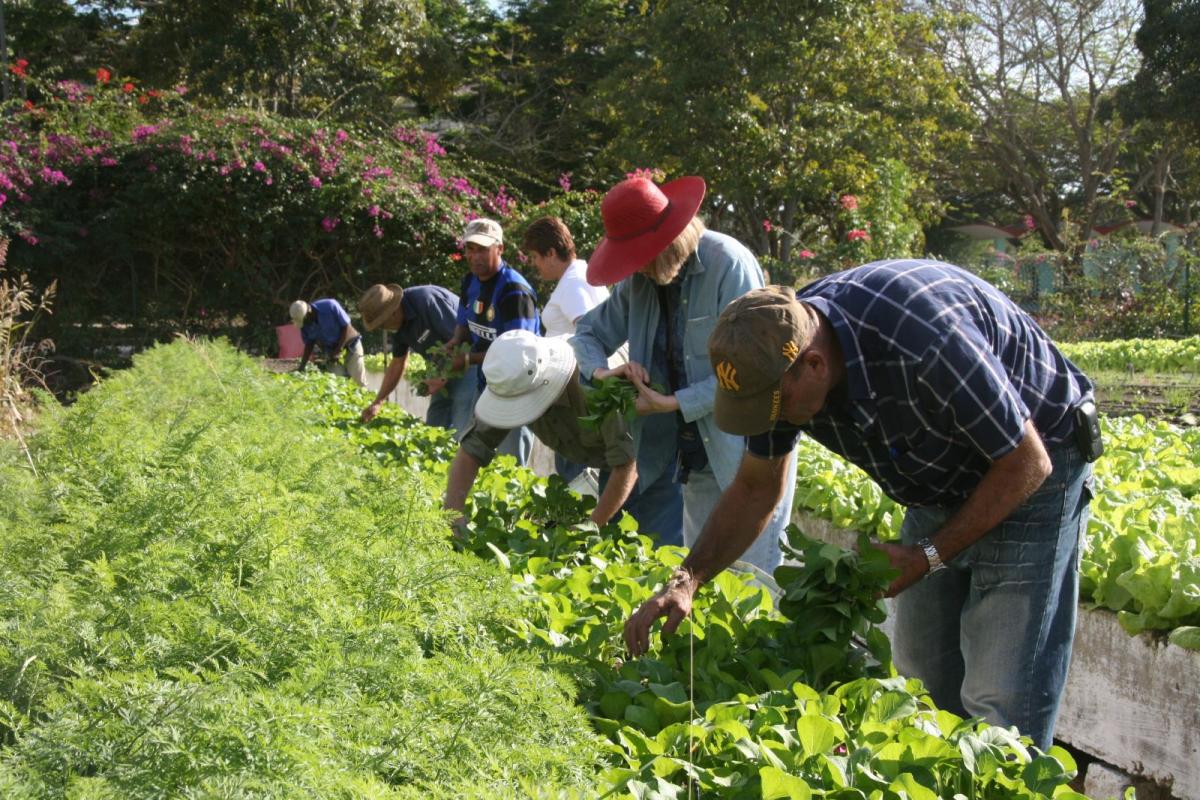 Cubans without prior experience took over vacant land in the city to grow food, launching the local "'urban gardening" movement. Wasteland was transformed into lush green productive areas, "Cubans converted their own backyards to grow fruit, vegetables and condiments and raise small animals, such as poultry."
One of the most successful organopónicos was Vivero Alamar, created in 1997 on abandoned wasteland a few miles from the centre of Havana. Monty Don, the BBC television presenter of Gardeners' World, described the it as a vision of heaven, "wonderful vegetables grown organically, it looks beautiful, people all working together from the community, growing them, earning a living, eating them, and caring about it."
From 1998 the National Urban Agriculture Group promoted local food self-sufficiency. These programmes created 350,000 new, jobs within 12 years." As well as promoting urban land use Cuba has dramatically reduced the use of chemical pesticides. By 2006 80 per cent of its agricultural production was organic.
Monty Don concluded, "The Cubans have created a working model for the future we all face. In the middle of a large city, with practically no money and no resources, they are producing fresh, organic fruit and vegetables by and for local communities, not industrially, but in the garden."
Healthcare
Cuba's people have also created one of the world's best national health services. In 2000 a United Nations Development Programme study concluded that "Cuba is the country with the best health situation in Latin America and the Caribbean." For example Cuba's infant mortality rate in 2017 and 2018 was a record 4 per 1,000 live births; the USA's was 5.9.
Cuba has educated enough doctors and nurses to care for its own people. They have also educated health care workers who have cared for people in many other countries. Yaffe points out that "With combined populations of around 40 million, Cuba and Venezuela are now training more doctors than the United States, with its population of nearly 330 million".
Yaffe writes about the 400,000 Cuban medical professionals who have worked across the world since 1960, "And what an impact they have had! Literally, millions of lives have been saved and hundreds of millions of lives improved."
For example, by 2004, 579 Cubans were responsible for the health care of three-quarters of Haiti's people. Where the Cubans were stationed infant mortality fell from 80 per 1,000 live births in 1998 to 33 in 2003.
"One in ten Cubans have been on an internationalist mission!"
Yaffe remarks that adding to the number of medical professionals, "…the Cuban soldiers, educators, constructors, technicians and other specialists sent overseas by the government and you get to the astonishing fact that in revolutionary Cuba around one in ten Cubans have been on an internationalist mission!"
Yet in 2019, President Trump added Cuba to a US list of countries allegedly failing to combat human trafficking, claiming that its overseas medical aid was a form of trafficking. He set up a programme to discredit and sabotage Cuba's healthcare efforts.
Sovereignty
Yaffe concludes, "Revolutionary Cuba, it appears, wrote the rule-book on resilience. However, its best form of resistance has been not just the assertion of national sovereignty, but the creation of an alternative model of development that places human welfare and environmental concerns at its core.
"That this poor, blockaded island has achieved world-leading human development indicators, that it mobilises the world's largest international humanitarian assistance, that it has contributed to global innovations in medical science, that its contributions in culture and the arts are admired throughout the world, is an achievement to be examined and respected.
"We are left to ask, what could the revolutionary people of Cuba achieve if they were left in peace – if they were finally given the chance to prosper, and not just survive."